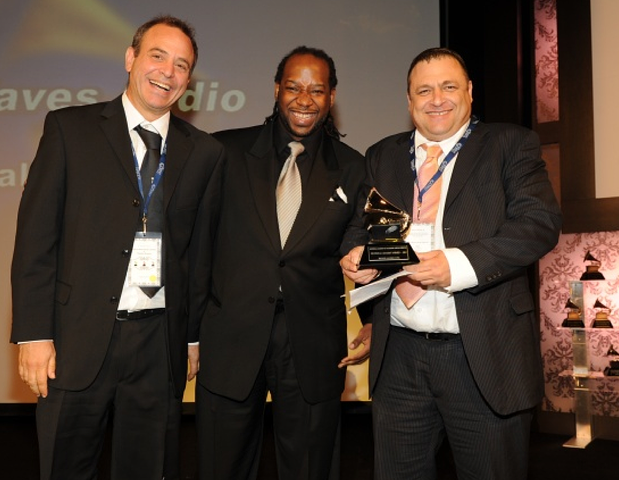 James McKinney (center). (Image via grammy.com)
It goes without saying that a Grammy is the most prestigious award in the recording industry. But how do you start your journey down the path to a golden gramophone? Grammy-nominated producer, label-owner, and songwriter James McKinney has built his career working with indie artists. His co-writing, co-production, and performance contributed to Carolyn Malachi's 2011 Grammy nomination, and Wayna's and Kokayi's Grammy nominations in 2009.
As a member of the the National Academy of Recording Arts and Sciences (NARAS), aka The Recording Academy, for over seven years, McKinney has served on the national board as an independent producer. Have you ever wondered how to submit your music for consideration? In this interview, he breaks down the process.
What are the eligibility requirements?
You have to be a member of The Recording Academy to personally submit your music. However, a member can submit music for non-members. Joining The Recording Academy was the best professional decision I ever made for my career. I became a voting member because I had a number of published recordings, but there are different levels based on your own musical situation. Just visit grammy.org and apply for membership.
NARAS wants to include artists that are committed to recording and performing music as their career, not just as a hobby. If the commitees see that you made one album 10 years ago, or if you're actively performing but don't have any recording experience, you may not be approved for membership. The main thing to worry about is making sure you're presenting yourself as a professional. Have a professional website, marketing materials, recordings, and everything you should have as a professional recording artist.
Note: For the 57th Annual Grammy Awards, the last day to become an eligible member (a member with paid dues) was July 31, 2014. Eligible albums had to be released between Oct. 1, 2013 and Sept. 30, 2014, and had to be commercial releases in general distribution in the United States. You can expect similar dates for the 58th Annual Grammy Awards, but check their FAQ page for any updates.
How do you submit your music for Grammy consideration?
There is an internal membership website where you enter all the liner note information for your music (i.e., release date, tracks, personnel, etc.) and relevant metadata. Then, you print out a confirmation form and mail in your CD.
Note: The Recording Academy has established an Awards Department Helpline for submission support. Give them a ring at 877-637-6816.
What happens next?
You wait. I can tell you from being a voting member that it is a very detailed process. First, the Grammy committees review the entries to make sure they're in the right categories. Once they're properly categorized, a ballot goes out to every voting member "for their consideration." That doesn't mean those songs or albums are nominated. Keep in mind: there could be hundreds or thousands of entries for a single category. Members vote for entries they want on the final ballot, and those votes are sent to Deloitte for auditing.

Once those results are received, an expert committee comprised of the best producers and artists in the world votes again to come up with a final ballot after listening to a top percentage of nominations. They can also elect to listen to entries that aren't in the top percentage and take a blind vote to add those contenders to the final ballot. Those votes go to Deloitte, and the final ballot is released. The nominees are contacted. Then, members vote on the entries in the top of their categories, and the results aren't revealed until the awards ceremony.
How realistic is it to be nominated for a Grammy?
I submitted my music never thinking in a million years that it would ever be nominated for a Grammy. But you never know what might happen. One thing that helps is being active in your local music scene and within your local NARAS chapter so people know who you are and become familiar with your music. The Recording Academy's voting process has qualitative integrity. No system will ever be perfect, but it promotes acting ethically for the integrity of the process.
I can honestly say it's a very well-run organization. The only people I hear speculating about the fairness of the process are non-members or inactive members. Be the change you want to see. If the music you like is not being represented, make great music, join the Recording Academy, and submit your work. More importantly, do your best to make inspiring music. Don't do anything for the fame or recognition you think it can get you.
Shanon Lee is a professional writer and independent recording artist. Her bylines include The Huffington Post, MariaShriver.com, xoJane.com, and many other digital publications. While recording her second EP, Shanon also provides consultation to aspiring singers and music recording studio owners that wish to expand their business.