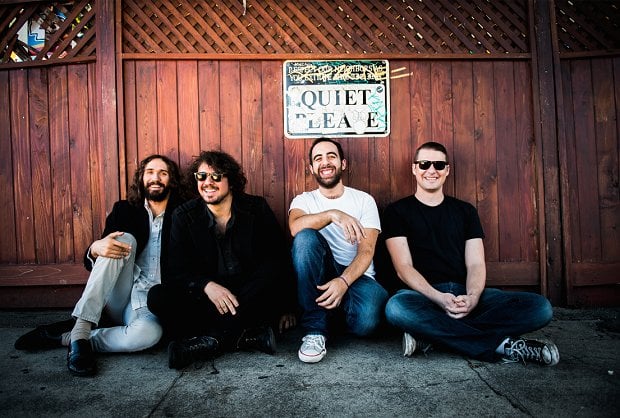 Image courtesy of the Janks
With their debut album described as "elusive and manipulative," Los Angeles-based rock band The Janks continues to pique the interest of critics, press, and fans. Their recently released EP, Living in Denial, is being accompanied by the release of a new single on the last Friday of each month throughout 2015. With past successes like playing Make Music Pasadena, a killer debut album and follow-up EP, and various US tours, the Janks have steadily made a name for themselves. We spoke with the band about their experiences as Sonicbids artists and their future plans.
What is the songwriting process like between the four of you?
Generally speaking, Zach [Zmed] or Dylan [Zmed] will come in with a lyric, melody, and rough set of chord changes. Then as a four-piece, we'll sit down and deconstruct the seed material and turn it into something Janky. Imagine four kids with ADHD taking turns adding accessories to a blank Mr. Potato Head doll. It's kind of like that.
You scored a spot at Make Music Pasadena through Sonicbids. What was that experience like?
It was a really cool festival. A lot of times municipal events like this end up being kind of disorganized, but this one had a really cohesive feel to it. We were treated well, and we gained some new fans that have been following us and coming to our shows ever since.
You played with hit songwriter Billy Steinberg at the Los Angeles County Museum of Art. How did that come about?
We met Billy through a mutual friend and hit it off immediately. Shortly after, he invited us to play three songs with him and Rick Knowles at LACMA, and we ended up serving as the house band for the whole night. It was an amazing experience.
You recently released your EP in November. What was the best part of the recording experience?
[Laughs] Finishing it! Those songs have been staples in our live set for a while now, so it was great to finally finish the recordings and make them available to our fans. On top of that, though, the best thing was growing closer as a band and really learning how to work together in the studio. Oh yeah, and burritos...
What's your favorite thing about being a Sonicbids artist?
Sonicbids just makes the whole submission process to opportunities efficient and simple. It's refreshing!
What are your plans for 2015?
We're recording constantly right now, and we'll be releasing a digital single on the last Friday of every month this year. We'll also be pressing a limited run of T-shirts and posters with each single featuring artwork by our very own Dylan J. Zmed.
Kathleen Parrish is an award-nominated Seattle-based singer and songwriter. Her music, touched with hints of R&B, rock, and jazz, is both versatile and unique. Aside from her music, Kathleen is a freelance journalist. For more info, please visit www.kathleenparrish.com.