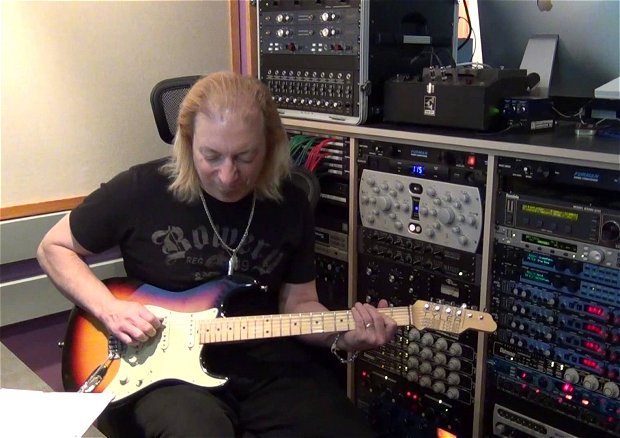 Image via youtube.com
Building a career in today's music industry is about finding creative solutions to old problems. Whether you're a singer/songwriter, a member of a band, or a gigging musician for hire, you have to face the issue of how to support yourself while developing your skills, fanbase, contacts, and resources. For many, this is an uneasy juggling act that requires a lot of focus, commitment, and determination. There's no shortage of competition, but there have never been more opportunities available to musicians than there are today. The question becomes how to take these opportunities and turn them into a profitable career. There's no one single answer to this question, but there are a number of trailblazers out there today earning income from rethinking how to approach their careers. Every day at AirGigs, we see musicians, vocalists, and audio engineers making solid income doing remote sessions from their own recording studios. These are folks who have learned to harness their skills and talents and market them successfully to a new audience – which are all key attributes and components that go into becoming a working online session musician.
Before getting too specific, we should begin with a brief discussion of what an online session musician is and does. Just a like a traditional session musician, an online session musician is a freelance musician hired to play on recording sessions. The difference is that online session musicians work on projects at a distance using their own studio gear and transferring files back and forth with clients online. So the first major difference is that they do not work with the client in ­person. The second is that they have the necessary gear and knowledge of audio production to record themselves at a professional or semi­professional level.
Aside from that, everything else that makes a good session musician is required of an online session musician – things like being able to listen and take direction, approaching projects with a professional attitude, and having a knack for laying down great parts that really complement a song. In this article, we're not going to focus so much on how to be a good session musician, but rather more on how to turn those skills into a solid income stream via online sessions.
1. Recording gear and production
In most cases, you'll be acting as both musician and recording engineer. So clients will be equally interested in your production skills and gear as they are your musicianship. The bottom line is that you should be able to demonstrate your ability to produce professional-sounding tracks. This means you have a solid handle on things like microphone selection and placement, room sound, compression, EQ, effects, session file formats, and sample/bit rates (to name a few).
It's important to remember that your studio gear and recording setup should be a selling point rather than something you gloss over. If you don't have the experience to handle the production side of things, you can consider creating a partnership with an engineer/studio. Maybe your partner can add value to your offerings, or just enable you to get started.
2. High-quality media
Your media is going to tell your story, and it has to do it succinctly. So let's start with your photo, as this is the very first thing a client will see when they land on your site, or a platform like AirGigs. It's been said that people don't actually read web pages, they just scan them. When we scan something, we're looking for quick indicators that say either "move on" or "stop and check this out." Your photo must say the latter. It's not that your picture has to be shocking or over ­the ­top, it just has to communicate certain key messages to a target client. For instance, if you couldn't be bothered with getting a really professional shot, maybe that means you're not that serious about what you do. If your image is stretched or distorted, maybe that means you don't pay attention to detail. Remember, you're trying to appeal to a complete stranger, so you need to create an effective bridge between you and that person. Your photo can also convey a sense of the style, genre, or sound that best characterizes your work through things like music gear, lighting, setting, clothing, etc. The idea isn't to get too crazy about it all, but just to have a few great shots that help tell your story.
All the above applies to video as well. While video isn't mandatory, it's a great way to introduce your session services. It could feature clips of you in studio sessions, in interview format, or introducing people to your studio, gear, and the way you conduct your sessions. The majority of online session musicians at the moment do not have high-quality promo video, so this investment would definitely set you apart from the pack. Also, your video is an asset that can be used in marketing campaigns, which will be discussed later in this article.
Audio is the most important component of your media profile. If your images and video content has hooked the client's interest, your audio reel/samples will seal or kill the deal. When assembling your audio samples, the first decision you have to make is whether to go general or specialize. If you enjoy working in different genres and styles, and have high-quality examples to back it up, then going general may be a good idea. However, if the bulk of your past work has been jazz oriented, for example, then maybe EDM projects are not something you want to market yourself for. Niche marketing can be very effective as it speaks directly to a customer with a specific need.
Lastly, it's important to provide true representative samples of not only your playing, but also of your recording quality. If you have a sub­optimal home recording setup and feature performance samples from a past recording you did at a high-­end studio, you'll no doubt have some unhappy customers on your hands. The best policy is to be transparent about your capabilities, and do your best to present what you can deliver at the highest possible level.
3. Think like an entrepreneur
Now that you have your media organized and ready to go, you have to create an appealing offer that someone can take action on. The four components of any good offer should cover: what, why, when, and how much? (not necessarily in that order).
Let's start with "how much" first. Many people assume that setting super competitive prices is the way to attract clients. While it may be a short-term strategy, an experienced freelancer always considers long-term sustainability. There will be one job out of 20 where you find yourself spending more time communicating back and forth with the client and fixing technical issues than actually laying tracks. If you don't factor those types of situations into your pricing, you're not setting up a sustainable income stream. You also can't afford not to factor in things like credit card processing fees, marketing costs, accounting costs, income tax, servicing your gear, etc. When you do consider these things, it sends an important signal to clients, who are often looking for people who can be reliable long-term talent resources.
In the "what" section of your offer, you have to convey clearly what you're going to provide. For example, if you're offering demo vocal tracks, then you need to cover things like whether you provide lead, harmony and/or backing vocals, how many takes/revisions are included, and an overview of your recording setup and gear.
In the "why" section of your offer, it's your job to answer the question, "Why should I book you rather than someone else?" While your media will already be answering this question in ­part, you still need to write it up in a clear, easy-to-understand pitch. The idea is to cover (in a balanced way) your past work, credits, experience, and unique skills.
Having a "when" section of your offer is important to make it actionable. You can provide clients with an approximate delivery date from the time of their booking. That way there are clear parameters for when the work should be due. You may want to consider offering an added fee for an expedited delivery, as this may be appealing to clients on a tight deadline.
One final important aspect of thinking like an entrepreneur is understanding income streams. Skilled entrepreneurs often develop multiple income streams, and this is a key concept for today's musicpreneurs. When you begin doing online sessions, it will likely start out as an income trickle rather than a raging torrent. For example, bookings may come in steady for a period, and then go dark for some time. Or you may start off quiet, and then suddenly get a bunch of bookings out of nowhere. It's important to understand that an income stream is not like a steady paycheck, although you can build it up over time. The key is to create a compelling offer that you can comfortably service whenever bookings come in.
4. Marketing
Like any business, you just can't sit back and expect clients to beat down your door. The best place to begin is by updating the "about" sections of your EPK, social media pages, forums, and blogs, and include links back to your service offers. Make it easy for anyone interested to find out more about your services.
It's never a great idea to repeatedly post self­-promotional links in the newsfeed sections of your social sites, so rule that out as a marketing strategy. However, it is good to share interesting updates about your studio, sessions you've been working on, new releases that feature your work, and other relevant industry news. Also, if you're a member of any popular music forums, they often allow you to have a personal signature that appears under every post you write. If you've been active on those forums, updating your signature with a link to your services could mean that instantly your links are added to hundreds or thousands of your past posts.
Signing up and posting your services on platforms like AirGigs or community sites related to music production, gear, etc. will definitely help get you in front of potential clients. Many sites offer ways to promote or advertise internally, or you can consider contributing a guest article on a specific topic as a way to get exposure. By the same token, if you enjoy creating educational content about music production, performance, gear reviews, etc., you can think about building up a blog or YouTube channel, which could serve as a great marketing tool for your music and all your services.
Depending on how far you want to go with marketing, there's no shortage of platforms (Google, YouTube, Facebook, etc.) that allow you to set up pay-per-click advertising campaigns for as little as $1 per day. Google will even automatically create pretty nice banner ads based on any URL you enter. That said, I would highly recommend doing an in­-depth study on how to make the most of these advertising platforms. While they make it easy to start, it takes some understanding to develop a campaign that actually translates into bookings. It also takes a willingness to experiment and possibly lose some money, which deters a lot of people. Sometimes going where others are afraid to go is the key to blazing a new trail.
There are also a number of things that really help with overall marketing efforts that people routinely disregard, such as:
being responsive and communicative to inquiries from potential clients
engaging with other people via social media and forums
connecting and creating opportunities for friends and associates
Don't be afraid to refer someone who's better suited for a specific job, as what goes around comes around.
Next up:
David Blacker is a singer/songwriter, music producer, educator, and co-­founder of airgigs.com, a global marketplace for hiring session musicians and recording engineers. His playing and compositions have been featured on numerous original albums, national television commercials, TV series theme songs, and radio spots. In the studio, David has accompanied award-winning vocalists and top session musicians on recordings distributed independently and through Rounder Records.