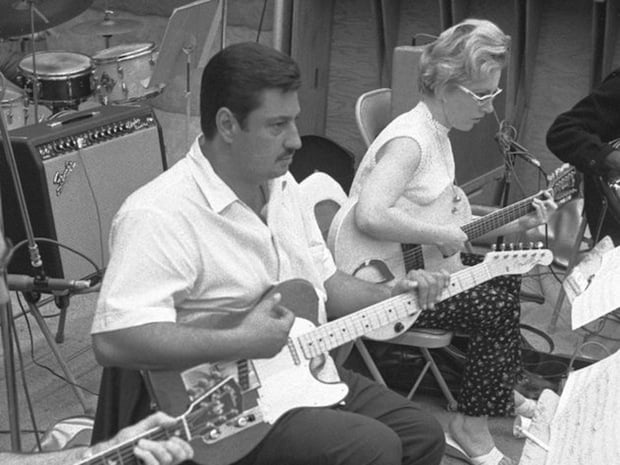 The Wrecking Crew, a group of 1960s studio musicians made famous by producer Phil Spector (via musicradar.com)
A couple of weeks ago, we explored what it takes to be a session musician and how to stand out as a player in the professional world. Dedicated and talented session musicians can make up to $100,000 a year – and sometimes even more, if they're really in demand. But how do you get hired for that first gig that leads to all the other opportunities? How much should you charge? Would it benefit you to join a musicians' union? Here's everything you need to know about breaking into the session musician business:
How do you get hired as a session musician?
1. Advertise yourself
Start with family and friends (especially musician friends). One of the easiest ways to get your name out there is by communicating with the people you already know. Get some business cards and start handing them out to let people know that you're available for session work. Let your band members, co-writers, manager, etc. know that you're looking for extra work – you never know when you might get a call!
Reach out to local recording studios. Whenever you head into a studio to record your own music, let others in the session know that you're available for hire. Show that you're easy to work with while in the session, and that way they will surely call you or at least hook you up with someone else who needs a session player.
If you don't record your own music, try contacting the studios in your area, especially the very busy ones. Most of the time they will be on the look out for good musicians since they have so many clients.
Offer your services online. Put yourself up on Craigslist and start offering your services. What instrument(s) do you play? Why should someone hire you? How much do you charge hourly? Note that your rate should be reflective of the amount of experience you have, and can also depend on the type of recording and geographical location. An average rate for a beginner session musician would be $40-$60 an hour or $75-$100 per song. If you're a member of a union like the American Federation of Musicians or SAG-AFTRA, check with your local union to find out specifics on the minimum payment you should receive (more on unions below).
Also, research websites that have songwriters as their lead target. People are always searching for musicians to collaborate with, and if you're lucky you might get a gig or two. Try kompoz.com, soundbetter.com or findmysong.com.
Look up record labels in your area. Search their website, call or even knock on their door and let them know you're available to hire. Normally for beginners, though, it's best to reach out to smaller labels since the bigger ones tend to already have their own database of session players that they trust and work with.
2. Have a portfolio
Build an online portfolio where people can check out the work you've done. Set up a memorable website with contact information, and supplement it with SoundCloud, Bandcamp, YouTube and Facebook pages to show the work you've done. Be sure to not upload anything you don't have the rights to, or you could end up in big trouble!
3. Know where the industry is
Nashville, LA, NYC and London have a big session community. Look to where you have the majority of contacts, and that's where you'll probably have the biggest chance of getting some session work.
4. Get your skills up to par
This was covered in depth in part one, but the main takeaway is this: Be flexible with your sound and style, but consider having a strong genre as well. You might be the perfect person to record hard rock or maybe country, so advertise yourself as such.
5. Be easy to work with
You need to walk into every session knowing that you're a great player, but it's so important to remain humble and easy to work with if you want to get a call back the next time. Don't come off as though you think you're the best player in the studio. You can help other people out if they ask for it, but look up to more experienced players as well for guidance.
Should you join a musicians' union?
1. It gives you certain rights as a musician
Have you ever been to a gig where your employer promised to pay you a certain amount, but you ended up with a smaller check in your hands (or even worse, no check at all)? Unfortunately this happens all the time, but by being affiliated with a union you can have confidence that you'll get paid what you deserve.
One of the ways unions do this is by making sure you sign a contract before you even start the gig. They can provide you with contracts for many different types of scenarios and help you choose the correct template for your gig. For example, here is the American Federation of Musicians' sound recording labor agreement.
Not only does being a union member assure that your employer will pay you correctly, but union gigs normally have better pay altogether (here's a glance at the sound recording rates that AFTRA sets).
If an employer is not treating their employees well enough, the union is able to step in and either block the employer/company or enforce better treatment. Here is an example of AFTRA's do not work notices.
2. It provides you with benefits
Musicians' unions provide health care, discounts (especially for instrument insurance), and give a fair share for your pension. They can also provide you with a lawyer, which allows you to dedicate your time to playing rather than reading contracts (but of course, make sure your situation actually needs a lawyer before asking for one).
3. It doesn't guarantee that you'll get session work
Just because you've joined a union doesn't mean you're automatically going to get gigs. You'll still need to work just as hard as any other musician to get session work. Note that you'll be able to be referred for union gigs, but the union could potentially fine you if you take a non-union gig.
4. You have to pay annual membership fees
Joining a union is not free. Each union has a different yearly fee and takes from 1% to 3% of what you earn from each union gig.
If you feel that you have sufficient work as a freelancer, you may not need a union. Many musicians feel they won't get session work unless they join a union, but that's not necessarily true. In the event that you encounter a union-only gig, you can usually just pay a small "non-member" fee, which is much cheaper than the annual dues. Nevertheless, you will need to provide your own lawyer and discuss the contracts with your employer. If you're still having a hard time deciding whether or not you should join a union, this article on musicianwages.com provides more information to help you weigh both sides.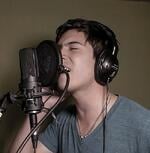 Alejandro Sanchez is a singer/songwriter, guitarist, producer and founder/CEO of Skyward Productions. With a creative team of musicians, producers and engineers, Skyward works with upcoming artists and bands by recording and producing their albums or EPs. Alejandro has been a session musician and music producer for the past five years, with experience ranging from acoustic sessions to full bands, ensembles and orchestras.