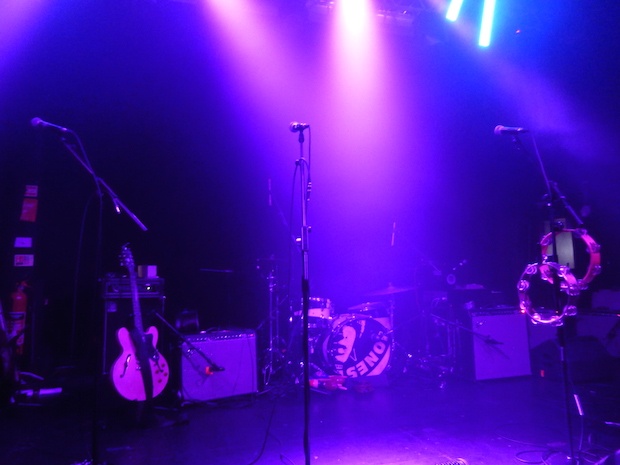 Image via Flickr / CC BY-NC-ND 2.0
You've spent hours and hours honing your live set to perfection, and now you're finally ready to start the process of booking your first gig. Or maybe you've played a few shows already, but it seems that your same group of friends are the only people showing up. It's easy to stagnate in this spot for a while, so how do you take your gigs to the next level?
There's a ton of information out there about how to promote your gigs, but none of that matters unless you're actually booking great gigs in the first place. In this comprehensive guide, we'll walk you through exactly what it takes to get booked, how to find great gigs, and how to pitch venues like a pro. Let's get started!
What it takes to get booked
Start early to increase your chances
Good gigs take time to organize – time not only to promote, but also to secure the right date and find the right bands to share the bill with. When trying to fill up your gig calendar, it's a good idea to expand your scope in terms of time frame.
Venues, especially popular ones, have calendars that fill up quickly. Same with popular bands that tend to draw well. The further out you start your booking process, the more likely that the dates and bands that you ideally want to play with will be available. Start talking to people about shows at least three months in advance. This requires some patience, but the payoff is absolutely worth it.
[5 Things Every Musician Needs to Book Great Gigs]
Submit recordings that represent your sound
What does your band sound like? If you're a folk band or acoustic singer-songwriter, you probably don't want to end up in the awkward position of having your set sandwiched into a metal/hard rock night. But if the booker has no way of knowing what sort of music you play, you can hardly blame him or her.
Once you have a set together and are ready to book shows, your top priority should be getting samples of your sound together. Descriptions of music are often interpreted completely differently from individual to individual. When a venue gets your email about wanting to play, one of the first things they'll want to know is what you sound like. When answering, there's no substitute for a recording. Even lo-fi basement demos are better than nothing. This will allow you to play better shows in the long run, as it'll be much easier to match you with other similar groups.
Have an active social media presence
Do you promote your shows, and if so, how? Venues and booking agents will be checking into your social media to see how active you are about promotion, as well as how engaged your audience is, so your online presence and fan base can be a key factor in whether you'll get gigs booked.
Social media should not be your only means of promotion, but it should be one of your top priorities regardless. If you put up posters for your shows, make sure to take a picture or video of you doing so and post it around! Better yet, have a competition among your fans to see who can put a poster in the most creative place, with the winner receiving a free CD or merch of some kind.
If you aren't familiar with the term "press kit," it's essentially a collection of materials that really sets you apart from bands that are less serious about making a career. Think of it as your resume. If you have one, send it to venues or promoters, as it'll have all of the information they want gathered in one place.
A great press kit contains:
Bio
Press photos
Favorite press quotes (if you have any)
Recordings
Videos
Gig calendar with both past and upcoming performances
Links to your website and social media
Contact information
Your stage plot/input list (if possible)
Creating an electronic press kit on Sonicbids is by far the easiest way to take care of all this, and it's the number-one most preferred EPK by promoters and talent buyers, since everything is presented in one neat package and no time has to be wasted with downloading files. Plus, when you send your Sonicbids EPK to your contacts, you get stats on who's opened it and clicked it – a huge advantage to have when you're booking gigs!
[Here's What Sonicbids Promoters Actually Care About In Your EPK]
Outside of all the gig opportunities you can get through Sonicbids, another nice benefit is that you can use the process of designing your EPK as a guide to making your band's online presence more professional – which can realistically lead to many more show opportunities for your band in the future.

How to find great gigs
Conduct (smart) research
The first step to keeping a busy gig calendar is doing your research. You need to know at least a few places to play in as many towns as you can look into. This can definitely be a daunting and tedious task, but if you spend a little time updating your database every day, you'll have a great list in no time.
Start with your own town. List out all of the venues you've played and organize their names and information (phone number, hours, style of music, size, anything you can think of) into an Excel spreadsheet. Then move on to other venues in your town that you know of but haven't played yet. Every time you hear about a new venue in town that might be a good fit for you, throw it on the list.
Then, start looking into venues in other towns around yours, especially ones that cater to your style of music. One of the easiest ways to do this is to look up touring artists who play a similar kind of music as you and see where they play. Do this with enough artists and you'll start to uncover which venues are the most popular for your style of music in all sorts of towns.
And don't forget – Sonicbids makes it super easy to find music gig opportunities near you, so using the search tools will help you fill up your venue database even faster!
Here's an example of the information you should include in your spreadsheet for each venue you're interested in playing:
Venue Name
Address: xxxxxxxx
Phone: (xxx) xxx-xxxx
Booking Email: xxxxxx@xxxxx.com
General Email: xxxxxxx@xxxxx.com
Website: xxxxxxxxxxx.com
Hours: Mon-Fri: xxxx AM-xxxx PM
All Ages: Yes/No/Sometimes
PA System: Yes/No
Network with other bands every chance you get
During your venue research time, spend some time looking up other bands in your genre. Try to reach out to a new group every day. If you're starting to get familiar with a lot of the bands in your hometown, start reaching out to bands in the nearby cities you're researching.
Having the help of popular local groups makes breaking into a new market in a new town much, much easier. Oftentimes, house shows and other obscure, popular venues will only be accessible through getting to know other local bands. Facebook is a great tool for this!
Pro tip: Use the advanced filters on Sonicbids Band Search to find exactly the kind of bands you're looking for in your hometown, nearby cities, or cities in which you'd like to tour.
[The Dos and Don'ts of Music Industry Networking]
Explore your local music scene
The number-one way to find out where you want to perform (and with whom) is to simply go out and see shows. See as many shows as you can in your local area. If you see a band that you really like and feel meshes with your sound, go up to them after the show, compliment their sound and performance, and introduce yourself.
It's rare that someone will reject a compliment and blow you off after a performance. So, be brave and approach new people you admire and would like to work with. What's important is that you follow up after the initial introduction. Send an email the following day refreshing your brief conversation, and include links to your music.
This same process applies to venues. Explore all of the bars, theaters, concert halls, etc. that your city has to offer. If you find a venue that you're particularly attracted to, talk to the employees there. Ask them how musicians usually book gigs there, and see if you can talk with or get a contact for their booking manager.
Establish a connection and present yourself professionally. Let the staff know you love their venue with specific examples of shows you have enjoyed and what you actually like about the place. Don't go on a long suck-up rant about how amazing they are, but be genuine.
It's incredibly important for any musician to explore his or her local music scene and see shows often. If you don't go out to support your music scene, how can you expect others to support you?
How to pitch to venues
When sending a booking inquiry to a venue or booking agent who's never heard of your band, that first impression might be your last. A truly terrible email has the potential to permanently turn off the attention of those in charge straight away, rendering the awesomeness of your band's music pretty useless.
The most important thing to understand about booking, then, is that you've got to hit every mark at that first gateway. Warranting their attention from the start is the first and most important step in booking a gig.
[The Best Way to Approach a Venue for a Gig]
Check out what David Virr, a talent buyer at T.T. the Bear's in Boston, has to say below. We've condensed his input into two crucial tips, both of which are applicable in any booking inquiry.
Leave out the fluff
"What I like best is when a band gives me all of the pertinent information up front, without any unnecessary stuff. I don't care if your guitarist has been playing since age six or that you heard the venue is a nice place to play," Virr says.
He adds, "Feel free to mention your subgenres, local bands you're friendly with, relevant press coverage (i.e., press in Boston area or national media), information relevant to your draw (i.e., drummer grew up locally, guitarist formerly of this once-popular band). Make communicating with your band as easy as possible, and you might just get a gig over an equally qualified band that either tried to give their life story, or didn't give enough information."
Never request a date without looking at the venue's calendar first
"Look at our calendar first," says Virr. "If you ask for Saturdays, that means you didn't look at our calendar and see that we have a weekly residency that night. Don't ask for dates that are already booked."
And make sure you ask for a date that makes sense. "Don't ask for weekends if you can't sell the room out," he adds.
Additionally, Virr asks that bands get specific about dates. "When the band is looking to play, don't say 'this summer.' Say 'second week of May, preferably around the 10th.' Also helps to mention if you're looking to jump on a bill already in the works, or if you have an idea for a full bill."
It sounds simple enough, but you'd be shocked by how many musicians don't do these basic things and lose out on gigs because of it. Now that you know, don't let it happen to your band!
Ingredients for a successful booking inquiry
1. Submit your music
"Linking to music is definitely number one," says Damon Hare of Triple D's Productions, who books at some of Atlanta, GA's best-known venues. "With sites like SoundCloud and Bandcamp at the world's disposal, there's truly no excuse to not have music available if you want to be booked. I understand it's hard for some folks to get their music recorded, but it's still essential if you want to get a show. We have to hear you first."
2. Send your EPK
You should have a full electronic press kit ready. Sonicbids members can email their EPKs in a professional, seamless package to any industry contact. If you haven't created one yet, you can click here to learn more.
3. Fill the bill
Have a plan of action. Who else will play the show? "Having an entire bill in mind is always a good start," Hare says. "It shows the artists are proactive and really have their mind set to put on a great show for all involved."
If you're trying to hop onto an already existing bill, feel out the situation. "This is definitely not taboo," says Hare. "You never know unless you ask. It's hard out there. Some folks are more organized than others, but it doesn't mean your band is bad. We may have been chomping at the bit to book you, and we'll be stoked to include you where we can."
How to actually draft the inquiry
The email you send should be professional – consider the subject line, how you address the receiver, grammar and spelling, and its overall layout. Keep it simple (don't use a flashy font or colors) and concise (don't send them an essay-long account of your band's history). Here are a few simple bullet points to include:
a description of your band and why your show would be appropriate for that particular venue
a succinct and accurate description of your sound using genre terms or comparisons to other bands
photos and links to social media accounts
a particular date or a window of time during which your band is hoping to schedule
your plan for promoting the show via social media, flyers, posters, etc.
Outcome: They said yes
If you receive a positive response, they might talk about money or a contract. As long as you're polite and consider the deal objectively, this process should go smoothly. Carefully weigh the pros and cons of any offer before responding.
Outcome: They said no
Reacting angrily is probably the best way to ensure you'll never book a gig with that particular venue. It's fair to ask why they turned you down, though. Take whatever they said constructively, and consider it helpful advice for your next booking inquiry.
How to not pitch to venues
The ambiguous email
This is the one we're most perplexed by. "Do you have any dates next month I want to book my band." Yes, it's often a run-on sentence. And no, these people don't say when, who they are, what the lineup might be, or anything else. No information, no questions – pretty much nothing.
Arguing about price
If you're looking to charge $10 at the door and the venue owner says that's too much, please heed his or her advice. Make your case, by all means, but don't forget that the owners or designated booking agents know the venue better than anyone. And don't get snippy about it.
The Facebook message
This doesn't apply to every venue, but many venues discourage musicians from sending booking inquiries via Facebook messages. The venue's email account is typically the primary place for booking and business unless its website states otherwise – so in most cases, don't waste your time trying to reach out on social media.
Still not getting booked?
Your inquiry was too vague
Did you include enough information about your band? While this might seem like common sense, it's unfortunately not common practice. Refer to the previous section on drafting a successful booking inquiry and make sure you've got all your bases covered.
You approached the wrong venue
Picking a venue based solely on the fact that you like the atmosphere or that bands you admire have performed there is an easy mistake to make. What you should really be considering is whether or not that spot is a good fit for you.
Objectively think about your band: How many people will you draw? Is your set loud and abrasive? Or is it soft enough to suit a small, hushed setting? Once you've nailed down what exactly it is that you can offer, you can narrow down your list of potential venues to only those that are truly appropriate.
You weren't convincing
Yes, sending an EPK is tremendously helpful, but you still have to tailor your inquiry to the venue in question. Before they even hear the music, they'll read your introduction. Make it a persuasive one. If all you did was introduce your band with no regard for the club's style or regular patrons, you probably haven't done enough to sway anybody.
What is it that they're looking for, exactly? A promise that your band can pull a sizable crowd carries a lot of influence. You can prove this with social media numbers, evidence of previous shows, or a promotion plan that includes a massive push of a Facebook event combined with nicely done flyers and posters that you'll strategically spread throughout the city. Really, a mix of all three is your best bet.
Offer to prove your draw
In any case of rejection by a venue, there's always this last-ditch option: offer to play for free. This shouldn't be a recurring event, of course. But when you've never played at a venue before and none of these methods work in winning them over, you can always propose a free performance – and prove your worth by playing a stellar set to a crowd you single-handedly drew.
Get creative and book yourself!
Keeping a calendar full of great gigs is going to be hard work if you're doing it yourself. Part of staying busy is being able to create cool, creative opportunities for yourself when you're unable to book them elsewhere.
Let's say you have a big, blank space in your calendar where a gig should be, but unfortunately, you weren't able to get anything booked. Maybe spend the whole weekend busking? Promote it on your social media channels and make an event out of it! If one person in your band has a big place, maybe hosting your own secret house show for your fans would be a possibility. Invite a couple of other local bands you like to come hang out and play some songs.
Even if your band has moved past the open mic stage, make a point to go out and play some local open mics as a special appearance, and tell your fans to come out and support the other up-and-comers. All of these will not only make use of that empty calendar space, but also secure your place in the local scene and increase your visibility for future gigs.
Sam Friedman, Dylan Welsh, and Jhoni Jackson contributed the original content for this article. Compiled and edited by Lisa Occhino and Allison Boron. Special thanks to Rachel Bresnahan.