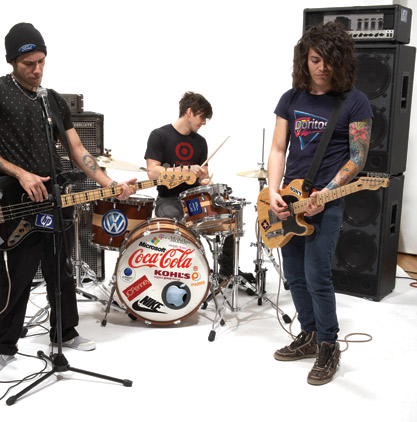 Photo credit: John Kuczala
Sponsorships are a big industry in music, and it's still growing. In fact, North American companies will spend an estimated $1.34 billion on sponsorship in 2014. As an indie musician, you may think sponsorship deals are out of your reach, but it's quite the opposite. If you have the right strategy in mind, you can secure some great sponsors that can lighten the load financially and expose you to new audiences.
The first step to getting a great sponsorship deal is to do your research. Find out what companies are sponsoring local musicians and bands at a similar career level as you. You'll have a much better chance securing a sponsorship deal if you target companies that are already in the sponsorship scene. You may not be at the point in your career where you can secure sponsorships from huge brands like Pepsi, but you can certainly approach smaller companies and local distributors.
Once you know what companies are in the sponsorship scene, figure out which would be best suited to your music and brand. The most beneficial sponsorship deals are authentic. When you align yourself with a company, you should truly believe in their product or service, or your fans will catch on and think you're "selling out." On that note, it's also important to remember that your fans need to be able to resonate with the sponsor. If your audience is primarily teens, getting sponsored by an alcohol company probably isn't the best idea. Don't leave the company out of your thought process, either. Look at their customers and make sure they are a similar demographic to your fanbase.
Let's take a look at some examples. If your front woman and singer is very fashion forward and that comes across in your photos, videos and social media, try approaching clothing or beauty brands for sponsorship. She could wear their clothes in photo shoots, videos and at concerts in exchange for some financial help on tours. If your music has a beachy vibe, you could approach surf/beach clothing, beverage and lifestyle companies.
Before you even think about approaching a company to discuss a sponsorship deal, make sure you know exactly what they sell and what bands and musicians they've worked with in the past. You want to make a good, professional impression, and knowledge is key.
Now that you know which companies you want to approach, you need to know how to approach them. Get an in. In the music industry it's all about who you know. You're more likely to be noticed if you have a mutual relationship with someone in the company. Try to track down other musicians who have worked with the company before. Promoters and venue owners may have also dealt with the company if they frequent the sponsorship scene.
In upcoming weeks, we'll be taking you through the entire process of securing a sponsor. Be sure to stay tuned to learn about how sponsorship deals actually work, and how you can build a deal that will be beneficial to your career.

The New Artist Model is an online music business school for independent musicians, performers, recording artists, producers, managers and songwriters. Our classes teach essential music business and marketing skills that will take you from creativity to commerce while maximizing your chances for success. Get five free lessons from the New Artist Model online courses when you sign up for our mailing list.