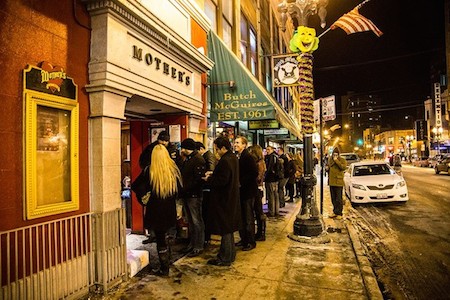 Image via sonicbids.com
The Original Mother's, located on Division Street near the north side of Chicago, has been one of the city's classic mainstay music venues since 1968. Bands like The Velvet Underground, Cream, and (of course) Chicago have graced the stage in the venue's earliest years. And yes, Mother's is that bar featured in the '80s classic About Last Night with Rob Lowe and Demi Moore.
Steve Krok, aka "Swizzle Steve" of Swizzle Steve Presents, is looking for 10 Sonicbids bands to join the Mother's legacy and book monthly residencies at the iconic venue starting in January 2015. When it comes to booking bands at some of Chicago's top music venues, Krok knows what's up. Besides booking shows since the late 1990s, he's currently hiring talent at House of Blues, Double Door, Metro, Hard Rock Cafe, Subterranean, and many more. He's also sharing some valuable, straightforward advice for those hoping to land a monthly gig at Mother's:
Rally your fans: "We need to pack the room…. A band's ability to bring out their fans is what we're looking for!"
Think about the long-term: "It's a solid year-round gig, so your fans can get used to the venue and neighborhood. These shows are easier for us to promote as well, so the residency bands get more exposure than the other one-off shows."
Highlight your tour history: "Let me know where else in [Chicago] you've played."
Increase your chances with a live video in your EPK: "S

eeing a

video

of the band in action is always best."
Apply for a residency at The Original Mother's by December 27, 2014!