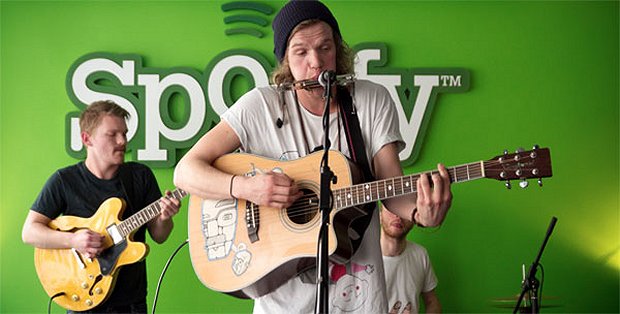 Image via thegreatrufus.com
Spotify is quickly becoming the place where big influencers in music go to check out the newest stuff. And with over 40 million active users, having your music on Spotify can be a phenomenal way to get your music in front of new fans. Outside of people who search directly for your music, you can pop up under the "related artists" section of bands with more exposure, or even end up on Spotify radio stations. But how exactly can you carve yourself a piece of the streaming pie? Here's a handy guide to getting your music spinning on Spotify. (Just make sure you don't upload blank songs, okay?)
How do I get my music on Spotify?
If you're on a record label, your music is probably already on Spotify, or in the process of getting on the platform. If you're an independent artist without a label, there's really only one way to get on there: aggregators. These companies will upload your music to Spotify and make sure you get your royalties in return for a percentage cut or small fee that you pay them.
Which aggregators can I use, and how much do they cost?
Spotify works with four artist aggregators: CD Baby, Record Union, TuneCore, and EMU Bands. Here's the breakdown:
There's a one-time fee of $12.95 per single or $49 per album with the "standard" package. The "pro" option of $39 per single and $99 per album gives you ASCAP or BMI registration, song registration with global collection agencies, and global publishing royalty collection to complement the other perks of the standard option. There are no annual fees, but they do keep 9 percent of all digital music sales.
For one year of digital distribution, a single costs $7, an EP costs $10, and an album costs $13. Record Union developed a unique collaboration with Sony Music, which means Sony execs might sign you if they like your sound.
Distributing a single costs $9.99 a year, and an album is $29.99 for the first year ($49.99 every year after that). Artists keep 100 percent of revenue earned.
You'll pay a one-time fee of $42.50 for a single, $59.95 for an EP, and $84.95 for an album. These prices are definitely steep in comparison to the others on the list, but there are no yearly fees and you keep 100 percent of your royalties.
How do I get verified on Spotify?
Getting verified on Spotify means your page is official! A blue tick appears next to your group's name, very much like an official Twitter account. Each time you release new music or announce a nearby concert, your followers will be alerted via notifications. A Spotify verification also diminishes the chance that you'll be confused for another artist with a similar name, and gives you that extra bit of credibility.
This is the official guide to becoming a verified artist on Spotify. Simply create a profile, fill out the Spotify verification form, and then wait. The process can take several weeks, but it's worth it!
Nick Moorhead is a music journalist who's been writing about indie rock, hip-hop, and everything in between since 2011. Before that, he was project manager at Cybersound Studios in Boston. A graduate of Trinity College and Startup Institute, you can follow him on Twitter @MoorheadNick.