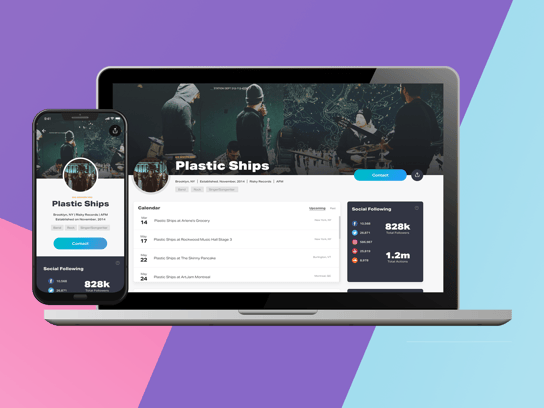 What is an EPK?
Your electronic press kit (EPK) is your professional music resume that promoters, venue talent buyers, journalists, and music supervisors use to understand who you are as an artist, what you bring to the table, and ultimately why they should care about you. As such, the smallest details may make or break you, and in this competitive environment, crafting the perfect EPK is critical to your success in making connections and scoring gigs.
Do I really need an EPK?
Unless you're trying to be elusive, or don't want any press at all, a writer or talent buyer shouldn't have to go all Nic-Cage-in-National-Treasure to find information about your band. If you want coverage, you should make it as quick and simple as possible for someone to track down the information they need to write about you, and the contact info they would need to find further information. A clean, organized EPK will be far better received than a huge attachment on an email, especially if it's an unsolicited email.

What makes a great EPK?
It's worth taking a step back and considering whether the aesthetic of your press materials is cohesive. Do your photos, artwork, videos, etc. all look like they represent the same band, or are they disjointed?
Let's break down the essential elements of your EPK.
Music
Your music is the most important element of your EPK. It's natural for people to play the first song first on your EPK, so put your very best three songs at the top of the list in order. Not sure how to rank your songs? Turn to fan feedback, purchase history, production quality, or feeling to help you decide.
Band photos and album art
You should have hi-res (300 dpi) and lo-res (72 dpi) versions, 600 pixels wide at a minimum. Make sure that you provide horizontal options and vertical options, since different outlets have different layout preferences.
Band photos are not the same as live photos. Feel free to throw in live photos if there are a few images you feel are visually striking and explain what's unique about your live show, but have an aesthetically interesting and well-composed band photo as well.
Pro tip: Save your largest file versions in a folder on Dropbox so you can quickly share a link should an outlet need something even larger than what you have on your EPK without including an attachment several megabytes large.
Bio
Include background information about yourself, and any relevant information about your releases. Try your best to strike a balance that's engaging and entertaining and informative, with facts a journalist would need to know about your music. If you can't resist the urge to call yourself "epic" or "the greatest musician of your time," you may want to recruit a friend to write a bio for you, or hire a music writer to tell your story.
[How to Draw in Promoters and Press With Your Band Bio]
Videos
Music videos provide writers with multimedia content to share with their readers. Music journalists are far more likely to feature a band when there is a compelling, thoughtful video to accompany a track. Similarly, promoters are more likely to book you for a gig or festival if you have a great live video showing off your chops and stage presence.
Links
Include links to social media, your official website, and where to purchase your music.
Past press
If applicable, throw in a few compelling quotes from past press, linking back to the full articles.
Contact info
Include contact info for your band, and contacts for booking and media inquiries if someone else handles those areas.
How do I create an EPK?
Here's a step-by-step tutorial to create an EPK on Sonicbids, the industry-leading platform that provides you with all the tools you need to make your best first impression in the music industry.
1. Sign up for Sonicbids
The Sonicbids EPK makes consolidating all your information and submitting it to promoters easier than ever. Its template provides high resolution for superior photo and video quality, a highly organized tour calendar, and a huge database of over 20,000 promoters and booking agents, making gig opportunities endless. Click here to learn more about what the Sonicbids EPK provides you with and sign up to create your own today.
2. Start with the basics
Melissa Otero's EPK is a prime example of a great-looking bio.
When you have your brand new EPK, figuring out what to do with it can be overwhelming at first. A good place to start is with your band's biography and short description. This is essentially your pitch to sell yourself to all promoters and booking agents you'll come in contact with through Sonicbids.
Use this space to give readers a little bit of history about your band and a feel for its personality, inspirations, achievements, and current endeavors (i.e., a new album coming out soon). The short description, or your "elevator pitch," is an even more consolidated statement that sums up your music and performance style in a nutshell. Ultimately, you want to give promoters a reason to check out the rest of your EPK, and it starts with how you describe yourself.
You'll also want to bang out the small details like adding a profile photo, selecting the relevant genres your act falls under, and detailing your setlist, stage plot, and rider so promoters know exactly what to expect from you at a gig.
3. Organize your calendar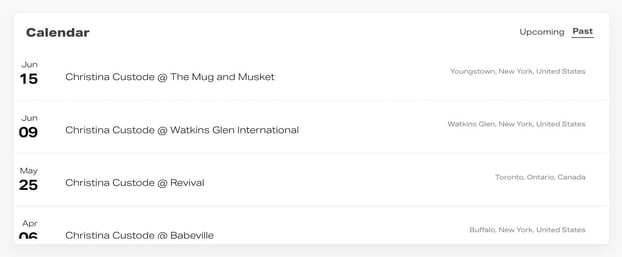 Christina Custode has her calendar all set up, and so should you!
As an up-and-coming musician, hopefully you're filling your plate as much as possible with upcoming events and gigs. This isn't just important for you to stay organized or for fans to know where and when you're playing. It's also hugely important for promoters, as they want to see where you've been and what your plans are in the immediate future. With its nifty calendar, the Sonicbids EPK makes adding and editing venues a breeze, so be sure to take full advantage of it.
4. Connect your EPK with all your social media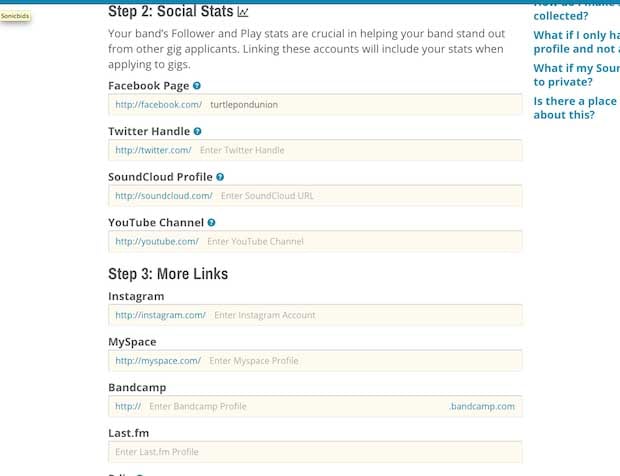 Hopefully getting on social media was one of the first things you did as an artist, because it's the best way to stay connected with your fans and provide them with interesting, engaging content. Social media also plays a huge role in your EPK as it signals to promoters the size and dedication of your fanbase.
When you add your social media profiles, Sonicbids displays critical social stats such as your Facebook likes, Twitter followers, and SoundCloud plays each time you apply for a gig. In this data-driven world, it's numbers that are worth a thousand words.
5. Add high-quality songs, photos, and videos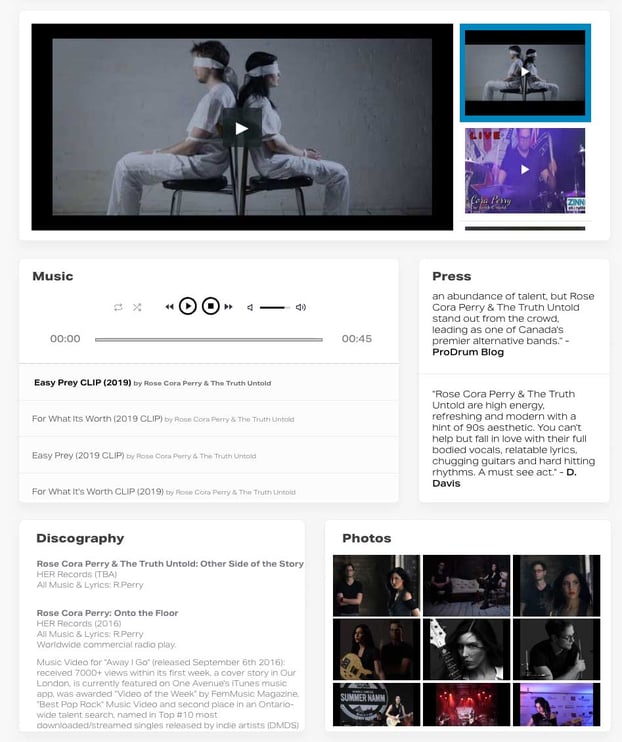 Rose Cora Perry & The Truth Untold makes sure they only put up their best photos
Naturally, you'll also want to showcase your best songs, performances, and promotional photos on your EPK so promoters can actually experience who they might be doing business with in the future. With your Sonicbids EPK, you can upload an unlimited amount of media, and we provide exact file recommendations to create the best viewing experience.
We cannot stress enough how important it is to provide high-quality media to viewers. Anything that comes off as sloppy or unprofessional, like a shaky iPhone video or song recordings with a noisy background, will only highlight your weaknesses, not show off your musical prowess. Managing your photos, videos, and music files is made incredibly simple with the Sonicbids EPK, and more information on how to do so can be found here.
6. Apply for opportunities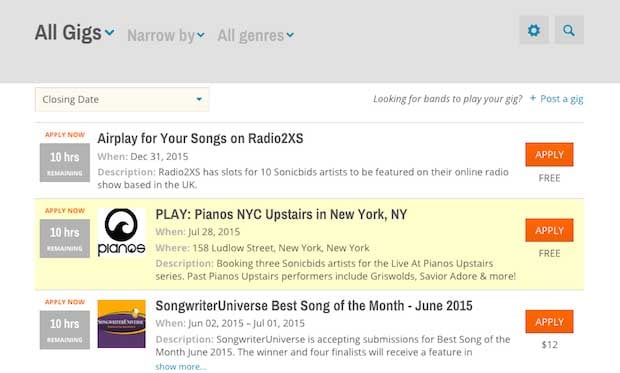 You'll never miss out on an awesome nearby gig again.
This is the moment of truth: it's time to put your EPK out there for bookers to finally get to know you and experience your music so you can play one of the gigs they've set up. Finding gigs using Sonicbids' customizable search filters is easy and intuitive. Initially, Sonicbids will list gigs by closest in closing date, but you have the option to filter by genre, date, location, and more.
Applying is just as simple. Once you've found a gig that appeals to you, an "apply now" button will take you to the application page, which you'll fill out. Best of all, your EPK is automatically submitted along with every application, so you don't need to worry about sending that separately.
If you want to get your EPK out there to different people in the industry in general, you can do so easily with Sonicbids' EPK Send feature. This emails your kit in a tidy, professional package through Sonicbids to anyone, allowing them full access to your EPK so you can follow up with industry contacts and gauge their interest in what you have to offer.
We've given you the overview here of what you need to do in order to create the perfect EPK, so now it's on you to make it a reality. With thousands of gigs and promoters at your fingertips, you can't afford to not take this opportunity. In the music industry, an EPK will be one of the best networking tools you'll have at your disposal, so be sure to sign up today and utilize all it has to offer!

Angela Mastrogiacomo, Marc Secoy, Carla Jean Whitley, Alyssa DeHayes, and the Sonicbids staff contributed the original content for this article. Compiled and edited by Lisa Occhino and copyedited by Allison Boron. Special thanks to Rachel Bresnahan.