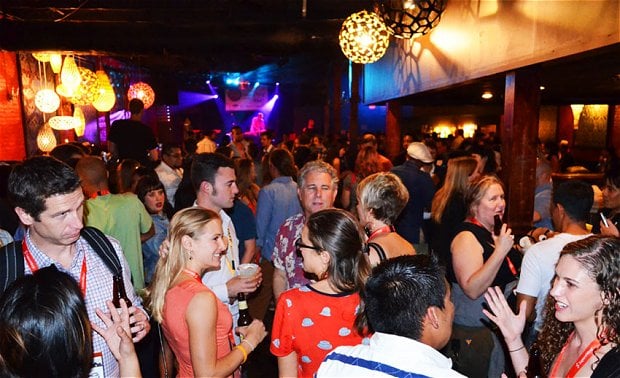 Networking at SXSW. (Photo by Nicole Burton)
In today's digital landscape, good networking skills are a necessary evil among business people and musicians alike. It may not be your favorite part of your job, but making new contacts, exploring new opportunities, and marketing yourself are key steps toward career growth. For musicians, good networking is all about sharing your story. What are you about? What is your music about?
Creating an electronic press kit is a great (and easy) way to introduce yourself to any audience. Your EPK is a professional music resume – an authentic representation of your music history, your artistry, your look, and your personality.
A Sonicbids EPK is not only your industry-leading option, but a wise step in marketing your music and managing your career. As a member, you'll also gain access to a new tool that allows you to send your EPK in a professional, seamless package to anyone – promoters, booking agents, press, and other industry contacts – all through your account.
Kick your networking skills into high gear with a Sonicbids EPK is as easy as three simple steps:
1. Be bold
A solid EPK makes a great first impression. If there's an industry connection you've been dying to make, send your EPK to them and introduce yourself and your band with confidence.
2. Be memorable
Events and festivals are great places to meet new people – a lot of new people. Follow up with industry folks after these events to show you're still interested in working together. Remind them of who you are and what you have to offer by sharing your EPK along with your message.
3. Be in charge
If you handle your own press and tour outreach, or if you'd like to, sending your EPK out to key blogs and venues is a great no-fuss way to take action and get noticed.
Take charge of your music career and create your Sonicbids EPK today!