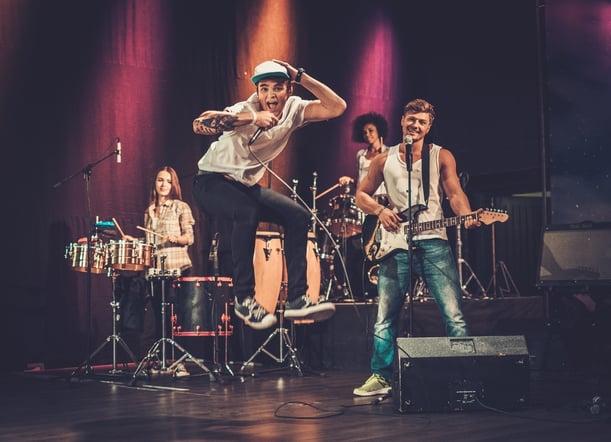 Image via Shutterstock
While we may still be scraping ice off our cars in most parts of the country, it's definitely not too early to begin planning for your upcoming summer tour. Besides the fact that it gives you something to look forward to (warmer days! T-shirts! Ice cream!), it's actually in your best interest to start planning months in advance, so that you're giving yourself plenty of time to properly prepare.
Simply put, there's a lot that goes into putting together a successful tour, and you don't want to rush it. Here are five ways you can prep for your summer tour right now.
1. Map it out
The first thing you want to figure out is where exactly you're going. Will this be a quick, one-week tour within your state? Will it be a two-week tour along one of the coasts? Or will it be a month-plus cross-country tour?
There's a lot to consider during this stage of planning, perhaps most important being: Where is there actually demand for your music, and where is it in your best interest to expand your fanbase?
Your sales and social media engagement can give you a little insight into this, but there's also the opportunity to grow beyond your current fanbase. Consider building and nurturing relationships with out-of-town bands and working with them during this tour.
For instance, if your following is so-so in Austin, but you have a good relationship with a local band that has a strong turnout at their shows, see about partnering up with them to open. It gets you to the city to make some new fans, and it strengthens that relationship with the band and venue for next time.
[The Art of Planning a Tour: Which Regions Should You Hit and When?]
2. Figure out where you're playing
Once you know the cities you're going to stop in, it's time to target which venues make the most sense and eventually lock in dates. There are a few ways to do this, including partnering with local bands as mentioned above.
You can also contact venues directly to see what their openings are—this is an especially good route if you know you for sure want to hit a certain venue. From there, you can plan the rest of the dates around it.
Of course, I'd be remiss not to mention Sonicbids' own gig finder tool. Just check off your genre, location and radius you're looking for, dates, type of gig, and more, and you're on your way.
3. Design and order exclusive merch
This is the fun part! Having some kind of exclusive merch that you can only get if you come out to one of the shows on the tour is one of the best ways to provide an exclusive experience for fans. This can be a unique T-shirt design or a special edition of the album that contains a bonus track, one-of-a-kind numbered posters, or you can really DIY it and do something like hand number 50 albums and draw little designs on them so that each one is totally unique. Then, when someone buys one, write their name and a little note on the inside before sending them off. It's definitely the more time-intensive option, but it'll also be one of the most impactful.
If you want to take it a step further, hold a contest where fans can submit their best designs, with the winner gaining entry to their city's show and a special dinner hang with the band. It's a great way to strengthen your inclusion of them, and they'll love telling all their friends to check out your show and get a look at the merch they designed.
[The Musician's Essential Guide to Merch: What to Get, How Much to Charge, and Where to Buy]
4. Put together a press strategy
I always recommend pairing a tour with a new release as a way to gain more press. If you have a new single or video you can send out to blogs, and then ask them to mention/list the tour dates with the review/feature/news post of the single, that's a huge plus. But regardless, you want to have a press strategy of some kind to help get the word out about your upcoming dates.
Some of these might be features like the ones I mentioned above, but you also want to think outside the box by contacting local indie/college radio stations and record stores to see about in-house acoustic sessions and interviews, as well as being sure to post your events on all the event listing sites you can find.
5. Make this the most memorable tour yet
Last, but certainly not least, don't forget to take the time to make this tour memorable — and that starts with making each and every show a true experience. Creating exclusive merch is one piece of that, but there's so much you can do.
Pick at least one show and make it the anchor show — this could be the day the single or album is out, or it could be your hometown show — and make that show something truly incredible. Special lighting, playing songs you don't normally play, having a guest bassist from another band help out on stage — whatever you do, this is the show you want to stand out.
However, that doesn't mean the other shows shouldn't be just as memorable. Whenever you play live it should make your audience feel like they're getting the best version of your band possible, and the show should leave them walking away feeling energized and ready to tell all their friends about the incredible experience they just had.
You can do this through an energetic performance, interacting with your audience to make them feel included, performing at your highest level, and letting the crowd know you appreciate them.
Do all of this, and you'll have fans counting the days until you return to their city.
Right now, Sonicbids has a bunch of great summer (and beyond) festival opportunities, including:
Keep an eye out as we're always adding more opportunities to get your band booked!
Angela Mastrogiacomo is the founder and CEO of Muddy Paw PR, where her artists have seen placement on Alternative Press, Noisey, Substream, and more, as well as the Director of Community and Events for Music Launch Co. She's also the owner of music blog Infectious Magazine. She loves baked goods, a good book, and hanging with her dog Sawyer.