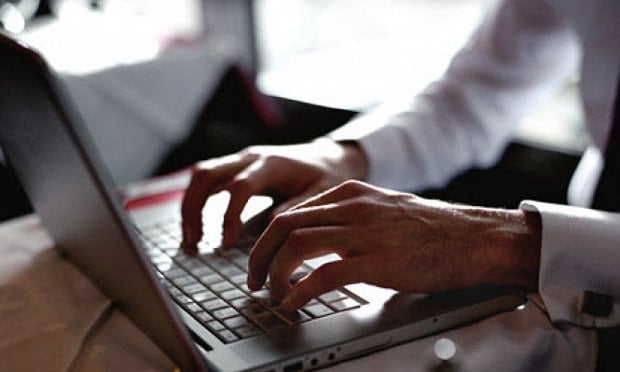 Image via flowingzen.com
In 2015, it's no secret that the internet is the number one dispatcher of all news in music. We follow blogs that share content we care about. As musicians, it's our job to form relationships with blogs and bloggers in order to get our music out to the public. The problem is that you're competing with a swarm of other indie bands as well as PR professionals. Here are five strategies that will help you cut through the noise!
1. Research content creators
If you want your music featured on Stereogum or Pitchfork, research the writers who cover your genre of music. Follow them on Twitter. Go back and read their past articles, reviews, etc. Once you can find an email address, try to establish a relationship based on the music they write about; be a genuine fan of what they share. This will be much more impactful than sending your song to info@bestmusicblog.com. Once you get in touch with the actual writers who cover your style of music, let them know that you have been following their work with real examples. Hyperlink one of your favorite articles they wrote, and let them know honestly that you enjoyed it, not that you just found an article of theirs and hyperlinked it.
2. Send exclusives
Bloggers don't get as much out of sharing a song everyone has already heard; exclusives are what set them apart. If you have a new single you've yet to put out, make that a part of your pitch. More and more, musicians are releasing EPs track-by-track via blog exclusives. Perhaps Pigeons and Planes debuts the first EP track, then PopMatters debuts the next track, and so forth. Blogs value exclusive content – give them what they want!
3. Don't mention competitors
Just like there are endless musicians seeking blog coverage, there are endless blogs seeking music coverage. It's highly competitive. Oftentimes, we like to boast our press; this is a good thing. It gives us credibility. When pitching to other bloggers, however, don't mention their competitors. Remember, blogs thrive off of exclusivity. If you've had a track featured on blog X, don't boast that to blog Y. It might hurt your chances of being featured if you play too heavily into your coverage from their direct competitors.

4. Have a clear call-to-action
This might seem simple, but it's surprising how ambiguous musicians can be in their pitches. Oftentimes, the call-to-action is for bloggers to "check out" their music. Okay, but then what? Let them know exactly what you want, and provide them with all of the information they need. Do you want them to review your album? If so, provide them with press copies and ask them if they'll review it. Do you want them to do a write-up on your upcoming headlining show? Give them all of the details on the show and ask for them to write a news post on the gig. A clear call-to-action might feel demanding, but it's the surest way to let the blogger know exactly what you want from them.
5. Be brief, creative, and professional
As we all know, music bloggers have a never-ending inbox. Each day is like a tsunami of press-seekers. Make sure each pitch encompasses these three qualities:
Brevity
Put yourself in the shoes of the blogger. If you have 1,000 emails, would you really take the time to read a five-paragraph email about the concept behind some unknown indie band's new album? Likely not. Be brief and concise. Give them exactly what they need to know and no more. Of course, don't be too brief, as that can be mistaken for apathy.
Creativity
Bloggers are flooded with the same pitches over and over. "Hi, hope you're well. XYZ band just released ABC album. Will you cover it?" This is your chance to be unique and clever with your pitch. Don't go over the top, because you may come off as desperate, but come up with something that will set you apart, even if it's just one or two sentences explaining your music in a very creative, poetic way.
Professionalism
This is an obvious one, but it's incredible how many artists lack basic professionalism like proper grammar, polite email etiquette, and professional language. Be exceptional with your grammar; there should be absolutely no mistakes. Always send your pitch to a second pair of eyes to be sure it's grammatically sound and flows well. Use proper hyperlinks, and speak in a professional tone; you don't have to be bland and corporate, but, "Yo check out my new tune itz dope as hell lol" will not fly.
Unless you can afford to pay for PR, which most indie bands cannot, you're going to be doing a lot of it yourself. This means hours of email blasting, researching, and data collecting. It's not the most fun part of being an indie musician, but it will make the difference in exposing your music to new fans. Start with blogs that cover artists of your size; don't jump for the huge ones, because you might end up wasting your time. Be realistic, be creative, and have fun.
Sam Friedman is an electronic music producer and singer-songwriter based in Brooklyn, NY. His music blends experimental ambience with indie-driven dance music. In addition to pursuing his own music, he is a New Music Editor for Unrecorded and is passionate about music journalism. Check out his music and follow him on Twitter @nerveleak.