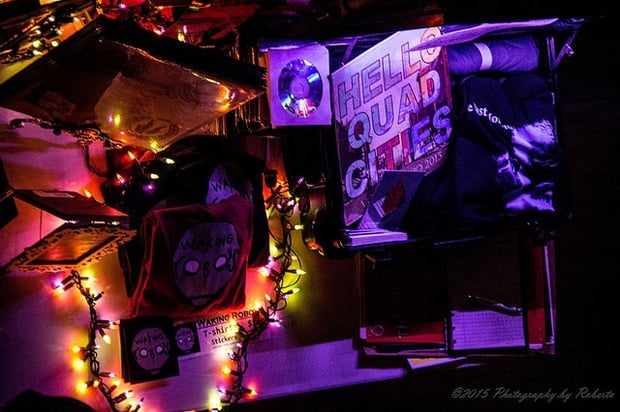 Image by Roberta via flickr.com; used under Creative Commons
Merch is something any musician can (and should!) use to drive revenue and spread awareness for their music. But there are definitely a lot of merch options, and it can be totally confusing and overwhelming to figure out which is best. To help you out, I'm going to go through them all and give you some tips and pricing ideas.
Keep in mind that if you want your merch strategy to be successful, you need to figure out what your fans like. First, think about the demographics of your fanbase. Shot glasses probably aren't the best idea if your fanbase is mostly teens, and huge quantities of XXL shirts will probably go to waste if you have a primarily female audience. Once you narrow it down, get your fans' opinions! Send a short survey to your email list or post two shirt design options to social media to find out which is more popular.
Before we get into it, remember the pricing suggestions are just that – suggestions. The prices you choose will depend on how much you spent on the item and how much you want to make from each sale.
The little stuff: stickers, buttons, posters, and guitar picks
These small, inexpensive items are great staples that have a ton of uses in your merch strategy. Looking at it from a traditional standpoint, you can use stickers, buttons, posters, and picks as a low-end merch option for fans who don't have much money to spend. But you can also give them out as freebies to spread awareness, or even use them to beef up merch bundles that you either sell or give away to contest winners.
Pricing: Depending on how you're using your small merch items, the price could range from free to $2 or $3. Smaller posters could be $10 or less and higher quality, larger posters can be as much as $20.
Where to order: Sticker Guy, Sticker Junkie, 123Stickers, Just Buttons, Pure Buttons
Wearables: shirts, hoodies, and hats
Shirts are really your bread and butter when it comes to merch and are something most fans expect to see at a merch table, so it's definitely something you should have in one form or another. Plus, shirts and other wearables pull a double punch: they bring in income from sales and also act as a walking billboard for your music when your fans wear them out.
The main thing to consider with your shirts is the artwork. The easiest route is to just slap your EP or album artwork on a shirt. But if you have some extra money, consider hiring an artist to create other designs for you.
Next, you want to think about the cut and fit of the shirts you order. If you have a mostly male fanbase, it's probably not worth ordering girl-cut shirts. In the same way, if you mostly play in Southern California, hoodies and beanies probably won't get much wear, so opt for tees, tanks, or snapbacks.
Another point worth noting: don't feel like you have to go crazy with shirt designs. Sometimes, too much choice can be overwhelming for fans who are rushing to grab a spot on the floor or heading home, so only having one or two shirt designs is perfectly okay!
Pricing: At the indie level, most shirts will sell for $20. Hoodies tend to be more expensive (since they cost more on your end), and tend to range from $30-$40. It's also a good idea to have some kind of bundle discount if fans are buying more than one.
Where to order: Merch.ly, Curly & Spike, Cravedog, My Custom Band Merch, Bands on a Budget. If you live in a city, you'll probably also be able to find local shops that can do the job for you.
When creating shirts, don't skimp on quality. You want your fans to wear these shirts all the time, so make them great!
Music: CDs, download cards, and vinyl
A lot of musicians think of music and merch as two completely separate things, but your albums and songs are merch, too! In fact, if you're not selling music at your shows, you're missing out big time!
When you perform live, there will be people there who might be discovering your music for the first time, and most people in the audience won't own all your albums. Have your most recent album for sale, at the very least. If you plan on playing any older songs, have those CDs available as well. (And let your fans know they can buy the songs you're playing at the merch table during your set.)
If you want to get a little more creative, you could sell USB drives packed with music, photos, and videos. Try creating a few different media variations, and mix them up so it's a surprise! Include a unique compilation of songs from any of your albums, behind-the-scenes videos, unreleased photos, and even little jams or song ideas! USB drives are really cheap, but because you packed so much cool and unique stuff on to them, fans may be willing to spend $20 or $25.
Pricing: This isn't too complicated. Price your CDs, downloads, and vinyl exactly like you do online. CDs can be about $10 and vinyl will be about $20. Again, you can create some kind of bundle discount if they're buying more than one thing.
Where to buy: Discmakers, Oasis, Groove House
I hope this gives you a better understanding of merch options and pricing and helps you create an awesome merch strategy. Just like gigging, merch can be a huge driver of income if you approach it with a plan. If you want to learn more strategies that you can use to book more gigs and sell more music, merch, and tickets, be sure to check out my most popular ebook, Hack the Music Business. You can download it for free here.
Get more merch-selling tips:
Dave Kusek is the founder of the New Artist Model, an online music business school for independent musicians, performers, recording artists, producers, managers, and songwriters. He is also the founder of Berklee Online, co-author of The Future of Music, and a member of the team who brought midi to the market.