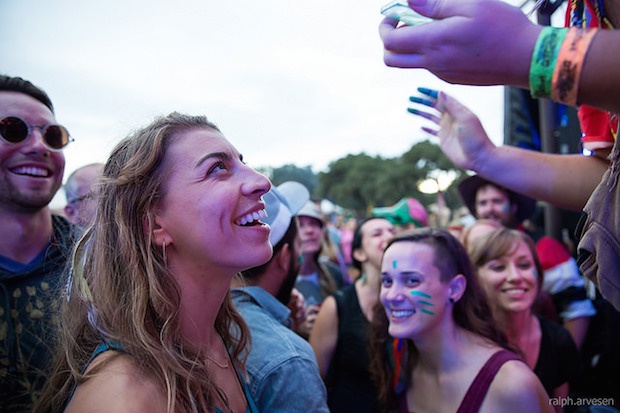 Photo by Ralph Arvesen
How many apps do you have on your phone? Thanks to our smart devices, we have access to endless platforms that cater to every need and demand imaginable. While most of these apps serve one specific purpose, many of them can be utilized in creative, unconventional ways, proving to be a valuable outlet for inventive music marketing.
For artists, these apps serve more than their intended function. They're outlets for connecting with your target audience in a unique and memorable way, creating experiences that far exceed the lifespan of a Facebook post. Let's take a look at how musicians are creatively expanding their fanbases with the apps everyone is already using.
1. Meet your match
EDM artist Zedd partnered with the popular dating app Tinder to promote his latest album True Colors, offering it up for an exclusive, discounted rate of $3.99. Fans who swiped right were able to listen to the album and were entered to win prizes, including tickets to his concerts. Zedd even chatted with some of his winning fans through the platform, making the surprise encounter that much more significant. The musician's appearance on Tinder created a big buzz. Excited and confused fans posted about the encounter online, while major media outlets from Billboard to Vice reported on the creative marketing tactic.
Zedd's not the only artist to use Tinder as an unconventional promotional tool. Many musicians, from superstar acts like Jason Derulo to small indie bands, use Tinder as another means to connect with fans and locals – especially while on tour in a different city every night. I've come across a few artists in town for a show and have had some great conversations with them, including discovering mutual friends (it's a small world) and offering recommendations of places to eat and things to do in town.
Tinder provides access to a large audience everywhere you go, yet you can have one-on-one conversations with matches, creating personal interactions with unsuspecting users and fans. Chances are, they'll share the encounter with their social network and the word-of-mouth will organically spread.
2. Uber fans
Ride-sharing app Uber partnered with musicians to offer fans exclusive experiences during the SXSW Music Festival. Users who requested a ride at a certain date and time had a chance to be picked up in an Uber with indie-pop band Wild Child in tow, plus receive backstage passes to their show that night.
On his own volition, Canadian producer Deadmau5 tried his hand at being an Uber driver one night in Toronto, picking up a series of riders and discussing everything from cats to current events. Deadmau5 recorded the experience and put the video up on YouTube, again garnering lots of chatter among fans and the media.
This element of surprise creates a fun and unforgettable experience that gets people talking and sharing. Getting to ride in an Uber with one of your favorite artists? I'll take that option over public transportation any day.
3. Dinner and a melody
Is one of your passions cooking? Invite people over for dinner. Social dining apps like Meal Sharing allow you to pick a date, menu, and price, then wait for guests to reserve their seat at the table. Add a new song to the dinner playlist and make an exclusive listening party out of it, or break out the guitar for a jam session after dinner. Want to have a little more control over the guests? Use Twitter to get the word out and select diners from your fanbase.
4. An app a day
Think about a passion of yours outside of music. Do you consider yourself a bookworm? A fan of sports? Try hosting an impromptu book club or awarding a Fantasy Football player tickets to a show. Let these interests guide your next marketing strategy and watch what unfolds.
Millennials value experiences, and this is where they're investing their time and money. To connect with this influential demographic, create unique scenarios that speak to you and will also resonate with your audience.
We have access to limitless apps. Anything you can think of, chances are an app exists for it. You don't need a big, fat marketing budget to do any of these things either – just some imagination and a smart-phone to connect in real-time with people on- and offline.
Next up:
Gillian Driscoll is founder of the music blog Sound Dessert, featuring emerging artists that deserve to be heard. When she's not writing about bands, she's working with them via her artist development company, Sound Dessert Consulting. Gillian's cravings for music, sunshine, and guacamole get met in spades in Austin, TX, where she settled by way of NYC in early 2013.