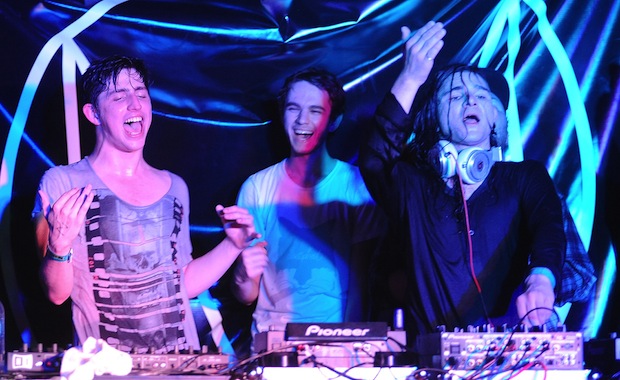 Porter Robinson (left), Zedd (center) and Skrillex (right) perform at South by Southwest 2012. (image source)

There are a lot of musicians who appear to have risen to fame overnight, but if you look a little deeper, you'll see all of the countless hours of hard work and dedication that went into it. One of these cases is the EDM DJ and producer, Zedd.
Zedd was trained in classical piano and was a drummer in a rock band called Dioramic for 10 years before entering the electronic music world. His success really started when he got proactive with his career, sending a remix of Dan Thomas's "This Year" to Skrillex directly. Sonny Moore, the man behind Skrillex, contacted Zedd asking permission to use the song at his show that night. The relationship grew, eventually leading to an opening spot for Zedd on the Skrillex tour. From there, Zedd scored a deal with Interscope, and released his successful album, Clarity.
So how did Zedd go from a rock band in Germany to becoming an internationally successful DJ and producer? Of course there were a lot of factors affecting his rise to fame, but let's look at a few of the main ones that you can apply to your own music career.
1. High Production Quality
Zedd's story really showcases the need for quality in today's music industry. If Zedd's remix of "This Year" wasn't high quality, he would have failed to make the connection that proved to be the catalyst of his career. You may not be able to afford the best recording gear out there, but strive to make the highest quality work with the tools you have available – because if the quality isn't there, no amount of promotion will make you successful.
2. Constant Learning
Zedd uses his audience to really get a feel for what works and what doesn't. Instead of sitting in a room writing a song for hours and then releasing it out into the world and seeing what happens, Zedd performs working versions of his music to gauge the audience's reactions. If the energy isn't right when the beat drops or the low notes don't hit the right vibration when played loud, he'll go back and rework that section. Not only does this strategy help you create a really great song, it also gives your fans an incentive to come out to your live shows! Try telling your fans that you've written a new song, but the only way they can hear it is if they come out to your show this Friday.
3. Collaboration
Zedd's story also shows the importance of collaboration – sharing and building upon others' works and playing live together to grow a fanbase. Zedd allowed Sonny Moore to play his music, which exposed his songs to a huge new audience. On top of that, he's toured with Skrillex and produced some songs on Lady Gaga's Artpop album. Of course, collaboration is really built into the EDM culture and many of Zedd's songs were written with or feature other artists, like "Stay the Night" featuring Paramore's Hayley Williams. You should never stop looking for chances to collaborate with other musicians. They can give you access to not only their fanbase, but also important industry connections.

The New Artist Model is an online music business school for independent musicians, performers, recording artists, producers, managers and songwriters. Our classes teach essential music business and marketing skills that will take you from creativity to commerce while maximizing your chances for success. Get five free lessons from the New Artist Model online courses when you sign up for our mailing list.