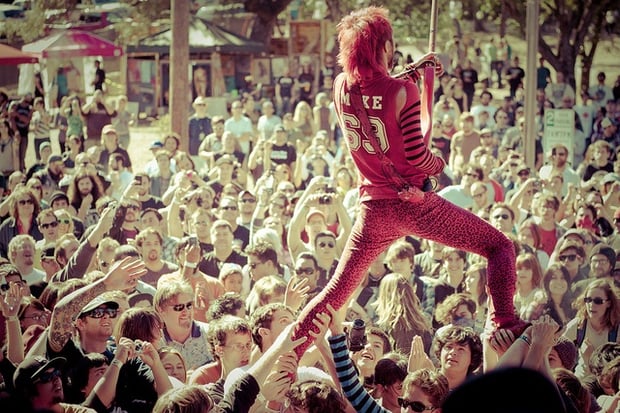 Image via flickr.com
At a festival, you're thrown in front of a huge audience of people, some of which may have never heard of you or your music before. This exposure is incredible, but it can quickly dissipate after your performance as the audience moves their attention to other acts. If you don't do anything with it, you won't see any fanbase growth, album sales, or merch sales, so you need to make sure you're doing everything you can to turn that offline exposure into online connections after your set.
Streamline your web presence
You usually need a strong web presence to get a festival gig in the first place, but before you take the stage, make sure everything is in order. To help capture search traffic before and after your performance, make sure you mention your festival performance on your site's homepage.
If you're active on YouTube, you should try to film part of your performance or film a vlog about your experience. Upload it and title it "[Your Name] [Song Name] - [Festival Name] Performance [Date]." YouTube is one of the biggest platforms for music discovery and the platform most people turn to when they're trying to identify a band they saw somewhere. Make sure you include links to your social media channels, website, and online store in the description box so these people searching for you can follow you, connect, and buy your music. (If you want more YouTube tips, be sure to check out this free music promotion guide.)
Be active online
Obviously, you can't walk around the festival crowd with a clipboard trying to get people to sign up for your email list, so social media is your best bet when it comes to bridging the offline world and the online world. Most people will put photos, videos, and posts about their offline experience online via social media, and you can quickly and easily find those posts and connect.
The easiest thing you can do is simply be active online before and after your performance. Especially if this is your first festival performance, it's tempting to get caught up in the excitement of it all and completely forget about your social media, but even dedicating just 30 minutes before and after your performance will make a world of a difference.
Seek out conversations around the festival by searching the festival's @handle or the hashtag associated with it. Join in the conversations on Facebook, Twitter, or Instagram by commenting on posts or retweeting. If you're using Twitter or Instagram, you could try following people who are talking about the festival in hopes that they will follow you back.
Next, you'll also want to stay up to date on conversations people are having around you and your performance. You can set up feeds in Tweetdeck that pull in any tweet that mentions you or uses your name as a hashtag. Then, make sure you respond to all of these people and follow them back to keep the conversation going and develop a relationship.
Get creative about connecting the online and offline experiences
People don't go to festivals to hear bands promoting themselves from the stage – they go for the music and a good time. So if you want to encourage the audience to connect with you, you need to make following you part of that good time.
One option is to give them some kind of cool benefit or exclusive bonus for following you or tweeting about you or your performance. You could record a special extended edition of a song you're playing at the festival and tell the audience you'll give anyone who posts a picture to Twitter a free copy. The key is to get creative with it, and keep it fun.
If you'd like to learn more strategies to promote your music and performances online, check out this free music promotion guide. It will take you through some strategies you can use to grow your audience on social media and turn those followers into buyers who support your music.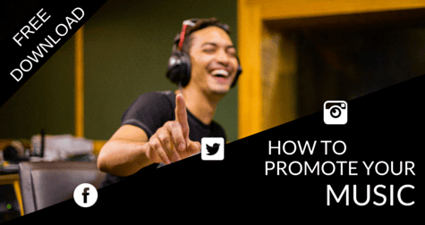 Want to play the Billboard Hot 100 Festival alongside today's biggest stars, including The Weeknd, Justin Bieber, Skrillex, and Jason Derulo – and get paid $500? Apply for free by August 5, 2015!
Dave Kusek is the founder of the New Artist Model, an online music business school for independent musicians, performers, recording artists, producers, managers, and songwriters. He is also the founder of Berklee Online, co-author of The Future of Music, and a member of the team who brought midi to the market.