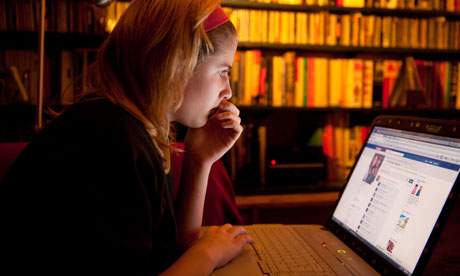 Image via theguardian.com
This article by The Daily Rind originally appeared on VideoInk.
2015 is the year Facebook video will reach parity with YouTube's feature set and audience. The introduction of auto-playing video, changes to the platform's algorithm to favor video, and Facebook's strong investments in their mobile offerings are all coming together to create a powerful marketing platform.
The Orchard has been working with Facebook's video offering for almost two years. Here are five things we've learned in that time to help artists use Facebook video to the fullest.
1. Make Facebook video an integral part of your marketing
Facebook has done a fantastic job deploying native video in its news feed. The latest numbers show that Facebook video receives 70 percent more engagement on Facebook than embeds of videos from YouTube do. From our campaigns, we've found that videos on Facebook get more engagement than videos on YouTube.
People on Facebook are leaning more and more toward interacting with and sharing video and rich-link posts. A seamless integration into the news feed, fantastic calls to action (CTA), and increased engagement will benefit every album, single, or video campaign. The easiest tactic we've deployed is around video premieres, where a clip of the video is posted instead of a link to it at YouTube or a premiere partner.
We typically choose an interesting 15 seconds so we can also post to Instagram. The video is uploaded natively to Facebook, we type up a captivating description, and we use the CTA feature for videos to link to the full video at the end. These clips get vastly more engagement and click-throughs than a YouTube or website link. This way, we tie the social power of Facebook into the monetization and platform of YouTube.
2. Set your page up for success
Ensuring your Facebook page is laid out well is considered part of programming. Think of programming in the context of television, where you plan out what a viewer sees and when with the goal of attracting the most viewers.
Here, programming starts with your page photo and cover image. Some pages can get incredibly creative so that the photo and cover work together as one image. Cover photos can include programming notes, such as the date and time certain things are arriving, like albums or videos.
[6 Insanely Creative Ideas for Your Band's Facebook Cover Photo]
Your profile image should be striking, as it's the picture most associated with your page. Individuals should use a good photo of their face that takes up most of the frame. For groups, it's usually better to use a logo, preferably one that's light on actual text.
Facebook recently launched a CTA feature for pages with multiple options. These appear as buttons next to your "like" button on the page. For video purposes, use the "Watch Video" CTA to link to your latest video.
3. Think about how you write your posts
One of the changes Facebook made de-emphasizes marketing posts in the news feed. "Make sure you buy our record at iTunes" accompanied by a link to the retailer is likely to be ineffective. If you're not already having a natural conversation with your fans, this will pose problems for how you engage with them.
[Personal vs. Professional: How to Balance Your Band's Social Media Posts]
When thinking about how to translate these into video, start with the descriptions. Descriptions should be short and free of phrases that sound like a sell. I know that's hard to accomplish when you want your audience to buy something, but that's where you need to be creative. Think about how you can turn that kind of a sales message into a video, then describe the video.
Instead of "Buy our album at Amoeba Records," go to Amoeba Records and film yourself buying your record. When you post the video, your copy could read, "Our new album Trogdor came out today. Watch us get a copy at Amoeba Records." These posts go over well, increase reach and engagement, and make fans (and ultimately retailers) more excited about the promotion.
4. Don't overlook video titles
Video titles are still almost entirely ignored by most uploaders on Facebook. This is a shame because titles are actually extremely helpful in driving traffic and can lead to the individual video page.
Titles can appear in a myriad of places on Facebook, so you'll want to give them some thought. After watching one video, users are often offered suggestions of other videos to watch on Facebook. A compelling title will induce a user to click.
When a video is shared, the title acts as a description for the video, which can also compel people to click. At the time of this writing, the title appears above the description you provide and is clickable, leading to the single-page view for that video. Simply including a title will put you ahead of most other musicians and brands.
5. Need inspiration? Take a look at BuzzFeed
The ultimate goal of a video on the Facebook platform is to get shared – and shared a lot. Facebook makes this technically easy for you, but it's up to you to make video that's compelling enough to share.
Borrow inspiration from BuzzFeed. Its listicle videos are produced for maximum exposure and usage on multiple platforms. The videos look great, they repeat spoken audio in text, and they are promoted everywhere.
The most obvious application of this to music is uploading a lyric video, which would encourage fans to turn on sound and engage with the post. The same can be done with short album trailers, closed captioning of behind-the-scenes content, or film trailers.
[Why You Should Release a Lyric Video for Your Next Single]
Bonus tip: Be wary of targeting native video
Obviously I'm a fan of native video, and The Orchard has done a lot of work with it. One tactic we've deployed a few times is to create video drops from a band for each city on a tour. These videos are then posted to Facebook and targeted to those specific locations.
Naturally, we expected these to have fewer interactions than an untargeted post, but we've discovered that, with some exceptions, they have a drastically lower percentage of interactions than expected. While we're not entirely sure why, it's clear that some core set of activities is not happening around this type of post, and the algorithm is then not favoring it for the targeted people's news feeds.
For further information on how to use Facebook as a musician, download The Orchard's full Facebook Video Playbook for free here.
Jeremy Rosen is the director of audience development at The Orchard, where he focuses on building audiences and maintaining relationships with them through video. Before The Orchard, he ran digital marketing and web development at Roadrunner Records.