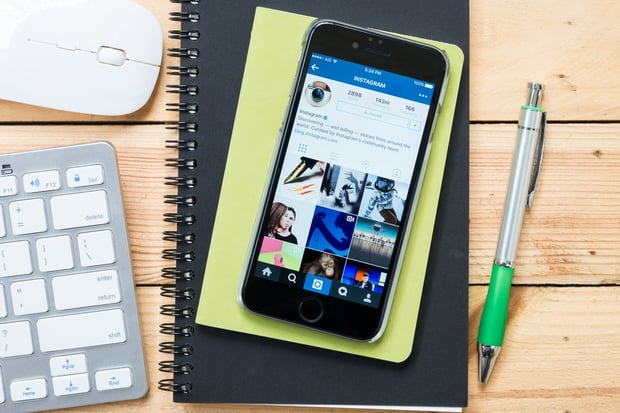 Image via Shutterstock
This article originally appeared on The Daily Rind.
If you're an Instagram user, you've likely seen brands and influencers alike posting pleas for you to turn on post notifications before Instagram updates its feed. And if you've heeded them all, you're probably about ready to delete Instagram from your phone altogether. If the Instagram algorithm apocalypse has you worried (or numb from all the buzzing in your pocket), read on. It's not as bad as you might think – we promise.
See, as Instagram has grown in the last few years, the average user's feed has been picking up speed, to the point where they've been missing on average 70 percent of photos and videos in their feed. At the same time, user engagement on the platform has fallen about 40 percent. This all amounts to users seeing a greater amount of content, but less relevant and engaging content on Instagram. This does nobody any good.
Though details are vague so far, the platform promises that after a testing period, all posts will be ordered by "the likelihood you'll be interested in the content, your relationship with the person posting and the timeliness of the post." In other words, the more engagement your posts receive, the more likely they should appear near the top of users' feeds. That actually sounds pretty helpful, doesn't it?
While brands and Insta-influencers dread the prospect of change, imagining that adapting will require massive advertising spends, I'd like to suggest a different view. For creators pushing out engaging content, the change could really be an opportunity to get the exposure they've deserved all along. You, too, can be one of those creators without a multi-million dollar advertising budget. Here's how:
Remember, it's called social media
Engage your audience by pushing out posts that are conversational, not one-way advertisements. Ask fans for their opinions, or simply make them laugh. Make your posts relatable and organic engagement will follow. Instead of, "Get my new album today!" think, "What's your favorite track off of my new album? #linkinbio." No desperate #like4like hashtag required.
Think in terms of integrated marketing
The term "integrated marketing" might conjure up images of American Idol judges drinking Coca-Cola products while critiquing performances, but in everyday social posts, this might look more like simple tent-pole content. If your band wants to push a new single on a Monday, feature it in a Spotify playlist and appeal to that universal missing-the-weekend feeling with a photo of yourself drinking coffee and a caption like, "Monday vibes. Our new playlist is sure to energize you. #linkinbio." Tours, holidays, seasons, newsworthy events – the list of tent-pole opportunities goes on and on. Finding ways to seamlessly integrate your marketing messages into fans' daily lives will make them relevant and worth a double tap.
Add value
When you have a presence on Facebook, Twitter, Instagram, YouTube, Tumblr, Snapchat, etc., it can be tempting to post the same content on every platform. However, the real value in following and engaging with an artist on multiple platforms is seeing unique content on each. Consider rewarding fans who follow you on Instagram by hosting an impromptu Q&A in the comments of your latest post, or post a peek backstage at each show on your tour. Value can even come in the form of an inspirational lyric or other shareable piece of content.
If you're reading this, you're most likely an entertainer or posting on behalf of an entertainer. And at its core, entertainment is exactly what's rewarded by an algorithmic feed. For so long, brands and artists have seen moderate success by using social media more as an advertising tool than an entertainment tool. But for those willing to adapt and begin crafting posts as authentically engaging as their music, their Instagram accounts should remain blissfully unaffected or, better yet, positively affected.
My challenge to you: don't ask fans to turn on post notifications. Instead, challenge yourself to create the kind of posts worth noticing. That, dear readers, is the opportunity.
Get more Instagram tips:
Jenn Schwartz is the interactive marketing manager at the Orchard.