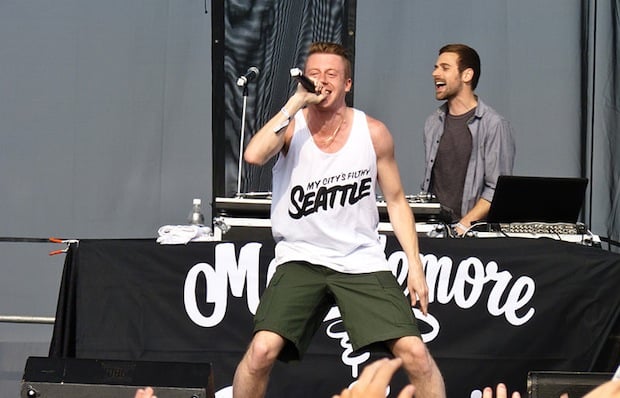 Photo credit: Christopher Dube
Guest post by Hemal Dalal, UK Client Relations Manager at The Orchard. This article originally appeared on The Daily Rind.
Macklemore has come a long way since he was using Sonicbids to book festival gigs like Bumbershoot back in 2006. Four Grammy awards and a couple of Billboard number one hits later, this seemingly "overnight success" was the result of creative promotion and years of hard work (as is usually the case). With no support from a major label, Macklemore and Ryan Lewis' marketing strategies are something that every artist can apply to his or her own career. Here are five key things the duo did to make their way to the top.
1. Stand out from the crowd.
While the rest of the hip-hop community seems to be focused on boasting about their riches, jewelry, cars, popping champagne, etc., Macklemore and Lewis are taking a different approach. For example, they released a song called "Same Love," which covers topics including sexuality, homophobia and gay rights. These subjects are definitely not commonplace in hip-hop, but by raising the issue and standing by a controversial topic, they stand out from the crowd.
Another example of the duo standing out is with their hit single "Thrift Shop." Unlike typical hip-hop tracks, Macklemore isn't rapping about buying expensive high-end brand names – he's talking about going shopping on a budget and not getting sucked into corporate brand marketing. Once again, this track separates them from other artists. Most importantly, it's relatable, which has helped make it so popular.
2. Be patient.
There's no such thing as an "overnight success." Macklemore released three records before meeting Ryan Lewis in 2006, and when they finally released their first EP together in December 2009, it wasn't a very successful release. It wasn't until they released The Heist in 2012 that they had their first real taste of success.
As well as releasing albums, the duo spent years building a local audience, which later led to a nationwide movement. Another import aspect of their rise to success was getting a good booking agent, who started to secure small gigs for them. They continued to grow, playing at the Seattle Mariners Opening Day in 2011 and progressing onto festivals later that year.
3. Build a strong team.
Building a strong team is a vital part of having a successful career in music. It doesn't have to consist of industry veterans – a team of top execs may not always be the best option. You want people who believe in you and your music, and whom you can fully trust. Invest in people who share your vision and have your best interests at heart. When Macklemore and Ryan Lewis met, Ryan was a 17-year-old producer, guitarist and photographer. He was far from an industry veteran, but Macklemore related to him as a passionate creative, and they were both chasing the same dream.
If you look at the list of contributors on Macklemore and Ryan Lewis' The Heist, you'll notice there are no big-name artists. They used local singer-songwriters and musicians from Seattle. In addition, Macklemore's merch and tour manager also manages their finances. It's all about trust.
4. Have an authentic connection with your fans.
Macklemore and Lewis always connect with their fans in an honest and authentic way. Take a look at their Twitter and Facebook pages to see just what I mean.
For Macklemore, "being transparent about every aspect of my life is what makes my music relatable, and how I'm able to be an individual amongst the mass amounts of other artists."
5. Creative control is more important than money.
Having a certain amount of money is important, of course, but many artists find that having creative control to express what they want through their art and make their own decisions is even more important. I highly doubt that releasing a single about marriage equality on a hip-hop album would ever have been allowed if the duo didn't operate independently. If you combine creative control with a quality product, money is much more likely to follow. If your main focus is on making money, your art will suffer and reaching success will be more challenging.
Macklemore and Ryan Lewis make music they want to make and let the world critique and create opinions. They've demonstrated that you should never make music to cater to a market; you should create something that you feel satisfied with, and whether or a not a person likes it is up to them. If you don't feel confident enough to stand by your own product, no one else will.