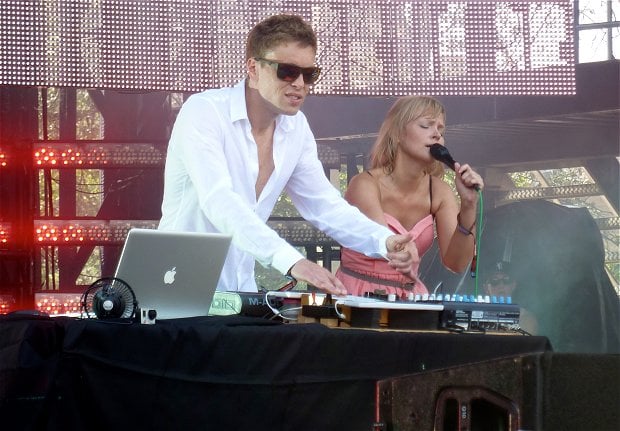 Photo by Mark Campbell
When two Berklee College of Music grads form any type of band, it's bound to be good. Brite Lite Brite, an EDM duo consisting of Lukas Johnson (producer, synths) and Andrea Stankevitch (vocals), are focused on creating interesting live techniques and real-time production. Having already opened for headlining acts like M.I.A., Joan Jett, and Ludacris at the Virgin Mobile FreeFest in 2010, and the Cure, Mumford & Sons, the Killers, and Nine Inch Nails at Lollapalooza 2013, Brite Lite Brite clearly understands how and where to be involved. Recently, Stankevitch discussed with us how attending Berklee influenced where they are now, plus what the pair's most memorable Sonicbids gig has been.
How would you describe your sound to those who haven't heard your music yet?
We're a combination of Skrillex-like sounds and female vocals with crazy, cool vocal effects.
You're both Berklee alumni. What did you study there? Do you feel attending music school had a big impact on your career?
I studied songwriting and Luke studied music synthesis, now called electronic production and design, at Berklee. Berklee was essential in establishing both of our careers in music. My private voice instructor, Joanne Whitaker, taught me not only how to sing, but also to believe in myself and my originality and creativity around storytelling and songwriting. Songwriting professor Henry Gaffney taught me to seek inspiration through life experiences and to be true to myself when it comes to my songwriting. As a Berklee student, Luke was heavily influenced by Michael Brigida, whose modular synthesis sound design skills blew his mind on a daily basis.
You were semi-finalists in both the 2008 and 2011 International Songwriting Contest, and have won other contests like the John Lennon Songwriting Contest and 100% Music Songwriting Contest in the electronic genre. Did this open any doors for you?
As a result of winning these contests, we were invited to become a part of multiple music publishing libraries, including EMI Publishing, where we signed our biggest deal for our song "Sky Turns Red."
What was the most memorable gig you've gotten through Sonicbids?
Our most memorable gig through Sonicbids was being selected to perform at Virgin Mobile FreeFest in 2010. That was our first big music festival experience, and it really inspired us to want to play more music festivals. It was an amazing experience for us to open for headlining acts M.I.A., Joan Jett, Matt & Kim, LCD Soundsystem, and Ludacris. It was also amazing for us to have the support of Sonicbids staff members who attended the festival and gave us encouragement right before we went onstage to perform.
Any advice you have for other artists on how to get the most out of their Sonicbids profile?
Always keep your EPK updated with your latest music, photos, and upcoming tour dates. Also, be sure to search the gig opportunities frequently, as new gigs become available all the time.
What can you tell us about your upcoming album, Stalker?
Stalker is titled after our song [of the same name] that will debut on the album. "Stalker" is inspired by one of my favorite songs of all time, "Thriller." After recording the song at Luke's studio, I freaked myself out when I left that night and felt like someone was following me back to my apartment. Our album will also include our latest single, "Never Let You Out of My Heart," and an official music video for that song will be released on February 27, 2015, one month before the album is released.
For more on Brite Lite Brite, check out their website and follow them on Twitter.
Kathleen Parrish is an award-nominated Seattle-based singer and songwriter. Her music, touched with hints of R&B, rock, and jazz, is both versatile and unique. Aside from her music, Kathleen is a freelance journalist. For more info, please visit www.kathleenparrish.com.