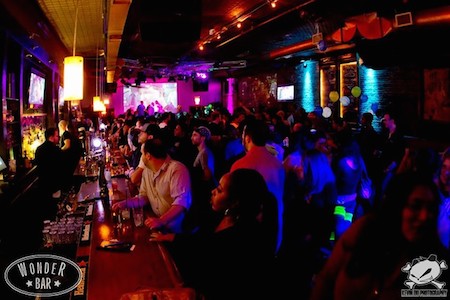 Image via wonderbarboston.com
Boston-based concert production, marketing, and booking agency The Brain Trust is now officially booking talent for Wonder Bar in Allston, MA! They're looking for emerging acts to feature at upcoming shows throughout the winter, and they're accepting applications from Sonicbids artists now.
Wondering what's so great about Wonder Bar? We spoke with The Brain Trust's Conor Loughman, who filled us in on some background on the venue and the neighboring music scene.
"Wonder Bar is a great independent club in the heart of Allston Rock City," he shared. "We have a proud legacy of breaking exciting acts into the market (Gramatik, Black Milk, and Shigeto), and our newly installed sound and lighting systems put our production on par with the best small-cap rooms in the city." Allston also boasts music clubs Great Scott and Brighton Music Hall.
While The Brain Trust specializes in hip-hop and electronic acts, Loughman explains that for Wonder Bar, they're looking for "everything from electronic, funk, soul, hip-hop, reggae, folk, rock, and even comedy."
They're even open to booking talent from outside of the Boston area. To be considered, Loughman provides these three tips:
Demonstrate that you have a fanbase by highlighting your tour history in and around Boston.
Email a professional EPK along with a date range you're looking to play.
Explain your marketing strategy (i.e., having bands and/or street teams distribute flyers and posters throughout the city), and be sure to mention any contacts or themes that will help ensure the show is successful!
Plus, a Sonicbids membership will help you stand out. According to Loughman, "We want to build relationships with artists who take themselves seriously. Actively submitting for gigs via Sonicbids is a great indicator that a band is proactive and willing to do their part to make the show a success."


Apply for a gig at Wonder Bar by December 23, 2014.