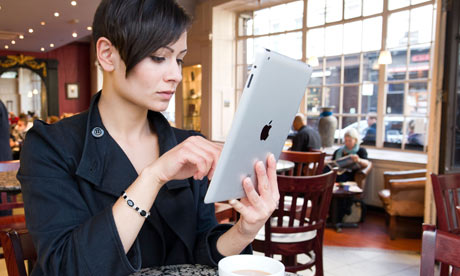 Image via theguardian.com
This article originally appeared on the Bandzoogle blog.
So you're looking to continue to improve the SEO for your band's website. After reading "3 Tips to Optimize Your Website Content," you've added some great website content and customized your page titles. What's next? One of the most important things you can do to help with your website's SEO is link building.
Links are one of the best ways to signal to Google what your website is about, and to improve your ranking in search engines. Think about it this way: one friend told you to check out a musician's website. Then 10 friends told you to check out another musician's website. Which one would you likely visit first? In a similar way, Google takes recommendations in the form of links and compiles them. Then it selects websites with many links pointing to them as more trusted. So the more high-quality websites that link to yours, the higher your website will place in search engine results.
Let's take a look at some places you can build links.
How to build links
Links from established websites that weren't paid or traded for will help improve your search engine ranking. Here are a few examples:
Popular music blogs: Contact local music blogs about an interview, a music review, or doing a guest post for them.
Online newspapers: Playing a local event? Your community likely has a few online newspapers that will promote it ahead of time in a "weekly picks" column, or even a full article.
Festival or event websites: The majority of events you'll play have a website and want to promote you. Creating a press kit with promo images and bio is standard, and make sure when they add your info, they also add a link to your website.
Venues: Most venues, from pubs to sit-down music clubs, have a website where they create sections for the artists. Make sure you're listed along with your website.
Podcasts: Besides audio, most podcast websites will include text information about the content. Seek out music podcasts and sit in as a guest, or ask for a music review.
Social media links: Linking to your website on social media outlets like Facebook and Twitter is a great idea. These links may not hold the same kind of weight that an external website would, but they still help and are easy to share. Plus, the more people that see your content, the more likely they are to link to it.
The importance of link context
As well as links to your website, the text used when linking helps search engines understand the context of the link.
Use descriptive anchor text
Anchor text is the words you use when creating a link. Using detailed words like "folk rock group from Toronto" as the text linked to your website is more useful than just writing "click here."
If external websites link to your website using specific words, Google will know that your site is a good match for those words. So anyone typing "folk rock group from Toronto" into the search engine is more likely to find your website. You don't have to use the exact same words each time, but the words should be descriptive.
Create quality content
Think of how your link will fit in with the content it's presented with. The website it appears on, the page on the website, and the words around your link also help Google understand the context of the link. So focus on creating a high-quality website, and update it often with good content to encourage people to share it!
Tools to check out
Now that you've worked on adding links, how will you know that other websites are linking to yours? Here are a few tools you can use to track your success:
I hope this helps you add a few links to your website. Be sure to always keep your website URL in mind, and share it widely to get links back to you!
Learn more about SEO for musicians:
Originally from Ottawa, Ontario, Melanie Kealey is a regular writer and team member at Bandzoogle.