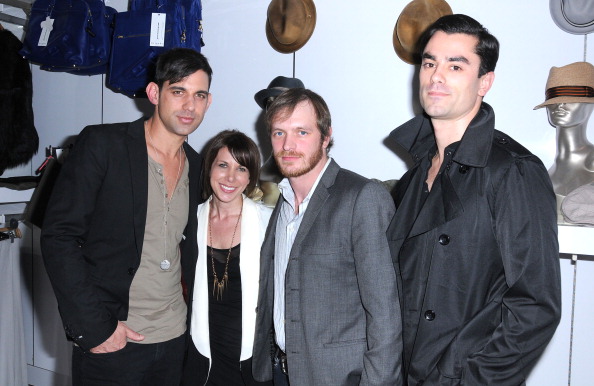 LA band the Ivy Walls with publicist Lori Kilmartin (Photo by Barry King/WireImage)
So you've just finished your latest masterpiece. Perhaps it's a five-track debut EP, a new music video, or your latest full-length album. Whatever the case, if you've done your homework, you know that a key step in paving your place in the world is to hire a skilled PR team to push that next great release. But what are the other telltale signs that you're ready for a publicist? If any of these six milestones sound like you, it just may be the perfect time to invest in a little strategic PR.
1. You have something new to promote – and you haven't released it yet
I hinted at this above, but one of the most fundamental aspects of a PR campaign is the ability to push a new release and squeeze every last bit of publicity out of it. To a publicist, a new release is gold. It offers us the ability to really showcase the artist to the greatest number of people possible through exclusives, reviews, interviews, and various other features that can only be associated with a brand new release. It kills me to see so many talented artists releasing their albums or music videos with no kind of hype, build-up, or general plan. You've spent the last few months – or even years – creating this brilliant work of art, so when it comes time to show it to the world, why not give it that same respect?
2. You have a killer bio
Do not underestimate the power of a strong bio. Before launching my PR company, Muddy Paw PR, I founded the music blog Infectious magazine. As a journalist first, I can't emphasize enough the power of a strong bio. Oftentimes, after the music, it's one of the first things we'll look to in order to get a sense of who you are. And if a blog decides to feature you, a strong bio can make all the difference, especially in an age where many outlets will copy and paste a portion of your bio within the piece.
3. Your social media is in order
Along with a strong bio, it's vital that all your social networks are in order for a campaign to reach its highest success point. As a blogger, strong social media presence was always one of the major things I looked for. Personally, I don't care what your numbers are – you could have five likes or 5,000. What I want to see is how active you are, and how much you're engaging with your fans. Everyone has a crazy busy schedule, and unfortunately, it's not a viable excuse when there are millions of other artists competing for the same space you are. If you can't be bothered to keep up your social media presence, a lot of blogs won't be bothered to write about you.
4. You're ready to invest time into a campaign
A lot of bands tend to think that when hiring a publicist, their responsibilities end the moment the contract begins. But in fact, a band's work is just as important to the success of a campaign as the publicist's. Not only do we need you to be prompt with responses to help ensure features go live in a timely manner, but once those features do go live, we'll need your help in promoting them. Besides it being basic courtesy to promote the outlets that promote you, it helps build powerful bonds and connections – something that should never be underestimated in the music industry.
5. You understand the value of PR – and what it does and doesn't mean
One of the first questions I ask bands inquiring about PR is what their view of success is. It's one of the most fundamental questions I can ask, because the truth is that everyone's visions will vary. It's important to understand what PR is to you and what it is to the agency you end up working with. A lot of bands will tell me they'd like to see their Facebook likes or sales go up by the end of a campaign, and while those things are certainly in the realm of reality, it isn't what a PR campaign is designed for.
PR isn't generally a short-term, immediate-gain investment. It's a long-term investment in your future that requires care and patience. It's for the purpose of not only building your digital footprint (10 pages of press on your band on Google looks pretty impressive to labels, fans, and bigger blogs), but also spreading your band's name, so that even if an outlet or journalist denies you coverage today, when they hear your name six months from now, they'll recognize it. For us, that long-term brand recognition is a huge part of what we consider success. And if you're anything like us, you know that kind of strength and strategy can make all the difference.
6. You have the budget for PR
There's no way around this – PR isn't free, and unfortunately, it isn't always cheap. (In fact, like most things, if it's too cheap, you might want to ask yourself why). That doesn't mean, however, that it's not an investment worth making. On the contrary, investing in PR is one of the smartest things a band can do. So often I see bands spend thousands on recording an album, only to then drop the ball when it comes to hiring a publicist. Quality recordings are important, but it shouldn't end there. Without a strategic PR campaign, you greatly reduce the chances of anyone actually hearing that album. So once your album is finished, it's time to get it out to the masses.
One of the best ways you can do that is to hire a publicist that fits your goals. An agency's fees can be all over the map, but for a campaign with a small-to-medium-sized independent company, you can expect to pay anywhere from $300 to $700 per month, with most campaigns requiring a three-month contract. The larger the agency, the higher the fees can range, oftentimes coming in at $1,000+ per month. At Muddy Paw, we try to keep our campaigns as affordable as possible and find a package to fit every budget. If you're feeling unsure about a company's rates, don't be afraid to reach out and ask them about different packages – many will have more than one option, and it'll give you an opportunity to find the right company to help spread your band's message.
Angela Mastrogiacomo is the owner of Muddy Paw Public Relations. Muddy Paw specializes in working with up-and-coming artists on personalized campaigns designed to bring their careers to the next level. To date, they've secured placements on sites such as AbsolutePunk, Substream, Property Of Zack, PureVolume, and many more.