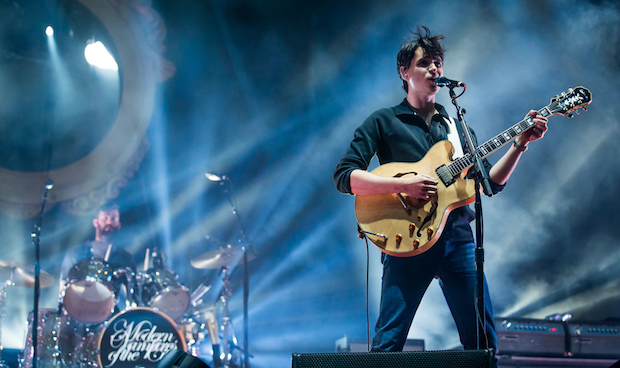 Vampire Weekend is just one of many acts that will benefit from the SoundCloud royalty deal. (Image via vegasseven.com)
Amid all the talk about Apple and Spotify, another music streaming platform is also becoming a lot more attractive for independent artists. For the past few years, SoundCloud has been a highly popular space for musicians to easily and freely upload their music and create a community page for themselves, and with 175 million unique monthly users, its streaming capabilities are nothing to scoff at. Still, it's had somewhat of a bumpy ride the past few years as the company used to pay no royalties at all. After feeling the pressure from the music industry, SoundCloud introduced ads and let a select few monetize their music last August, struck up a licensing deal with Warner Music Group last November, and has now signed another massive royalty deal – this time with some 20,000 independent record labels.
While the deal services big names like Beggars Group (The National, Vampire Weekend) and Secretly Group (Bon Iver), with literally thousands of much smaller labels benefiting, it's a huge nod to the up-and-coming independent artists who truly comprise the heart of the platform. And despite a sketchy past, the company's actions this past year have demonstrated that it's ready to pay its dues to the artists who have supported and relied on the service for years.
Specifics of the deal have yet to be released, but these artists are now a part of the company's On SoundCloud program, a tiered subscription structure specifically for musicians. Anyone can join for free under the Partner tier, which also gives access to basic stats, like determining which of your songs are getting the most plays and downloads. But artists in the Premier tier (which is currently invite-only, but will eventually become more accessible) can monetize their music. Artists under any of the thousands of independent labels in the deal will now be making money any time their songs are played on SoundCloud, or when they're used in any user remixes/mash-ups.
[8 Simple Steps to Maximize Your SoundCloud Exposure]
If you're not already on SoundCloud – well, what are you waiting for? The signup process is incredibly simple, and you can decide for yourself which of its services you need most. Free accounts automatically get an upload quota of three hours, which is enough even for those packing multiple albums in their discography, and an upgrade to the Pro tier includes extra control and promotional tools. Even if you're a bit miffed that unsigned artists cannot yet monetize their tracks on SoundCloud, it's critical to already have a presence on the site when that day comes, so you're not the one playing catch-up.
Ideally, as SoundCloud continues to recognize the value its independent artists bring to the community, more flexible options will open up for musicians like you to benefit. If you're new to the streaming game, it's critical that you learn to adapt to it, as events like this massive royalty deal demonstrate that even independent artists have a large stake in the matter.
Katarina Underwood is an editorial intern for Sonicbids.