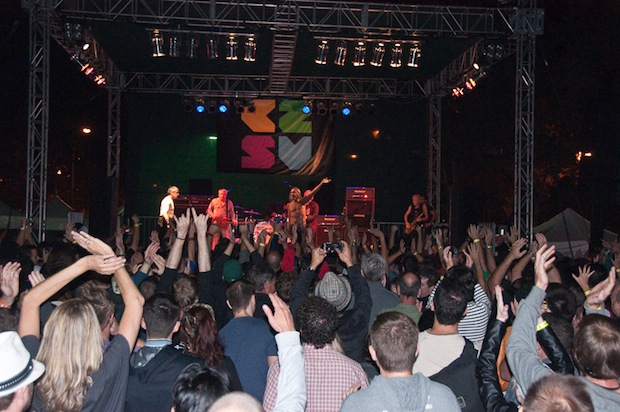 Photo credit: Heather Harris
If you've got a passion for both music and technology, then applying to perform at C2SV by June 22nd should be at the top of your to-do list right now.
C2SV is a three-day event hosted in Silicon Valley, where the year's most advanced electronic innovations are showcased alongside some of the most talented and creative bands on the scene today. We've partnered with C2SV to give 10 Sonicbids bands the opportunity to perform.
The festival coincides with C2SV Technology Conference, whose speakers included Steve Wozniak (co-founder of Apple) and Nolan Bushnell (founder of Atari) last year. Previous festival performers have included Iggy and the Stooges and Thee Oh Sees.
We spoke with founder Dan Pulcrano about how a long legacy of Silicon Valley festivals led to the first official C2SV last year, and the big change they're making this September.
Where did the idea for C2SV come from, and how did you make the idea into a reality?
Well, we did the South First Music Experience (SFMX) from 1995 to 2000. We started it to call attention to local bands, and to try to create a music scene and raise money for local nonprofits. But somehow it became a casualty of the dot-com bust or the Y2K virus. I think someone forgot to do it one year. The zeroes were kind of a lost decade, with two recessions, but we woke up again and in 2012 did the Silicon Valley Sound Experience. The following year we came up with the Creative Convergence Silicon Valley (C2SV) theme and added a technology conference, and I think we've hit upon the right type of annual event for Silicon Valley.
When I first heard of a technology/music festival in Silicon Valley, I imagined it would be an electronic music festival (to coincide with the technological aspect), but you have artists booked from a huge spectrum of genres. How do you connect the two parts of the festival?
That's what's so interesting about this area. It's a lot more layered than the reality show portrayal, in which a bunch of hipsters in a rooftop hot tub toss around B-school phrases like "monetization" and carry around little dogs like Paris Hilton. There are so many crazy stories here that you can't make them up. Who would have believed that the guy who wrote the chords that evolved into punk rock and inspired the Sex Pistols and the Clash was wearing a tie and working at Sony in North San Jose? James Williamson talked about all that at last year's C2SV conference, then jumped on stage with Iggy and the Stooges the same evening.
Other than the interesting combination of tech and music, are there any other experiences this event provides that you can't find at any other festival or conference?
The stuff we talk about is pretty advanced. Other conferences are filled with marketing people from app and social media companies, but here we're talking about drones, self-driving cars, robotics, server operating systems and smart thermostats. The Woz [Steve Wozniak] was sitting in the audience watching John McAffee brag about all the drugs he's taken. Steve Wozniak actually invented the desert music festival. Long before Coachella and Burning Man, he was doing the US Festival. Nolan Bushnell came and talked about starting a company to build navigation systems in the '80s. That's not a big deal now – everyone has one on their phone and in a car ­– but he actually was the first guy to start a company to make those systems popularly available. We have the people who actually invent this stuff here.
How has your experience been working with Sonicbids on the festival thus far?
I like that fact that it flips the top-down model on its head. It's highly disruptive and demonstrates the power of technology as a leveler. The biggest problem for promoters is that there is so much good material coming in. It's a blessing of riches.
What are you looking for when booking an act?
Well, you want something that will create an experience as well as be fresh and original. And hopefully it will draw as well. So we listen to it, and if we like it, we then check YouTube and social media to see if the performers know how to promote, market their art and build an audience.
What sort of people attended the festival last year? What's your market?
Well, a guy who runs a major division for a multi-billion dollar technology company told me the other day how much he enjoyed the Iggy show. So did my bicycle mechanic, who stood on his bike and watched from outside the fence. So it pretty much runs the spectrum. I think almost anyone can find something that will interest them, and if not, all they have to do is head to the next venue. That's what's great about an urban music festival.
What was the turnout like last year? What are you projecting for this year?
We tripled our attendance from the year before. This year should be even bigger because the word is getting out about the quality of the acts. But because it's a young festival, it's not overcrowded. You don't have to park miles away, wait in long lines, get turned away at the door or watch the show from a huge distance away from the stage. People who attend the early years will be bragging to their friends and kids years from now.
What's the number one thing you'd like to achieve with C2SV?
We want show everyone a good time and keep it going. We also want to change people's minds about San Jose. We think it's a great place for a multi-day technology party.
How is this year's event going to compare with last year? Is there anything that you've decided to do differently this time around?
The big change this year is that we are closing down South First Street and doing it in the streets. Previous venues included clubs, a park and the Convention Center. This is the first time we've put a stage in the middle of the street where clubs and technology presentations will be occurring. It will be easy for people to hop from venue to venue, and since it's more compact, we're hoping that this will create the critical mass for a true festival experience.