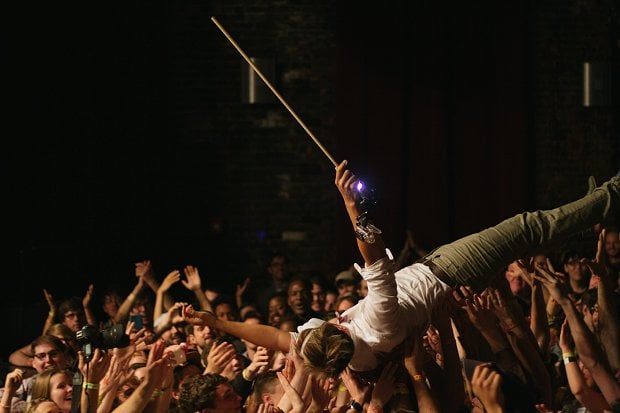 Photo by Stephanie Lennox
Pushing the boundaries of typical music festivals by incorporating various forms of music, electronic art, and tech, Slingshot Festival in Athens, GA, features local, national, and international artists. With a reputation for featuring innovative, forward-thinking musicians, this young but rapidly growing fest is currently booking 60 Sonicbids artists for 2015. We spoke to founder Kai Riedl about the inspiration behind Slingshot, the surprisingly rich music history of Athens, and why he started using Sonicbids to find performers.
Why did you create Slingshot?
As a musician myself, I wanted to foster Athens as an intersection of music, electronic art, and tech. It started in a fairly
DIY
way, largely with a question of, "What if?" and a great community behind me. I always wondered how we could foster new ideas, new music, and the creative economy here in Athens. To test the waters, I ran a small Kickstarter to see what the reception might be; it was a categorical "yes" from the community and musicians in town.
How did the festival end up in Athens, Georgia?
The decades-long thriving music scene and the city's geography made Athens an ideal place to host Slingshot. There's a large support network in Athens that's crucial for something like this. I've also been a part of the music scene in Athens myself for many years. As many know, Athens has a rich music history as the birthplace of the B52s, R.E.M., Pylon, the Elephant 6 Recording Company (including Neutral Milk Hotel, the Olivia Tremor Control, Elf Power, etc.), and many, many more. The town also features a large number of first-class venues within a three- or four-block radius.

Over the last 40 years, Athens has become a place where musicians can connect with each other and perform for audiences with open minds – and open ears. For years, I wanted Athens to open up its doors to international and national acts, and to highlight the many great acts the city has to offer. In a sense, Slingshot is the natural outgrowth of a city that has been the birthplace of music and supported it for so many years. Athens can be fairly off the beaten track, so it made total sense to invite the world to be part of the creative community here for a few days a year.
You combine music, electronic art, and tech. What was the inspiration for having a festival that merges different art forms?
For many of us across the globe, these three things are so intertwined that it made complete sense to incorporate them into one event. If you work in music these days, you are surely working with some degree of tech, and
electronic
visual and sound artists are always working with music and a range of technology. We now live in a hybridized creative ecology that has blurred the lines between these three mediums, and I wanted Slingshot to represent that new environment. I wanted it to be an event where someone can expand his or her understanding of each of these categories and bump into things they normally otherwise wouldn't. We, the core organizers of Slingshot, work in all three of these categories, and we wanted to invite creatives from any realm to the festival.
What makes Slingshot stand out in your eyes?
Though we're still a young festival, we pride ourselves on making things happen at Slingshot that can't happen anywhere else. The concentrated audience (within a few blocks) and the small town atmosphere frees up artists to try new things and lets them tap into the creative freedom that has served Athens well for so long. Slingshot is run by artists, so we encourage all our performers to think outside the box and leave the big city behind.
Why did you decide to partner with Sonicbids?
A large part of Slingshot's mission is connecting with musicians and creatives outside of Athens, and a platform such as Sonicbids puts us on the radar with so much talent that we could have never found on our own. Sonicbids helps us have direct contact with those who want to submit to Slingshot. The Sonicbids community also seems rich and diverse. As you can imagine, being able to work with a system like Sonicbids helps organize a large amount of submissions and is immensely helpful for those of us running it.
What sets certain artists apart from others? Anything specific Slingshot is looking for?
Slingshot, and Athens in general, has a reputation for hosting adventurous and forward-thinking musicians in every genre. We keep our eyes open for stand out electronic acts, but inventive pop, rock, and DJ sets also make up a large part of the line-up. We're always looking for artists that want to make their Slingshot set stand out.
Why should artists apply to play Slingshot?
Because we want to get their great music to the Slingshot community and beyond! We also do our best to support our artists in more ways than just giving them a great audience. We believe in them and do all we can for them before, during, and after Slingshot.
Apply to play Slingshot Festival by December 15, 2014.