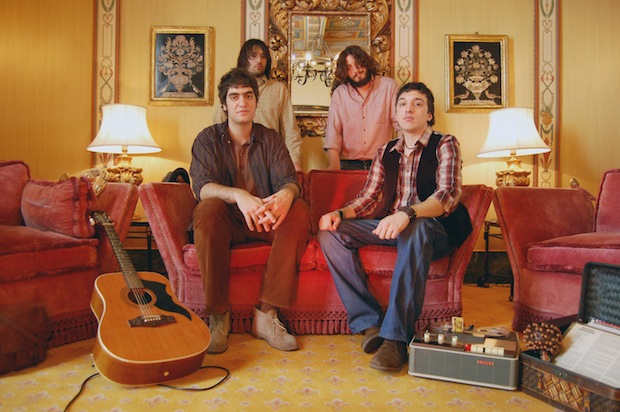 Photo courtesy of The Vickers
With a vicious appetite for musical creation and a dogged work ethic, psychedelic/pop/rock band The Vickers released their LP, Ghosts, two months ago and was selected to play Primavera Sound Festival in Barcelona through Sonicbids.
Hailing from Florence, Italy, the band's sound is reminiscent of the music of the '60s with a dab of '90s influence. The quartet, composed of Andrea Mastropietro (vocals, guitar), Federico Sereni (vocals, bass guitar), Francesco Marchi (vocals, guitar) and Marco Biagiotti (drums, backing vocals), is making their mark in Europe and wetting their feet around the world through radio airplay and features in national magazines and blogs.
We caught up with Federico to find out how these rockers got to where they are today, their Primavera experience, and what's in store for their future.
How did the band come together?
Francesco and I were schoolmates, then Andrea joined us... and Marco arrived later to complete the group.The passion for good music led us to play together from the very beginning. We felt like we needed to create something, and we still feel that need. We formed the band under the name The Vickers and started to play covers of The Kinks, Syd Barrett, Neil Young and Blur. After three months, we were working on our own original stuff and started to play it live among the covers.
Walk us through some milestones on your path to success.
There is still a long way to go, really. Step by step. You have success when you pay bills with your music. We are really happy with the way things are going. We think and hope the better is yet to come! We have a lot of good vibrations about our new LP, Ghosts.
A specific great moment we've had was our Liverpool gig at the Cavern Club in 2009. I remember we were incredulous. We formed the band a few months before – we didn't have a label, we didn't have a manager. We only had our four-track demo, and we were chosen to play at The Cavern! It was an amazing experience. We all remember those days with affection – four young people at the Beatles' home doing what they've always wanted: playing their music far from home. We hope that Primavera Sound will be remembered as another turning point.
What depth of exposure have you gotten from press and radio airplay? And how did you reach those accomplishments?
After that gig in Liverpool, we found a proper label and press agency, so we were organized from the very beginning. With hard work, constantly on tour, writing good songs, sending mailers, shipping music and asking for radio play, we finally started getting airplay around the world: National Radio in Spain, KEXP Seattle, XFM Manchester, Rai (national radio) in Italy, plus a big number of independent and small radio stations. We've been reviewed and interviewed by a lot of big and small magazines and a large number of blogs from all over.
What was the Primavera experience like?
Amazing! Really great. We arrived there after two weeks of touring. It's a serious thing, you know. You've gotta respect timing, places, communication. There are a lot of things to see, and you have an artist badge to go everywhere. It's like Luna Park for musicians.... It's just joy – you can feel like you're part of something. It's gas to the step forward.
How have you used Sonicbids to push forward your career?
We use Sonicbids to look for applications for festivals and for licensing opportunities. It's a great way to promote yourself. Choose well when applying to gigs, and do what's requested of the promoter.
What is one crucial piece of advice you would pass on to emerging bands?
Write good music and record as much as you can. Do it because you love it. It's easier to make music nowadays, but there's less money in the business – a lot less money. Be in a band with people you like. They have to be good, obviously, but a band is not just musical technique. It's creation, attitude, brotherhood. Otherwise you can just go solo and pay session players.
Tell us what's next for The Vickers.
We have a lot of gigs and festivals in Italy, then we'll be touring Europe again, and then Italy again. This month, Inner Ear will release the special LP edition for Ghosts in Greece. We're trying to organize gigs there for October. In the same month, we'll be in Paris at La Maroquinerie for a festival managed by Gonzai Magazine. Also, we're constantly creating videos for our songs. Our goal is to provide a video for every song on Ghosts.