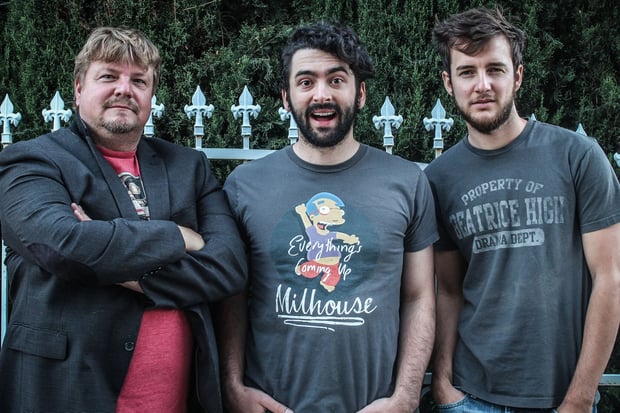 Image via muddypawpr.com; used with permission
Los Angeles is the city of dreams. If you're in a band, chances are that at one point or another you've thought about packing all your belongings and moving to the left coast to chase your dreams and land a chance at making it in one of the biggest music cities in the country.
Well, you'd be in good company. Tons of musicians have done exactly that, and no matter how many changes the music industry goes through, I'm sure many more will continue to find themselves magnetized to the city that has birthed and nurtured so many great artists.
Eight years ago, that guy flocking to LA was none other than yours truly. I got my first real taste of Los Angeles during a tour down the West Coast with my band from Portland, OR. I remember being struck by how big it was and how much talent was overflowing into the city. It can be intimidating to find yourself among so much talent, especially as a newcomer. But if you follow a few simple rules, you can make your chances of surviving in LA a whole lot brighter.
1. Talk to everyone
You never know where you're going to make connections. I've been neighbors with EDM artists, I've met musicians while talking to cashiers at Trader Joe's or working odd jobs, and I've met music bloggers at birthday parties. Everyone in LA is creative in one way or another; you just have to find out what they're doing. You'll meet band members when hanging out at shows, you'll find roommates at coffee shops, and you'll start building a network of interesting people who can help you accomplish your goals.
2. Don't feel bad about working a day job
There's really no way around it. When you're first starting out, you need to make rent and you need to eat. It's definitely worth it to keep your expenses low, but starving artists generally have the starving part get in the way of the art. If you're expecting to pull favors to put a roof over your guitar, if you're borrowing cars to get around, mooching meals, etc, you'll find your network of friends crumble quickly.
Virtually every artist has worked a day job before getting signed, and a ton of artists have side jobs even after they get signed. Furthermore, you're going to need to save up to get your first demo or EP recorded. Just remember that you are an artist first and foremost, and that succeeding at a job is a means to the end of succeeding as an artist.
[15 Unexpectedly Awesome Side Jobs for Working Musicians]
3. Watch out for "friends"
One word of caution, though: there will always be one certain type of person to avoid in LA. I don't have a great word for it, but beware of the people who are only your "friends" when they think you're going to help their career. These people will be friendly, promise to make plans, jam, come to your show, etc., but won't ever come through on those plans. They're just keeping tabs in case you become famous. If you do, they'll be your best friend and claim they were with you from the beginning.
Just avoid these people. They're not going to come to your shows; they're not going to help you move. In fact, they're going to suck a lot of energy out of you that could be better spent finding your real friends, mentors, and jam partners. Luckily, the "friends" of the world are in the minority.
4. Find your tribe
Finding a group of like-minded artists is a big deal when you're starting out. And it's really a credit to the mountain of talent in Los Angeles. Whatever crazy, avant-garde, niche group you want to be a part of, you'll be able to find like-minded creatives to band together with. Their fans will like your music and your fans will like their music, and everyone benefits. There's no competition. Music lovers are always trying to find new music that sounds like their favorite bands, and there's no reason to think that fans will stop loving your music because they like your friend's band.
Besides just getting more access to fans, you'll also get more show opportunities and get the inside edge on making connections. You might even find yourself filling in for other bands when their bassist or drummer is out of town.
[5 Ways to Find Fellow Musicians in a New City]
5. Stay true to your sound
I listed this point last, but it's applicable at every point in your journey. You have to figure out what your true identity is as an artist. When you start out in LA, you might get opportunities to make music you don't really want to. You might start trying to write music you think will be a hit, or you might get a hookup with a pop music producer when you're really trying to play punk. You have to stay the course with your art. Most great bands have swum against the current of their times in one way or another.
I've learned all of these lessons in my time in LA. I grew up in really small towns and was shocked when I came here. I messed up countless times, but that's part of the excitement isn't it? You wouldn't consider coming to LA if you thought it was going to be easy or simple. And if that's what you think, run, because it's anything but. However, if you're willing to put the work in, you'll be rewarded for trying new things. And along the way, you'll have the thrill of making something out of nothing in one of the biggest music cities in the country.
After finding himself yearning for change, vocalist/guitarist Colin Orthmann made the jump from rural Oregon to the sunny skies of Los Angeles to pursue his passion for music that not only sticks in your head, but in your heart. The result is Outside Animals (FFO: Strokes, Jimmy Eat World, and Weezer). Grab their self-titled EP when it drops on June 10, 2016, and keep up with the band here.