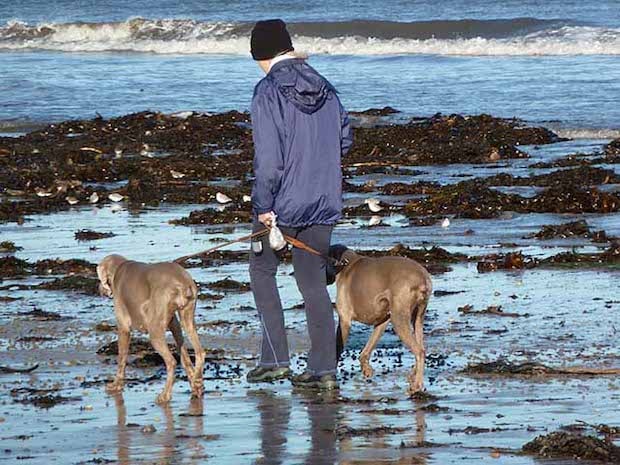 If you're an animal-loving musician, you could turn that into some easy side cash! (Photo by Joan Sykes)
As musicians, our pursuit of happiness often requires a very flexible life schedule. We need to be able to jump on the right opportunities when they present themselves; travel as needed; have the necessary time required to be creative, write, record, and rehearse; and oftentimes end up in a totally ass-backward, nocturnal sleep schedule unlike most of the working world. Some of us aren't so fortunate to land a hit record or major touring gig that can pay our expenses for the rest of the year (or more), and others are just not able to make enough with our music alone to pay the bills.
The creative spirit is then stifled, and many of us find ourselves trying to avoid falling into the sometimes inevitable 9:00 a.m. to 5:00 p.m. work army that we're brainwashed all of our lives to join. And as bad as that might seem, to a good handful of us, being financially codependent or homeless is worse. So what do absurdly talented, musically gifted people do when they have creative juices oozing out of their pores every waking minute but cannot quite figure out the right balance of consistent income to keep those dreams alive and thriving? Well, silly wabbit, they read this article of course! Here's a quick list of 15 awesome side jobs that are great for supplementing your music career.
1. Fitness instructor or personal trainer
This is a great option for folks who wants to make their own schedule, do lots of networking, and stay in shape while doing it! There are tons of different fitness certifications you can get in a single weekend of training for a reasonable price and lots of work opportunities at gyms and clubs, as well as private coaching. Plus, the hourly pay is usually not too shabby either!
2. Pet care services
People will spend their last dime on two things in life: their kids and their pets. Pet owners will put up a pretty penny for the person they trust with their precious furry babies to ensure that they're properly cared for and looked after. Getting started could be as easy as posting some tear-sheet signs in your neighborhood offering dog-walking or pet-sitting services in the home. And if you can do the job right the first time, you're almost always guaranteed long-term return clients.
3. Private tutor
Were you good at math in high school? English? Science? Whatever it may be, there are always children who need extra help with their schoolwork. If you're in or near a more affluent area, it'll be easy to find clientele that place heavy value in these services. There's a lot of pressure for good grades, SAT scores, and stellar state exams to ensure that students get into good colleges, so parents will pay a lot of money (and fast) to ensure that Little Jimmy keeps his 3.8 GPA. You can make house calls or even conduct sessions at your local library. Start with referrals from family and friends and build a trusted clientele that way.
4. Mover or junk removal professional
If you're strong and don't mind manual labor, this is an easy job with consistent pay and job opportunities all over the country. Everyone has junk, and occasionally, everyone needs moving services. There's minimal experience (if any) required, and employers will work within the schedule constraints that you provide them. Plus, many companies are franchises, so if you need to relocate, you'll likely be able to keep your job and just transfer to another city.
5. Driving school instructor
This is a less obvious job opportunity, but driving instructors have a pretty sweet occupation. In most states, you just take some classes and get your teaching license, then you're all set to teach in the car and in the classroom. Rates are often extremely competitive, pay is consistent, and you work around your own schedule. Moreover, there's often a lack of teachers available to driving school businesses, so they'll sometimes even pay for you to get your teaching license if you show potential.
6. Private music teacher
Okay, this one's obvious, but it wouldn't be a proper "musician side job" list without it! Put your skills to good use and share your craft with the younger generation or a longtime music fan. You can teach out of your home, go to students' residences, or hook up with a locally established music school and start working there if you feel like you'll have a hard time marketing yourself on your own.
7. Child care or house-sitting services
Babysitting is another one that seems a little obvious for this list, but people often don't think about how that can also lead to other job opportunities (like the aforementioned pet care, tutoring, music teaching, etc.). House sitting is something that some families will pay good money for to keep their minds at ease while traveling or on holiday, and they always want someone that they can trust, so a previous working relationship through one of the other discussed avenues is a perfect way to get your foot in the door. It's a pretty sweet deal to get paid to crash in someone's (often very nice) crib and just keep an eye on everything for a few days or weeks. And this is the type of job that comes with a lot of referrals if you do it well!
8. Makeup artist
There are a couple of routes you can go with this one: being self-taught and having a great portfolio with samples of your work to show prospective clients, or going the beauty school way and getting the necessary certifications to back up your work and attract clients based on your education and experience. But in any case, a makeup artist position is flexible, fun, relaxed, and can be very profitable.
9. Photographer
Got a passion for photography and the visual arts? If you can take a great picture and market your abilities properly, people will pay you good money to capture the special moments in their lives. You make your own schedule, rates, policies, and procedures. For the "go-getter" types with the right talent, there are a lot of good opportunities for professional photographers in every market. Plus, think of all the music industry connections you could make if you photograph concerts!
10. Website developer or social media manager
The internet is still a scary subject for much of the older generation, and for the vast portion of them that are still avoiding going digital for their businesses, they now understand it's an inevitable shift. That said, if you have the skills required to develop websites or run social media pages, a lot of companies or small businesses will pay you to help them fill the gaps of what they don't know. And the best part is that it almost always turns into consistent work. Clients will often need you to maintain what you've set up for them, so not only is there a big lump sum associated with getting them started, but there's often a recurring fee for keeping everything updated and running smoothly. Plus this is, of course, a job you can do totally remotely and set your own rates accordingly.
11. Cross-country car service
Here's another less-thought-of side job idea. It's another one that's flexible, around your schedule, and can earn you a ton of quick cash. As long as you have a clean driving record, proof of insurance, and time, this is a cool way to make some money and see good ol' America the Beautiful while you're at it! Cross-country car drivers typically charge an hourly rate or flat fee and get all associated expenses (gas, lodging, meals, and return plane ticket) paid for by the customer.
12. Author
Can you write? Many musicians have a poetic gift, so if you're able to translate that into authoring pieces that can make you some additional income, why the heck not? Especially if you're a "master" at your chosen craft, you could get paid to be a contributing expert for a magazine, news, or blog site. There are also a variety of ways to self-publish and sell your own books, too, so go big or go home if you've got the skills!
13. Event catering
This is a job that's also very flexible where you can usually submit your availability and be put on whatever jobs require staffing during those times. There's little real experience required, but a restaurant or service background is definitely a plus. And this is another one where you can usually get a job in one place, and then use that experience to leverage a similar opportunity elsewhere if you need to relocate.
14. Senior care services
People often think about child care services but forget about an entire other generation of people who also need care. The senior care market is huge! Families pay big bucks for private in-home senior care or care at a group home facility. And if that's not really your style, being an assistant or errand runner for a senior citizen is a great and flexible job opportunity, too. The adult children of these older people are happy to pay a trustworthy and reliable person to check up on their parents regularly and help them with the things they need to do. It's usually as simple as going to the post office, picking up groceries, or taking them to their doctor appointments. It can also be a great and rewarding experience to help someone who truly appreciates your time and care.
15. Street pharmacist or drug dealer
Just kidding… #keepitcleankids
Christine Occhino is the founder and artistic director of The Pop Music Academy and has experience working at Columbia Records/Sony Music Entertainment, in addition to working as a performing artist for over a decade. She has a bachelor's degree in music business & management with a concentration in entrepreneurship and vocal performance from Berklee College of Music, where she was a vocal scholarship recipient and former editor-in-chief of The Berklee Groove.