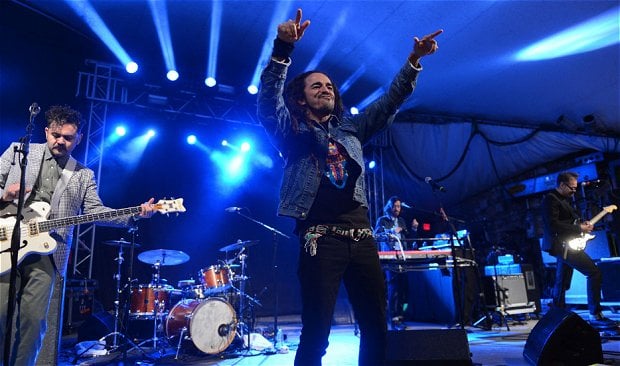 Ruben Albarran of Cafe Tacuba performs at SXSW in 2013. (Photo by Mark Davis)
SXSW is coming up fast, and people are busy making their schedules of what sessions they'll attend and what bands they'll catch. I personally am excited to see some bands I've always wanted to see live and discover plenty of new groups. I spend a lot of time on the SXSW website before I go, listening to as many of the bands officially on the list as possible, but along the way, I've run into some less-than-complete profiles. This is troubling, as it doesn't give me everything I need to decide if I'll go see an artist. If you want to fill out your SXSW profile correctly, which you should (it isn't hard!), here are the five things you really need to have.
1. Include a song
It would be pretty stupid not to include a song on your profile, wouldn't it? You'd be surprised how many artists simply don't bother – or at least I was. It doesn't matter what form the song takes – a YouTube embedded clip or an actual song (the website seems to have a mechanism to upload a file) – as long as people can listen beforehand. If you want new people in the industry to come out and hear you, you need to put your music front and center. Don't assume that people will go out and find your music online, because plenty won't.
2. Add a photo
It may sound superficial, but having a photo can really be helpful. We look at so many words every day – all those emails, texts, and articles really add up – so a visual can be a great way to break things up, and they're a lot more memorable than another paragraph. Plenty of companies and media outlets have accepted that visuals are necessary (we don't read information anymore, we look at infographics; we don't read articles so much as we look at galleries and BuzzFeed articles filled with GIFs), so why shouldn't you?
A professional-looking photo is important. It tells industry people that you're serious about what you're doing (at least to a certain extent), and lets them get a feel for who you are before they even show up. With so many different showcase options at the exact same time, every little thing that could help convince people to choose yours over someone else's is necessary.
3. Say where and when
This one isn't always up to you as an artist, but you should do everything in your power to get this information as quickly as possible. I personally have started to look through the hundreds of artists playing SXSW, starring interesting ones as I go. My calendar is almost full, and that's before even thinking about artists I don't know. Discovering new music is important, but it can sometimes take a backseat to acts you already love.
It's hard to make a real schedule when some acts don't have times or dates associated with their appearances. There are plenty of artists that I want to see, but I don't know if I'll be able to by the time they announce what venue they're playing and when. If it comes too late, I may have to forgo their showcase in favor of other, pre-arranged shows.
4. Write a short bio
It's important to have a bit about your band or yourself, no matter how odd it feels to write such a thing. This doesn't have to be exceptionally detailed, and it shouldn't be long, but don't ignore the space you've been given, as you never know how it will help someone decide what band to see (hint: it should be you!).
Talk about what you sound like and who inspires you. Where are you from? Who have you played with? When I consider writing about an act, I look at these stats. Sometimes these factors come into play. I've written pieces about artists based around who they opened for on tour or what country they were from. Having this information helped me get the word out there about these talented artists in ways I probably wouldn't have been able to otherwise. Leaving this area blank on your SXSW page is a great way to do yourself a disservice.
[Learn more: 5 Ways to Tell a Compelling Story in Your Bio]
5. List your contact information
Again, this is such an easy bit of information to give away, and yet so many bands don't do it. I really have no idea why, and I've found it to be very frustrating. It doesn't matter what link(s) you include, as long as you make sure to have one. Whichever profile or website you direct people to should have all the relevant information, including your social channels and a contact. I've run into situations where I listen to a new act who will be playing at a festival (SXSW especially), and then I can't track them down for an interview or a feature, as they didn't include any of their info. If it takes more than a few minutes, I (and other journalists) will move on to those who were better prepared.
Hugh McIntyre is a freelance pop music journalist in NYC by way of Boston. He has written for Billboard, The Hollywood Reporter, and MTV, as well as various magazines and blogs around the world. He is also the founder and editor-in-chief of the blog Pop! Bang! Boom! which is dedicated to the genre of pop in all of its glory.