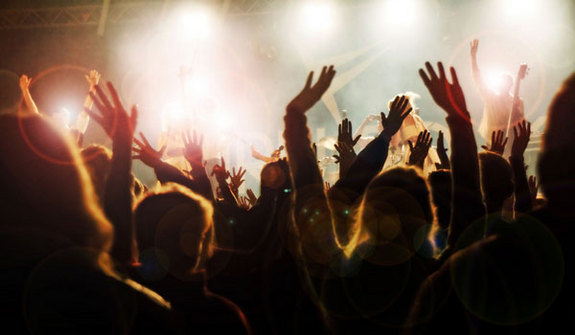 Image via bookmygigs.com
Booking a gig can be daunting for beginners. There's a lot involved, and if you want a fighting chance at a decent turnout, it's paramount that every task is accomplished on schedule. If you're new to organizing shows, or it's your first effort, this start-to-finish timeline should help you tick all the boxes necessary to plan one that's not hindered from the get-go.
Don't forget the prerequisites, though. Are you actually ready to play a show? It's best to be fully prepared – rehearsed, social media up and ready, and if you can swing it, stocked with merch – before even beginning to think of booking a gig. If you are or hope to be soon, then read on.
Two to three months out
Choose the date
Of course, some bands can throw together an event at the last minute without fearing a dismal draw. But for the newbies, that scenario is likely a bit frightening. It's important to give yourself plenty of time to get things organized, especially if this is your first go 'round. Remember that your preferred night may not be open, so it's always helpful to ask about a range of dates, e.g., early November or mid-December. Brand-new bands, unless performing with a locally familiar lineup, should aim for a weeknight rather than weekends. In some scenarios, a very small venue will open its doors to fledgling acts on a Friday or Saturday, but in most cases, clubs are looking for reliably sizable draws those nights.
[How to Persuade People to Come to Your Show on a Weeknight]
Assemble a lineup
This is where networking comes in handy. New players in a local scene should always be working to meet the existing like-minded musicians. If you haven't got a clue about the bands and artists in your town, get to know the scene before trying to be part of it, or try using the Sonicbids Band Search to find acts to fill your lineup. Think about what kind of show you want to offer. A single-genre show? A mix? It's really up to you. When I book a show for my venue, I ask myself if it's something I'd go to. If the answer isn't yes, I'm doing something wrong.
Try considering that when brainstorming a list of bands you'd like to have on the lineup, then contact them. Give them the gist: bands you're asking to perform, who's confirmed so far, your choice of venue, the range of dates you're looking at. Be sure to explain that all of these details are subject to change, though, depending on the availability of both the bands and venue.
Note: Sometimes a band or artist will want payment info before agreeing to move forward. This is something you'll have to decide for yourself, but the general rule is to pay bands from the door, either all of them equally or according to each band's draw. Be ready to answer these questions if they're brought up. If they aren't, though, wait until you've sorted out the venue's door policy before making any promises.
Pick, then contact, a venue
Choose a venue that makes sense for the show you're putting together. Don't go for a 500-person capacity club if you don't think you'll draw that many; avoid using a very small club if you expect a crowd double what they can accommodate. If you aren't familiar with the venue you're trying to book, be sure to check it out more than once before deciding whether or not it's right for your show. Look up the venue's booking guidelines online (or call and ask) before reaching out. Some spots have a designated booking agent, while others provide only a general email address. They'll likely list certain information required of every query. If not, here's a list of what most are looking for:
Information about the bands: Provide short descriptions, social media accounts, and links to MP3s or YouTube videos for every band in the proposed lineup
Dates: Give 'em the range of dates you decided upon earlier
Cover charge: What are you hoping to charge at the door for your event? (Something to consider before contacting any venue: make sure your social media is up-to-date with the latest songs, photos, and any other information about your band)
If you don't hear back within a week, send a follow-up email. In the case that you're turned down or don't get a response at all, begin thinking about backup venues. Follow the above process for each, one by one, until you've secured a gig. Once you've got confirmation that the gig is booked, ask about the door policy. Does the club take a percentage? Is it all yours to divide between the bands as you see fit? Is there a charge for sound? Work out those details, then let the bands know what you expect to pay them – and confirm their participation again before moving forward.
Two months out
Promote on social media
You'll need to set up a Facebook event for the show about two months ahead of the date. That event should include links to the bands playing in the info section, cost, date, time, and location – basically all the info you'd want to know if you were considering attending a show. If you aren't able to get a cover image designed specifically for your event, then at least choose an appropriate and eye-catching image.
Invite friends and share the event on your own, but also make sure every band involved is doing the same. Don't forget to cover all of your social media channels, not just Facebook. Once the attending count on your Facebook event begins to climb, send the link to the venue.
[How to Create a Facebook Event People Want to RSVP 'Yes' To]
Start on flyers and posters
Despite our reliance on social media, they still do a ton of good in helping to promote shows. Check out our design tips if you're doing it yourself, or commission an artist friend or acquaintance who's well-versed in the medium. Research prices at local shops or get a recommendation from another local band before settling on a spot to have them printed. Shoot for at least 100 handbills and five posters, a portion of which you should disperse and hang up at the venue. (And print twice as many, if you can.)
One month to two weeks out
Check in with venue. Let them know how the promo is going, and ask for sound specs. Do they provide bass and guitar amps, or should you bring your own? Make sure you understand what's expected of you, from load-in time to gear to who to talk to once you arrive. Get the rundown on the door, too: Do you need to provide someone to charge, or do they have someone on staff?
Meanwhile, keep the promo going online. Continue posting about the show, and hand out any flyers you've got left.
Day of the show
Make sure you have all the necessary gear and arrive rested, rehearsed, and ready to go. Check out our tips for nailing the gig here.
When the show is over, if applicable, pay the venue or appropriate person as discussed beforehand. Then pay the bands – and don't forget to thank them!
Jhoni Jackson is an Atlanta-bred music journalist currently based in San Juan, Puerto Rico, where she juggles owning a venue called Club 77, freelance writing and, of course, going to the beach as often as possible.