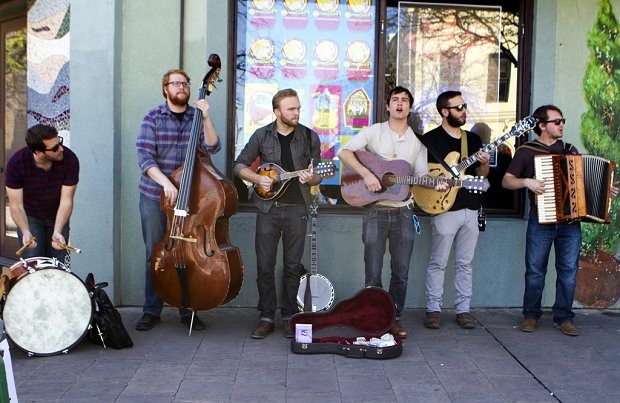 Photo by Devon Christopher Adams
Austin, TX, is known as the live music capital of the country with the most music venues per capita. With SXSW currently in full swing, the city has drawn thousands of local and major acts from across the world, as well as countless music lovers and industry representatives. It's not easy to get on an official SXSW showcase, though – with so many up-and-comers vying for a set, only a fraction of the bands that apply actually get to perform. So if your band didn't make it onto this year's lineup (or even if you did!), there are still plenty of other opportunities to have your music heard.
If you're serious about being a part of one of the largest music festivals for indie artists in the world, get out there on the streets and busk. Downtown Austin is full of live music, and while Austin police have a bit of a reputation for harassing street performers, busking is being redefined in Austin law to be considered separate from panhandling. This is an initiative led by the Austin Music People organization, and though it's not set in stone yet, buskers should still keep their eyes and ears open. "Though street performing, also known as busking, is not illegal in Austin, our artists continue to be cited for soliciting, panhandling, and loitering while performing in public spaces," reads an AMP petition, currently being circulated in support of busking.
Part of the issue is competing for space. Not only do unofficial SXSW bands hit the streets, but several of the participating bands busk between sets. If you can, contact some of the local bars and restaurants to see if you can get their permission to play in front of their establishment. With an agreement set in place, you'll have a better shot at a guaranteed space, as well as less trouble with any potential police intervention. While SXSW has an incredibly strong economic impact on the city of Austin, several stores will try to go out of their way to step up their presence amongst all of the action. Research cool, nearby places before heading to SXSW to see if you can work out an agreement. With over a hundred festival stages, there are plenty of pockets to set up and perform.
Best busking spots
Sixth Street is a historic street and entertainment district in Austin. Along the block stand tons of bars, restaurants, theaters, galleries, venues, and more. Street performers are known for setting up along the street to play music, juggle, do magic, etc. During SXSW, tons of musicians find a spot on Sixth Street to share their music without a badge. The intersections of Sixth and Trinity and Sixth and Brazos are particularly good places.
Congress Avenue is another strip of hip cafes, bars, and stores, and it's prime for street performing. It's a great place to be in the middle of the attractions and vibrant entertainment scene. Musicians typically set up in front of storefronts, on the sidewalk, or in parking lots.
Red River Street is an eclectic, three-block strip of some of the best (and most) live music venues in Austin. You can see more than 20 bands in a three-block stumble on a Friday or Saturday. The buzz during SXSW is even stronger.
Second Street District is one of Austin's well-known dining and shopping districts with plenty of foot traffic and space to showcase your music.
Keep in mind
Austin doesn't permit loud music in public between the hours of 10:30 p.m. and 7:00 a.m. Be respectful. In addition, while we said busking is not illegal, police are on fierce watch during SXSW. If an officer or local authority figure asks you to wrap up, do not fight them. It's in your best interest to comply, not just for your freedom's sake, but for your music. You don't want to be the musician at SXSW who's remembered for being dragged away by the cops. To many, busking is a wonderful cultural spice of live, raw music and art, but many see it as an annoyance. While you may think that SXSW is just a free-for-all live music parade, it's very organized. Be respectful and cautious of any space you occupy to ensure you don't run into any issues.
Tips for successful busking
Aside from landing a prime performance spot, there are a few things you need to know to maximize your success as a street performer:
Don't block sidewalks or doorways
Find performance spots in areas with a lot of foot traffic
Always display some flyers, CDs, and/or business cards
Remember to give people a performance, not just a practice session
Put out a hat or an open case so that people can show their appreciation
Be prepared to take requests (children especially love to ask for their favorite songs)
As a busker, you're always onstage, so be kind and mindful of your actions in between songs
You'll never have a more diverse testing ground for your songs, so pay attention to people's reactions. If adults stop to listen and kids start to dance, then you're probably doing something right
Want to busk in other cities in the US? Check out these guides:
Sam Friedman is an electronic music producer and singer-songwriter based in Brooklyn, NY. His music blends experimental ambience with indie-driven dance music. In addition to pursuing his own music, he is a New Music Editor for Unrecorded and is passionate about music journalism. Check out his music and follow him on Twitter @nerveleak.