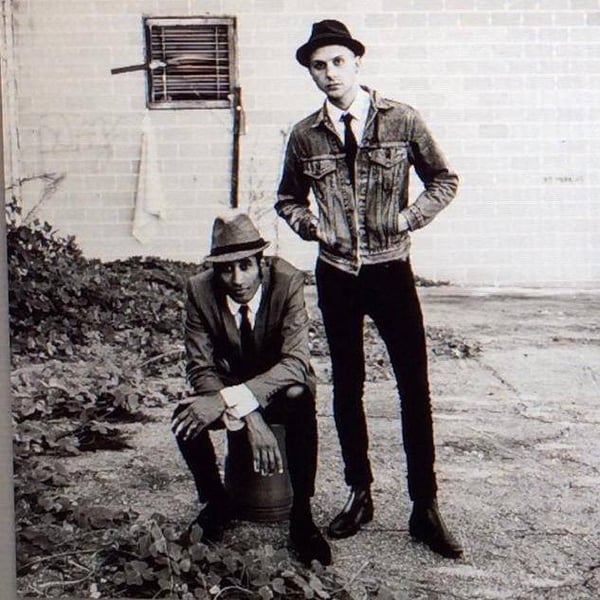 Randy Michael (left) and his production company co-founder, Jonah Swilley (right). (Image via facebook.com)
If you haven't yet realized the likelihood you'll ever headline your hometown's corporate-sponsored amphitheater is incredibly slim, here's your wake-up call: you probably won't. Like, ever. But that doesn't mean your music-making career can't generate some amount of income. There are myriad ways to earn money without being recruited into the mainstream ranks – and none of them include holding out for the attention of a major label.
You'll be lucky if you even score a deal with a well-known independent imprint, honestly, much less draw crowds of thousands on a regular basis. We don't mean to be discouraging, but them's the breaks. And unless you're entirely ingenuous to the realities of the music industry, it should come as no surprise to hear that as of last year, mainstream artists comprise only 1.1 percent of the market. That's according to Next Big Sound, a research group that's been analyzing the industry using fan interaction data since 2009. That same 2013 report also states that about 90 percent of artists remain relatively undiscovered.
Randy Michael, an Atlanta-based musician, is one of many in that latter category, and he seems generally content with his career so far. His now defunct band, a bluesy mod-rock act called the Booze, didn't take off to the heights he'd hoped for. Black Linen, his stellar new Britpop-leaning project, has yet to release a debut album. None of that sounds very impressive, does it?
Thing is, Michael's accomplishments don't lie only in his efforts in bands. For him, life as a musician isn't intrinsically linked to his work in a group. That frame of mind has led him to some spectacular highs, like touring with Public Enemy and Butch Walker, as well as a stint with the Living Things, who released works with Universal, Dreamworks, and Jive Records before disbanding in 2010. His time with Pyyramids, a side project of OK Go's Tim Norwind, included a performance on Leno. He also played with Joe Lean & the Jing Jang Jong, and not long ago was cast in two David Bowie videos.
"I feel like you just have to say yes to everything," Michael says. "If you play multiple instruments, even if you're in a band and you're trying to make it with your band, if someone has a hit record out and they ask you to come on tour for a couple weeks, absolutely say yes. If you don't like it, or you know if it's weird, or they don't pay you, then don't do it again. But you said yes, and you know what to expect now. That's what I did."
Focus on musicianship, not stardom
Rather than focusing on the condensed, impossible goal of a big break as a band, Michael opts instead to work toward mastering his craft. And that's part of why he's found a way to make being a full-time musician work for him.
"I did the Public Enemy thing, then I got the job with Butch. And anyone who's asked me after that, I've said yes. Because it's really all about getting better as a musician, and the experiences in between and on the road, but it's really about being the best musician you can be," he says. "If you're just starting out, it doesn't matter, or if you've been playing 40 years, I feel like it's just about being the best musician. And the best way to do that is to play with other musicians. They don't necessarily have to be the genre you play with your band."
Michael's latest endeavor is another reflection of his ethos, and also a step toward financial stability. After writing a few songs for soul artist Curtis Harding's debut record with Black Linen bandmate Jonah Swilley, the two decided to start a production company.
"Jonah and I, we play in Black Linen as well, and it's our baby, but we know deep in our hearts that when we're 50-something years old we can't do Black Linen," Michael explains. "If you're a band like U2 or you're Paul McCartney – if you started before a certain time in history – you're able to carry on, but I don't think we'll be doing Black Linen when we're 50. But we can write songs when we're 50. There's always going to be people that need songs, you know what I mean?"
InCrowd is what they've named the company, and they aim to keep a varied clientele. Already they've done a tune for Atlanta rapper Bone Crusher and will soon work with Julia Kuger of hometown punk band the Coathangers on her solo project. They've also got their eyes on the next album from Texan gospel-soul singer Leon Bridges.
"It's not always going to be good, but as long as you're writing and working on music every day, it doesn't matter if it's an elevator tune – you're doing something every day. There was a time that I was like, 'I'm going to put all my eggs in the Booze,'" he recalls. "But you have to rely on three other guys, and they may not want to do it or they may have reservations or they may have other ideas about what they want to do musically. And if that happens – and it usually does in bands – you're like, shit, what am I going to do now? It's important to be familiar with all corners of music."
Contributing to other projects can lead to income now and in the future
While Michael's move into production isn't for everybody, his path is exemplary for anyone looking to make living as a musician. Treating music making like freelancing in any creative field is paramount.
"This is one of the reasons why I say yes to everything: it's like working on the set of a movie. You're working for six months or four months, and once that's done, that's it. You have to say yes to everything. You never know who you might meet on those tours that may need someone to play after the tour's over. That way you stay working, and you still have money in your pocket," he recommends. "In the meantime, you can come and work on what you want to work on, but until you have the funds to get it out the way you want to get it out – or to eat – you still gotta make a living as a musician."
Accepting that gig with the Living Things is how Michael landed those two David Bowie videos, by the way.
"The lead singer, his wife, she's a director. She directed the Runaways movie and 'The Dope Show' for Marilyn Manson. and she was directing this David Bowie video. And she asked me. But they didn't tell me who it was, they just said, 'Listen, we've got a good opportunity for you, you're going to like it. I can't tell you who it is because they don't want anybody to say anything to anyone and have paparazzi there.' I thought it was maybe probably Justin Timberlake or Rod Stewart because they both had brand new records out then. When I got to rehearsal, it was David Bowie. It was the coolest thing I ever did in the world, in my life. It's fucking David Bowie, sitting on a stool, right there," he recalls.
Seriously, say yes to everything
In case you didn't catch this, take note: Michael accepted that gig blindly. And had he not seized the chance to roll with the Living Things, it would never have been offered to him. All of that is further proof that his motto – to say yes to everything instead of relying on a single band as the linchpin of your career – can be supremely beneficial to making a living from playing music.
"It's much easier to make a living as a musician than it is to make money as a rock star," he says.
Here are a few ideas on how to make a living as a musician:
Jhoni Jackson is an Atlanta-bred music journalist currently based in San Juan, Puerto Rico, where she juggles owning a venue called Club 77, freelance writing and, of course, going to the beach as often as possible.