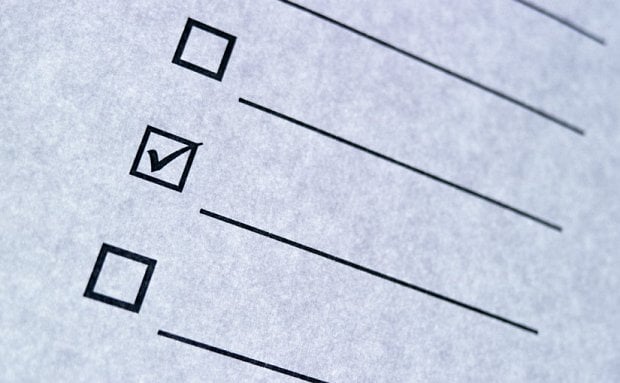 Photo by Daniel Kulinski
This article originally appeared on Passive Promotion.
Your album is mixed and mastered, finally! You've got cover art and maybe even replication lined up. Now what?
This is the question I was hired to answer. Specifically, I was asked to create a to-do list for a band's debut album. They were generous enough to allow me to share it with you. Keep in mind that all this stuff comes before the actual promotion. We're simply laying the groundwork here.
Register your .com domain
If yourbandname.com isn't available, choose another band name. No joke! Owning your domain is huge.
Trademark your band name
I hired Gerben Law Firm, and the entire process was a breeze. Josh [Gerben] conducts a comprehensive search, which will turn up any competing marks. Even if you're not worried about others infringing on your mark, conducting a search will protect you from infringing on others and potentially save you from having to change your band name in the future.
[How to Trademark Your Band Name]
Create profiles on the major social networks
You must be on Facebook, Twitter, SoundCloud, and YouTube. Hopefully you can snag your band name as your username on all of them. You might as well at least stake your claim on Instagram and Google+ while you're at it.
[Here's how to choose your social media plaforms wisely!]
Register with a performing rights organization
ASCAP or BMI, take your pick. If your song gets played on terrestrial radio or TV, they'll collect royalties for you.
They collect royalties for plays on digital services like satellite radio and Pandora.
License any cover songs
Unless you wrote every song on your release, you'll need to pay the publishers of the songwriters who did. You can go direct through the Harry Fox Agency using its Songfile service, or through Limelight for maximum hand-holding.
[Who Owns That Song? How to Research Copyright Ownership]
Choose an aggregator for digital distribution
I use CD Baby to get my music on iTunes and Spotify, but there are plenty of other options. Ari Herstand has a very detailed comparison of the key players. Don't feel obligated to sign up for all the extras, because you likely don't need them, and can add most of them later. Also, you can sell your music on Google Play directly, though I'm not convinced it's worth the hassle.
Launch your website
I built my band site with WordPress, but maintaining it can be a time sink, with constant updates to plugins and WordPress itself. You'll notice my band site is a mirror image of my promotion blog to keep things simple. If you're not keen on designing your own site, I recommend Bandzoogle.
[Top 4 Budget-Friendly Ways to Build a Band Website if You Don't Know How to Code]
If you don't, you won't know if anyone is actually visiting the site you put so much effort into creating! Google Analytics provides more detail than you'll ever want, including real-time tracking of site visitors. Creepy and fun. You'll probably want to set up Google Webmaster Tools while you're at it. Both are tedious, overly technical, and utterly necessary.
Start a mailing list
Until you've got 2,000 subscribers, MailChimp is the way to go. Unfortunately, it's cost-prohibitive beyond that. I've got 5,500 subscribers on my mailing list, which would be $65/month. I'm only paying about $170 for a full year with FanBridge.
Schedule a photo shoot
I'd prefer to remain anonymous, but there's no way around it – you need professional photos. My last shoot was a few years back with the amazing Gabriel Goldberg. I'm totally overdue and totally procrastinating.
[Photo Shoot Essentials for Musicians]
Write your bio
Or better yet, hire a professional to do it. I keep four versions handy: long, short, first-person, and third-person varieties.
[How to Draw in Promoters and Press With Your Band Bio]
Get on Wikipedia if you can
According to Next Big Sound, 4,000 people have viewed my Wikipedia entry in the last 90 days. You're not supposed to write your own, but luckily I've had multiple editors contribute to mine over the years. The problem is, even if you get someone else to do it, it can be removed if you don't meet their notability guidelines.
Set up direct-to-fan sales
iTunes takes 30 percent of sales. Bandcamp takes 15 percent, so referring my fans there is an easy call. With a $5/month pro account, they even let you use your own domain (in my case, music.colortheory.com). Generally, I'll take pre-orders by creating a single teaser track with 30 to 40 seconds of each song nicely crossfaded into the next. On release day, I swap in the full tracks and allow them to be streamed in their entirety.
[How to Make Your Bandcamp Page as Effective as Possible]
Make your assets downloadable
For my last EP, I created a Dropbox folder that included all the tracks in .WAV and .MP3 format, plus instrumentals, album artwork, hi-res press photos, and remix kits for every track. Sharing with producers, publishers, and bloggers was as easy as emailing a link.
Figure out which songs to promote
I suggest getting a 100-listener report for every song on your release from Audiokite. In a few days, you'll know which songs best resonate with fans of your genre. Good to know, especially if you're going to make a video!
Submit your release to Pandora
Here's how. They'll listen to one track and one track only, so choose the one that scored highest on Audiokite. The bar is pretty high, and the process can take months, but it's worth it. I make about $40/month from Pandora alone, via SoundExchange.
Get your music heard by key influencers
It's worth paying a few bucks to get your music heard by people who can move your career forward. Fluence allows you to reach music bloggers, music directors, producers, other acts in your genre, and more. You can even submit your stuff to me for mixing/mastering or promotional advice. If I like it, I'll share it with my non-insubstantial following on Twitter.
And now that that's all done, you're ready to begin your promotion!
What's on your personal album release checklist? Let us know in the comments!
Brian Hazard is a recording artist with 20 years of experience promoting his 10 Color Theory albums and head mastering engineer and owner of Resonance Mastering in Huntington Beach, California. His Passive Promotion blog emphasizes "set it and forget it" methods of music promotion, along with a few tips on mixing.