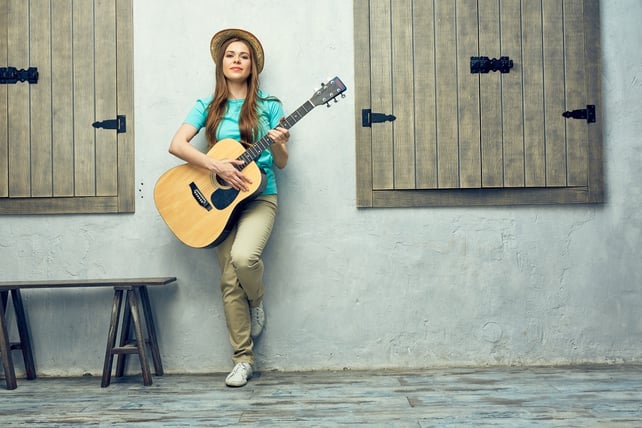 Image via Shutterstock
In this special series by songwriting teacher, record producer, and A&R executive Loren Israel, you'll learn about the fundamentals to take your craft to the next level straight from Loren's new course about cracking the "Code" to writing great songs.
One of the biggest, if not the biggest, misconceptions about the music industry, or specifically, about making a career as a musician, is that it's mysterious and it's exclusive. Mysterious to the point where there's no way of understanding how it works, and exclusive in the sense that only certain artists are allowed to make it.
This is crap. Becoming a successful artist or band isn't up to the mysterious powers in the business. It's up to you.
My goal with this series is to show you that writing a hit song, landing those concert gigs, or signing that record deal are all pieces of a career you can absolutely be a part of. Anyone can learn this. Few actually do.
Before learning rhyme-scheme techniques, alliteration, or imagery, you need to simply understand the idea that you're capable of becoming the artist on the radio, on TV, or in the headphones of that person walking by. It doesn't take knowing someone or "being discovered," but what it does take is effort, patience, time, and practice.
Being a great musician takes thousands of hours of building your craft. Not being nostalgic. Being current. Not being afraid to see music as a business as well as an art. And one more thing…
A hit song must come first
Write a song that people share. A song that changes a person's state. Without a song, you have none of anything that surrounds it.
Before you have a live show. Before you have T-shirts. Before you have a manager. Before you have a record label. Before you have a promotion staff. Before you have a publishing deal. Before you have any of that, you need a song.
We don't look at Lady Gaga and celebrate her because she's on a coffee mug. We don't reflect on Prince because he was on a T-shirt. All of our views of an artist start with his or her music. It starts with one song.
And if you want to make it big, then your song has to have certain timeless elements:
Clear structure
Common chord progressions
Consistent numbers of bars in the verse, chorus, intro, and bridge
A conversational lyric
We're going to learn how to do this. Throughout the course of this series, we'll learn how to master those elements using a variety of techniques I've been teaching artists for over 20 years.
Now let me end this first post with a story. (Who doesn't love stories?)
Decide if music is your destiny
I had been producing records at the Beastie Boys' studio for many years with my late friend Brian Foxworthy. There was a keyboard player who we used for recordings a lot, a young kid. The kid came in one day, and by day, I mean 3:00 a.m. or 4:00 a.m. because this was an after-hours sort of project.
He put out some great tunes, I paid him for his services, and he went home. His parents spoke with me the next day over dinner. They were concerned about the direction their son was heading. Concerned over a future that involved music. "Loren, what can you do to talk him out of being a musician?" they asked.
My answer was very honest and very clear: "If I can talk him out of doing music for a living, then he wasn't supposed to do it in the first place."
So I talked to him on behalf of his parents. I tried to persuade him out of his craft. But he had a different idea.
The kid didn't quit music. Instead, he eventually became a touring keyboardist for many successful bands and is a fixture of music you hear regularly on the radio.
It was his idea. Not mine, nor anyone else's. Making the decision to perfect your craft day in and day out is not up to anyone other than you.
Next up:
Loren Israel is a songwriting teacher, record producer, and A&R consultant specializing in finding and developing new talent. For over 15 years, Loren was an executive in the A&R department at Capitol Records. He worked with bands such as Coldplay, Less Than Jake, and was the A&R representative for Jimmy Eat World's multi-platinum Dreamworks album Bleed American. Lately, Loren has been maintaining his focus on developing artists through his six-month songwriting course, while also recently becoming an A&R consultant for Sony Music. Bands he's mentored through his course include Plain White T's, Neon Trees, and the growing recent success, the Unlikely Candidates. His songwriting mentoring has helped his bands earn over $60 million in contracts, promotions, and merchandise.