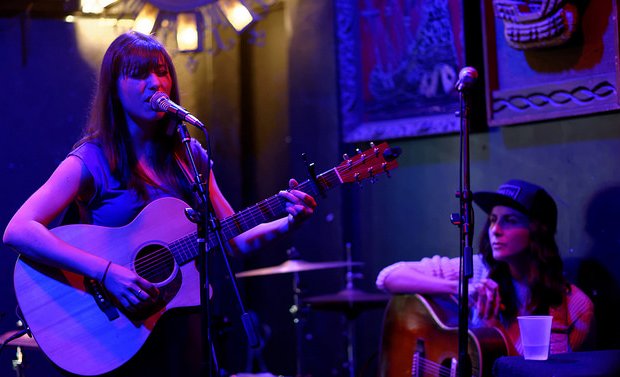 Image via flickr.com
As frustrating as it is, every songwriter, no matter how good they are, gets into ruts where they just can't seem to create anything new. It's almost like you're stuck in a box or you've hit a plateau with your writing, but there's a really easy way to break out – co-writing.
Before we get into finding co-writers, it's important to know what to expect. Writing with other people is completely different from writing on your own, and it's important to remember that some co-writing sessions just won't feel right – and that's okay. But sometimes it will really click.
The point of co-writing is to pool together two creative energies to create something greater than you could have on your own. It's meant to expand your creative horizons, challenge you, and bring out the best in your writing. That's why it's important to try writing with as many people as possible. So let's go through a few quick tips on finding co-writers.
1. Connect with local musicians
If you're just breaking into the world of co-writing, it's best to start local. No matter where you are, there are probably some other musicians somewhere nearby who may be willing to write with you, but if you want to find them, you'll have to become a part of the local music scene. Go to as many gigs, performances, events, seminars, and conferences as you can, and use them as a chance to meet other musicians. Get to know some of the local musicians – listen to their music, start up a conversation, and then start talking about writing together.
2. Don't limit your co-writes to just one genre
Just because someone doesn't write in the exact musical style as you doesn't mean they're off limits for a co-writing session. In fact, it's probably better if you write with people who will bring a new twist to the table.
I think a lot of songwriters get stuck in the genre box. Songwriting is about pushing your comfort zones and your creativity to come up with something really unique – if you're not challenging yourself, you're probably not improving. Even if you end up writing a song that you don't want to play at your open mic gigs or put on your album, you'll probably learn something or get some ideas that you can adapt into your preferred genre for future songs.
3. Join an online community
Once you have some experience co-writing, you can start breaking out of your hometown. One of the coolest things about the music industry today is that you can connect with songwriters all over the world instantly. There are a ton of Facebook groups, forums, and communities that are specially designed to help songwriters connect with each other, and you can even co-write with people across the world via Google Hangout or Skype.
SongwriterLink is a free platform specifically designed to connect songwriters. After you customize your profile with information on your writing style, level, goals, and what kind of co-writer you're looking for, the website uses an algorithm to give you your best matches (very similar to dating websites), making the process of finding the right collaborator much easier.
If you want to improve your songwriting and learn strategies to get more gigs and grow your fanbase while also collaborating with other songwriters, the Songwriters Kickstart course is a great option. You get 50+ songwriting video lessons as well as access to a really active group of musicians and songwriters from all over the world, many of whom are looking for collaborators.
Once you find a co-writer – either in person or online – it's important to bring a split sheet with you to the writing session so you can document who owns which percentage of the song up front. Although it may seem unnecessary now, it's a great practice to get into to avoid any messy ownership disputes. You can download a free split sheet template here, or try a cloud-based split sheet like songsplits.com.
If you'd like more strategies like these, you can download this e-book for free. It will take you through some of the best strategies for indie musicians to help you grow your fanbase and your career.
You may also be interested in:
Dave Kusek is the founder of the New Artist Model, an online music business school for independent musicians, performers, recording artists, producers, managers, and songwriters. He is also the founder of Berklee Online, co-author of The Future of Music, and a member of the team who brought midi to the market.