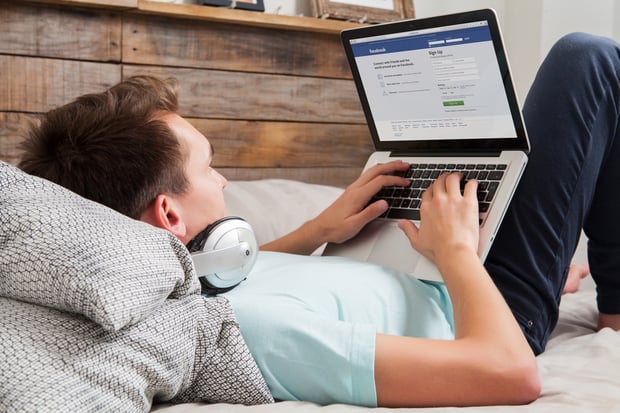 Image via Shutterstock
A version of this article appeared on Cyber PR.
If you've spent any time trying to promote your music on a Facebook page, I'm sure you've noticed something pretty frustrating: Facebook makes it incredibly difficult to grow your page organically.
Once upon a time, if you posted your latest music video on your page (which used to be called a fan page back in the Dark Ages), chances were that most of your fans would see it. But ever since Facebook went public in 2012, the company has made a giant effort to bring paying advertisers on board. The algorithms Facebook uses to determine what people see in its newsfeeds are heavily weighted to benefit paid advertisements. This results in the fact that my own mother (who has about 20 Facebook friends) often doesn't see what I post on my page.
A poor, unloved Facebook post. (Image via cybermusicpr.com)
And so we come to…
The number-one reason your page isn't growing
You're not paying for ads. Period. I know, it's sucky. But think about it: you're basically running a small business. The moment you start thinking about your music as a business, it becomes easier to swallow the fact that almost all of the songs you hear reach your ears because someone paid to get them there. The world is so full of people who want to make music that it's almost impossible to be heard over the chaos. Without an effective record label backing you, paid advertising is the best way to cut through the noise and find your tribe.
However, it's well worth keeping in mind that throwing money at Facebook won't necessarily solve your problems by itself. If you're paying to advertise your page and posts and still not seeing engagement, then you may be guilty of one or more of these five Facebook faux pas:
1. You don't post consistent, compelling content (CCC)
Your content not only needs to be consistent in terms of style and theme, but in terms of frequency as well. An effective Facebook fan page should have one post per day (two if you're getting great engagement), and the content should be varied enough to keep it interesting but similar enough that it helps to develop your overall brand. Also, keep in mind that if you want people to share your posts, you have to post things your fans would actually want to share. Knowing your fans and what resonates with them is key here.
2. You don't use mixed media
Facebook is not Twitter. Text is not the secret to success. Facebook has acknowledged the fact that people are more likely to engage with photos, videos, and links than they are simple, standard text updates. Facebook also tends to give posts with photos more weight in the newsfeed algorithms.
3. You don't focus on community
Facebook is a social network. It's not a broadcasting tool. If you spend your time on Facebook telling people about yourself over and over again like a broken record rather than asking, conversing, and building real relationships, you'll miss out on what Facebook actually has to offer. Find ways that your fans can not only interact with you, but can interact with each other, and you'll really start to see some magic happen on your page.
4. You don't engage your community, aka you only engage once
It's one thing to ask your fans questions on Facebook or to share compelling content that warrants comments, questions, etc., but it's entirely different for you to re-engage your community by responding to each comment and question. It's this re-engagement of your community that will keep them coming back, helping them to build stronger loyalty to your brand. Oh, and all of this will help you to rank higher in the algorithm. It's a snowball effect: the better you perform, the more weight your posts will hold in Facebook's algorithm, and the more people will see your posts and engage with them.
5. You don't pay attention to analytics
It's shocking how many people ignore the fact that Facebook actually gives you detailed analytics on your fan page. They do this for a reason! (See: the snowball effect above in number four.)
Facebook Insights give you a detailed look at the demographics of your fanbase (location, age, gender, etc.), and most importantly, what kind of content they're engaging with. Your content strategy never needs to be a static thing – it should be fluid! It needs to shift as you find out more about who your fans are and what they want. Using Facebook Insights is critical to a creating a strong page that performs well in Facebook's algorithm.
One of the great new tools in Facebook Insights is the "Pages to Watch" feature. Go into Insights (at the top of your page), and scroll to the bottom. Here, you can choose up to five other pages you want to compare your page to.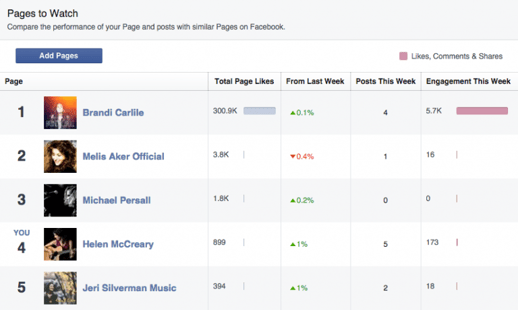 Image via cybermusicpr.com
This may sound a little voyeuristic, but it's actually incredibly useful. Choose a few artists who are similar to you – not just in terms of music, but where they are in their career and their overall brand. Then choose a few bigger artists that you admire and want to emulate. You can see how many people are engaging with their posts every week, how many likes they're getting every week, etc. You'll start to get a sense of the strategies and posts that really work for them and start using them yourself. Learn from your fellow artists!
Believe it or not, the average engagement rate of a fan page (engagement rate = People Talking About This Page/Total Number of Likes) is between .5 percent and .99 percent. A good engagement rate is anything over one percent. You can absolutely achieve this and more, if you remember what we've already talked about: CCC, mixed media, community, re-engage, analytics, and paid advertising. Go forth and conquer!
Get more Facebook tips:
Ariel Hyatt has been a fierce entrepreneur for 18 years and runs Cyber PR, a dynamic social media and content strategy company based in New York City. Her agency places clients on blogs and podcasts, establishes their online brands, and coaches them to create authentic relationships. She has spoken in 12 countries and is the author of four books on social media for artists, two of of which have hit number one on Amazon.