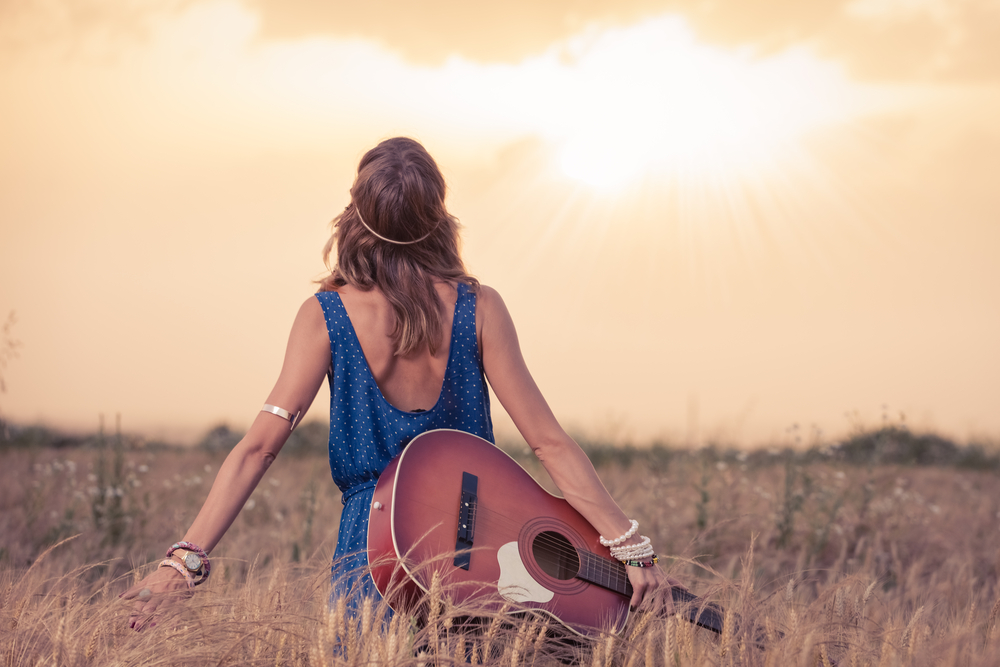 Image via Shutterstock
Recently, we brought you the first in a two part series about combining two of the most incredible gifts you have to offer the world: your music, and your voice.
In the first article, we talked about artist advocacy — how to get involved with different organizations and start making a difference on both the local and national level.
Today, we want to talk about something that most of us are aware of, and yet, truthfully, aren't doing enough to stop: climate change.
Real talk: If we keep this (meaning pretty much everything that makes up our daily lives) up, plants and animals will continue to lose more than half their habitats, and if you've seen even one episode of Blue Planet you know that means an increase in premature death for our furry friends, as well as extinction of certain species. Not to mention the massive increase in floods, fires, and rising sea levels. And this is all at risk if we even continue to go up by 1.5-2 degrees Celsius. All of this, we will begin to see happen in our lifetime. I mean, we already are.
But we can still stop it. We can still turn things around.
In fact, there's a lot you can do as an artist, and while we're going to focus on primarily how to do this while on the road, I wanted to offer a few easy go-tos for at home as well.
Use your platform for good
Not everyone's brand will include activism and politics, and if that's not you, that's totally cool, feel free to skip this step. But if it's a natural part of who you are and the brand and community you've built, then use it to build awareness in the largest way you're comfortable.
For instance, throwing benefit shows a few times a year where the door price goes to the climate organization of your choice, or helping stage marches and protests, or partnering with local organizations to put on a charity show.
[3 Fulfilling Ways to Give Back as a Musician]
Commit to a sustainable life
There are so many variations of this, that you're bound to find one you're comfortable with. For you, it might be as simple as being more diligent about your recycling or it might be as involved as bringing your own takeout containers to restaurants (personally I think this one's an easy solution to start incorporating!) or committing to stop using plastic straws.
Make your tour eco-friendly
When you think tour, you don't necessarily think sustainable. But a few simple tweaks here and there can easily transform your tour from gas guzzling nightmare to something a bit more friendly to the environment.
For instance, travel by train or bus for smaller tours (bonus: you don't need to worry about the van breaking down!). And if you're wondering how you'll carry your equipment from show to show, the answer is a simple one that promotes community: Talk to other artists playing the same shows, explain your mission, and see if it's possible to borrow their equipment for that show (of course offering to return the favor when they tour your city).
If that simply isn't an option, consider renting a low impact vehicle for the tour rather than your usual 15-year-old van.
Pro tip: if you're looking for bands to share the bill with, check out our gig finder.
Bring your own food
Eating out all the time is not only expensive and kind of unhealthy after a while, but it's not very eco-friendly. Pack a cooler that you can fill with food from the supermarket like fresh fruits and veggies, a few things to make sandwiches (deli meats or the classic PB&J will do), cheese sticks (these guys are packed with protein but low in fat), nuts, seeds, and other non-perishables that will last you throughout the tour.
Invest in sustainable merch
There are so many incredible companies using recycled goods to give new life to their materials, and finding them is as easy as a few google searches for what you're looking for.
Now I know what you're thinking — this is too expensive! That's not always true; sustainable merch doesn't have to come with a high price tag. But if you're worried about selling it to your fans, just let them know where it came from and why it matters to you. I bet they'll not only understand, but be eager to support the cause.
The point is, we all owe it to each other and future generations to simply be more mindful of the footprint we leave. It's no longer acceptable to not do the bare minimum of recycling or turning away straws. This is no longer a hypothetical crisis — we're in it, and we all need to do our part.
Looking for tips and examples of increasing fan engagement through simple, effective social media strategies? Join me for my free Masterclass: 'How to gain your next 1,000 fans. 3 simple steps that lead to higher engagement, sold-out shows, and life-changing opportunities.'
Angela Mastrogiacomo is the founder and CEO of Muddy Paw PR, where her artists have seen placements on Alternative Press, Noisey, Substream, Spotify and more, as well as the Director of Community and Events for Music Launch Co. She loves baked goods, a good book, and hanging with her dog Sawyer.