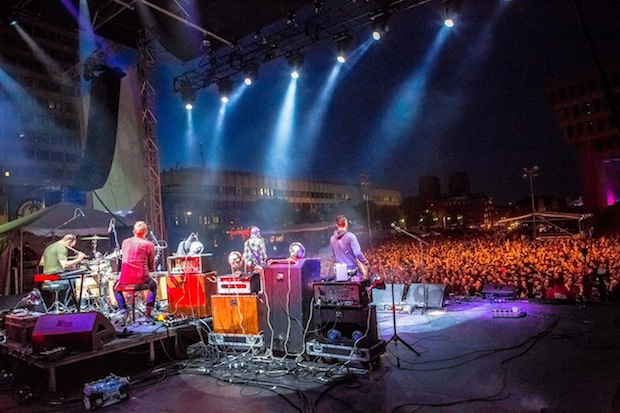 Boston Calling 2014 (photo by Mike Diskin)
There are countless survival guides and checklists for festivalgoers, but where are the checklists for bands that are playing a festival for the first time and aren't quite sure what to do? Follow this handy guide on what to do before, during, and after your festival set, and you'll be all set to rock out without worrying that you've forgotten something.
Transportation & Accommodation
Around two months prior to the festival, get your method of transportation situated (will you be taking a bus? Car? Van? Train?). How you get to the festival is up to you, but I would recommend using Budget for vans and Kayak for booking flights if you want to avoid breaking the bank.
If you have a van, make sure you take it to get inspected for any potential issues! That's not something you want to find out the day you're driving to the festival.
Sort your lodging about two months in advance. Check websites like Kayak and Hotwire for great deals. Although it may be tempting to wait until the last minute for a flash deal, playing a festival is one of those situations where you'll want to have peace of mind that you've got a bed to sleep in at night – so don't risk it.
Make sure every band member has a printed copy of your itinerary, including information like your set time, which stage you'll be on, how to get there, etc.
Make a packing list and double-check that everything you need is packed – gear, merchandise, clothes, extra chargers, etc.
Promotion & Publicity
During the Festival
Given that it will most likely be quite sunny and hot, make sure to stay hydrated, bring sunscreen, and wear weather-appropriate clothes!
Cellphone reception can be limited, so make sure to plan with friends ahead of time what time and where you'll be meeting. (Do this even if you're playing in a city – thousands of people using their phones at the same time in a concentrated area can cause reception issues.)
You're going to be meeting a lot of people, so make sure you bring physical copies of your contact information (just in case your phone runs out of battery). A download card or a good old fashioned business card will help that promoter you met backstage remember you and make it easier to connect later.
After the Festival
The work isn't over just because you finished your set! Follow up with whomever you met immediately after the festival via email, social media (where appropriate), or even handwritten thank-you letters to keep those friendships and relationships alive.
Remember those days when you went to bed before 6 a.m.? They're here again! Relax and let yourself pass out at 11 PM or midnight – it will rule.
This is going to be the toughest of all, but now it's time to get back to reality. If you work a day job, that means you've gotta get back to your desk, make that money, and do it with a straight head on so that you can prepare to do it all over again in a month's time.
Want to play the Billboard Hot 100 Festival alongside today's biggest stars, including The Weeknd, Justin Bieber, Skrillex, and Jason Derulo – and get paid $500? Apply for free by August 5, 2015!


Jake Bernstein is an agent at Bond Music Group, representing bands and DJs from indie to punk to house and disco. In his spare time, he books TBD Festival in Sacramento, California.