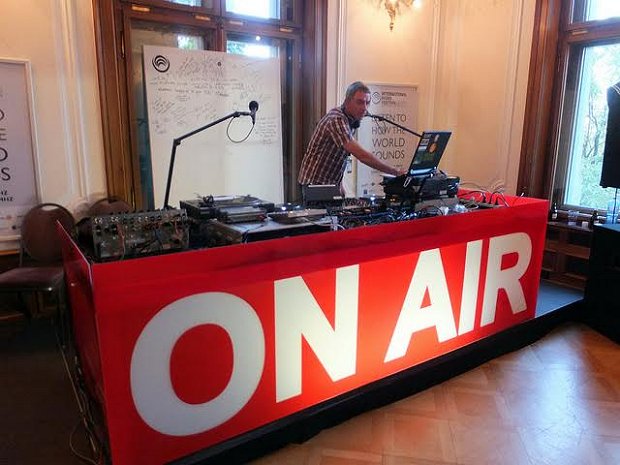 Photo by Tim Samoff
As a musician, one of the best ways to grow your audience is still radio airplay. Indie and college stations remain among your best sources for gaining the right fans who are interested in your music. Audiences tune into these stations daily to make new music discoveries. Your music could be the next new track that tastemakers on indie stations are celebrating.
Getting radio airplay requires a little work, though – it's not just the click of a button. The harsh reality is that not every band that submits their music to indie radio will have their music featured on the station. It turns out that this process of decision-making isn't a dice roll by the DJs or music curators.
It's important to be strategic about the locations of the stations you're reaching out to. The main offering that your music has is a unique experience, which you provide through your performances as well as your recorded music.
Before you start submitting music, you need to make sure that you truly have the best foundation in place. If you can take care of these three prerequisites, your music will have the best chance of not only being selected, but receiving multiple spins on indie radio stations.
1. Get your music professionally critiqued
You may think your sound is in the right place and that your recording captures the essence of your musical identity, only to be rejected from many of the stations you submit to. Avoid this pitfall and get your music critiqued from the beginning so that you're in the best place to start the process, with the highest quality material you can submit.
Nowadays, with services like Fluence, you can get your music in front of seasoned DJs, music curators, and radio professionals for feedback and critique (plus promotion if they enjoy it). These professionals will analyze key aspects of your music, including songwriting, arrangement, composition, production, and mastering. Those are the pieces that music curators are looking for when going through the myriad of music submissions.
By having your music vetted by industry professionals before you commit to submitting to stations for airplay, you're ensuring that your existing sound and recording is already at the quality level that music professionals are looking for. And if your sound quality or songwriting prowess needs work, these folks will give you the constructive and honest feedback you need to make the necessary changes.
2. Have a strong press kit ready
Artists who only submit music but don't accompany that with an electronic press kit (EPK) are taking a risk that just their recording alone will intrigue the recipient and grant airplay. Usually, the DJ or radio manager will want to see where you're from, have a little history about your music, and see where else you've been featured.
You don't need to give your life story. In fact, condense your bio to just a few sentences, but be clear on who you are and where you've been. If you don't have other radio spins yet, don't worry – that's not a prerequisite to get your music on the radio. Honesty is important here. Include quotes from a few of the reviews you've received, even from your Fluence submissions, to season the pot a little.
Your EPK should include links to hear your songs, but be selective and submit just one or two of your best tracks. Be sure to include your contact information, social media links, and your website. Radio DJs and managers have very limited time to review submissions, so do them a favor and make sure your EPK is condensed and has all the pertinent information in it.
3. Understand that radio airplay is about the audience, not you
One essential thing to keep in mind is that radio stations are selecting music for a specific audience, one that trusts them to provide great programming. The station's number-one priority is great content for its audience. This is your number-one priority, too. Your build your audience through the great music you make and the experience it provides them. That's what radio stations are looking for from submissions.
Suffice it to say, getting radio airplay isn't all about you or your music. It's about the audience. The connection you can build with a radio station to provide this unique listening experience is what will propel your music to the next level, because you're not just getting airplay – you have the opportunity to participate in a community of tastemakers who are showcasing great music selections to new audiences.
You might also be interested in:
D Grant Smith is the host and creator of the syndicated and award-winning The Appetizer Radio Show, featuring unsigned and indie music weekly. With over 16 years experience in radio and indie music, Smith also coaches and mentors musicians through focused audience growth. More information at dgrantsmith.com and appetizerradio.com.