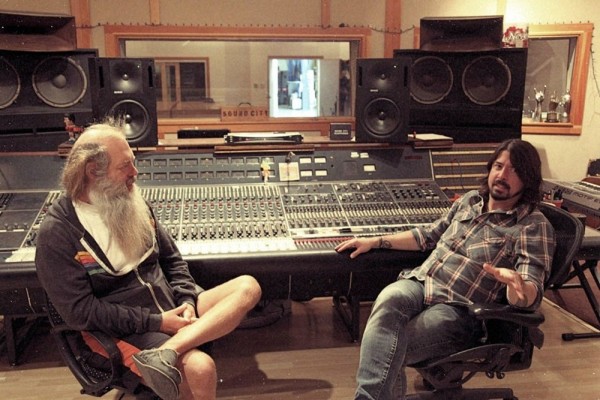 Rick Rubin and Dave Grohl (Image via unitedvirtuoso.com)
With today's technology moving so fast, it's difficult to stay current with the latest software and products for music production. If you aim to be the next Rick Rubin, you'll need a little help from your technological friends. There are a variety of cool, innovative apps for music producers on the market now – so whether you're a novice or an old pro, one of these five apps might be just what you're looking for!
1. Splice by Steve Martocci
& Matt Aimonetti
There's a certain point after changing a song several times when you realize the old version was better. With Ableton Live, you can't go back to the old version after making changes – unless you're using Splice, which streamlines the process. The app even allows you to download other producers' songs to analyze how they put together their hits. Currently, Splice supports Ableton Live 8+, Logic Pro X, and FL Studio 11.
Price: Free
Best for: Experienced producers
FL Studio Mobile is the smartphone/tablet version of FL Studio 11. FL Studio Mobile's new version is now compatible with various plugins, including BassDrum, Groove Machine Synth, and Sytrus. FL Studio Mobile is a perfect fit for producers of EDM music.
Price: $14.99 for iOS, $19.99 for HD on iOS, $19.99 for Android
Best for: Experienced producers
3. Caustic by Single Cell Software
Caustic was inspired by rack-mount synthesizer and sampler rigs. Think of the app as a hardcore GarageBand. It has been favorably compared to Propellerhead's popular Reason, which isn't out on iPads or smartphones at the time of this writing.
Price: $9.99 for iOS, free for Android (but $9.99 to unlock the full version)
Best for: Experienced producers
4. Shazam by Shazam Entertainment Limited
Imagine that you're in your car or at a restaurant, and you hear a song that you really like and want to sample. What if the DJ doesn't mention the song's name, or the waiter has no idea who created the playlist? This is where Shazam comes in. Shazam allows you to instantly identify the name and artist of any song you're listening to (as long as the volume is loud enough for your phone to recognize the tune, and the song isn't hopelessly obscure). It's a very fun and free app that I recommend without reservation. Indispensable!
Price: Free
Best for: All levels
5. Loopy by A Tasty Pixel
Ideal for solo artists, this highly rated app is a looper that allows you to layer recordings on top of one another. It's now compatible with the Audiobus app, which means that you can receive live audio directly from other Audiobus-compatible apps. With its interactive tutorial system for beginners and rich set of features that more advanced users will have fun exploring, Loopy is versatile enough to be used by producers with any amount of experience.
Price: $2.99 for iOS, $3.99 for HD on iOS
Best for: All levels
Nick Moorhead is a music journalist who's been writing about indie rock, hip-hop, and everything in-between since 2011. Before that, he was project manager at Cybersound studios in Boston. A graduate of Trinity College and Startup Institute, you can follow him on Twitter @MoorheadNick.