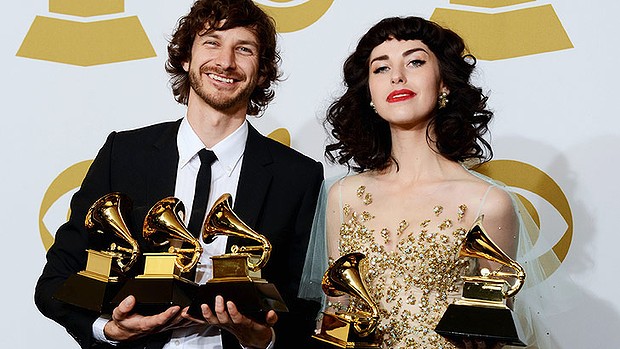 Gotye and Kimbra with their Grammys for "Somebody That I Used to Know" in 2013. (Photo via picphotos.net)
We live in a day and age where just about anyone can produce and commercially release new music. Individuals who were once viewed as "number one fans" are building home recording studios and becoming artists themselves, thus reducing the odds of scoring a hit release. In fact, this very month was the first time in 2014 that an album became RIAA certified platinum, thanks to Taylor Swift's 1989. While hit albums have become a rarity in today's music business, scoring a chart-topping single is still a possibility. Let's explore what a hit song is, what factors work together to increase the chances of scoring a hit song, and how long it could take to score a hit.
What is a hit song?
This is a question that can be answered in a number of ways. So, when trying to determining what a hit song is, you must consider who you're talking to. If you ask a radio promoter he or she will likely say that a hit song is one that has garnered heavy rotation in top radio markets. On the other hand, if you ask a representative from the RIAA, you might hear that a hit song is one that has been certified by their company. It all depends on who you're asking.
Over my 21 years in the music business, I've learned that there's a stark difference between a "chart-topping hit" and a "hit-selling single." To some, a chart-topping hit is determined by the BDS charts, while some will simply gauge a song by where it ranks on Billboard.com. When it comes to determining what a hit-selling single is, some will only use Nielsen's SoundScan reports, while others will wait to see if the song receives an RIAA certification. My personal method for determining a hit song is looking at how well it's performed on the BDS and Nielsen SoundScan reports. (I rarely look at Billboard or RIAA certifications.)
What factors affect hit potential?
In a recent interview I did with Josh Nicotra, general manager of Brushfire Records, he said, "I think there are a lot of great records that, from a qualitative perspective, should sell, but when you go and look at SoundScan, you're mystified that it only sold 2,000 copies." He goes on to say, "This is proof that selling music is not purely about the quality of the record. It's really about marketing, radio, YouTube, and everything else falling into place all at once, which is almost impossible to do."
Nicotra is speaking purely about sales, which are ultimately the result of a song's popularity. So, it would be safe to say that radio and YouTube charts play a role in the overall success of a song, but are not the only factors that determine the true hit potential or status of a recording. We must include marketing, timing, the artist's likability, how catchy the song is, who the target audience is, and a plethora of other factors beyond our control.
So, how long does it take to land a hit?
With so many factors affecting the "right climate" for a song to become a hit, one cannot truly gauge how long it will take to score a chart-topping or top-selling single.
For example, let's take the song "Remember the Name" by Fort Minor. This single was released on October 5, 2005, but didn't receive RIAA Platinum Certification until 2009. The song was executive produced by Jay-Z and still failed to chart initially. It wasn't until the NBA used the track as its theme song during the 2006 and 2007 NBA Playoffs, as well as the 2008 NBA Draft, that it took hold. I remember this song from the EA Sports video game NBA Live '06, which is why I recognized it in the 2010 remake of The Karate Kid. The song went on to garner major film credits and was most recently featured in the 2013 movie, The Smurfs 2. That's an eight-year time frame.


In the end, there's really no blueprint, nor is there a set journey from the pen to the charts. As a songwriter and/or musician, the only thing you can do is never give up on a song that you believe in. You have to push it until people "get it." Most hits are never realized because their creators give up long before the song ever had a chance to succeed.

Shaine Freeman is the co-founder and music editor of the award-winning I Am Entertainment magazine, as well as the host of the highly talked about music podcast, The Miews. Although he studied construction engineering at Bradley University, Shaine has worked with major music publishers, licensing companies, and even spent five years as a talent manager guiding the careers of top film and TV actors and indie recording artists. Today, he resides in Atlanta, GA, with his family where he's leading his editorial team into their fifth year of circulation.