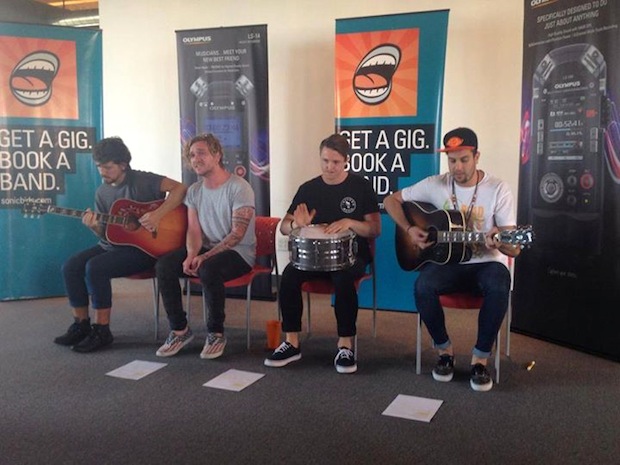 The Griswolds performing at their Sonicbids Office Gig. (Photo by Lisa Occhino)
After getting to meet the charming, chill, and super talented dudes that make up The Griswolds when they swung by the Sonicbids office as they were passing through Boston earlier this month, we can safely say that they're officially our new favorite Aussies.
This indie rock band from down under stormed onto the music scene with their debut single "Mississippi" back in 2012, which garnered praise from over 100 music blogs around the world, according to the band's bio. "Heart of a Lion" followed shortly after, achieving heavy rotation on radio stations in Australia and The Netherlands. Their most recent single, "Beware the Dog," maintains the band's signature light, beachy vibe, but hits you with unexpectedly heavy lyrical content, showcasing the band's depth and versatility.
The Griswolds are currently touring the US, and in a recent interview, gave a shout-out to Sonicbids for helping them get to this point: "Sonicbids helped us get in a lot of festivals early in our career, which put us in front of a lot of new fans. We were also lucky enough to play the SXSW Sonicbids Showcase earlier this year."
Check out this live, acoustic version of the song that started it all, "Mississippi," captured with an Olympus Audio recorder at The Griswolds' Sonicbids Office Gig: