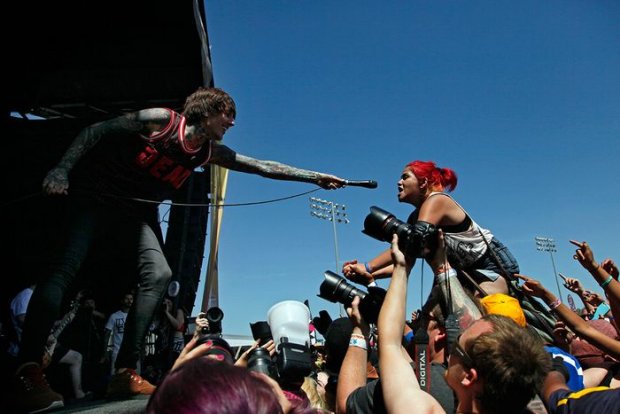 Image via fuse.tv
This is an excerpt from Business Basics For Musicians by Bobby Borg. It has been reposted here with permission.
No one can know for sure what awaits the music industry in the near future – especially after witnessing how quickly new technology has changed the traditional music business in just the past five years. But with that being said, I believe that you'll still find the following predictions by various leading music industry professionals interesting, and at least somewhat accurate.
So, what can we expect in the year 2020? Let's see what this group of attorneys, music publishers, managers, and music industry entrepreneurs had to say.
1. Copyright laws will catch up with new trends and technologies
"Several trends have emerged and will continue to emerge as the music business evolves into a service-based business. More and more people are tuning in to all-you-can-listen streaming programs like Spotify and Rdio.
"In this same vein, younger fans want all of their content to be accessible on all of their devices, but do not care whether they own the content or not. They also want the opportunity to interact with the music they listen to, be it through remixes, mash-ups, or fan videos on YouTube. Unfortunately, our copyright laws are antiquated and do not allow these trends to develop.
"Over the next five to 10 years, I think we will see an overhaul of the United States' copyright system. I also expect to see artists further expanding their brands into nontraditional revenue streams. Soon, fans will be able to surround themselves almost entirely with their favorite artists through branded products, multi-media projects, and other avenues we have not even begun to explore yet." – Dina LaPolt, LaPolt Law, P.C.
[3 Much-Needed Copyright Law Changes That Would Help the Music Industry]
2. Focus will shift to exciting music – not the latest technical trends
"Good music will always be the future, whether it be 2015, 2020, or 2025. When jazz arrived on the scene, it was controversial, exciting, and real – as was rock, rap, and EDM. It propelled the business forward and gave it life. But what's next?
"The year 2020 must be marked by a new direction in music that shakes up the world and puts the focus back on the art and the creators – not on the latest technical trend. Who cares about downloads, streaming, or whatever new technology is invented? In 2020, music will shine again! Those who create something unique will thrive." – Mike Gormley, LA Personal Management; former manager of the Bangles, Oingo Boingo, and Danny Elfman
3. Success will be earned on your own, DIY style
"By the year 2020, the world will be saturated with music. There will still be superstars whose music has reached the masses through the efforts of a support team, but the vast majority of musicians will have to achieve success on their own.
"The good news is that technology is making that possible. Successful DIY musicians will be skilled in using social media and analytics to connect with their fans and fund their projects; partnering with products and services companies for branding and advertising campaigns; licensing their music for film, television, games, ads, etc.; leveraging relationships with electronic media as part of their marketing strategy; and booking and promoting their tours and concerts, all with an ultimate goal of getting their music into the ears of the curators of the outlets for consumption, which will exist in business models that are still emerging.
"Cutting through the clutter will be a challenge, but great music combined with an entrepreneurial spirit and a lot of hard work will be the winning formula." – Don Gorder, Chair and Founder, Music Business/Management Department, Berklee College of Music
[3 Tips on Making It Big Without Sacrificing Your DIY Spirit]
4. Affordable DIY services that capture new revenue streams will emerge
"Many recent music industry trends have not been favorable toward artists and songwriters: we've gone from selling CDs for $10 to downloads for 99 cents to streams for under half a penny. This has made it more difficult for artists to monetize their music.
"As a consequence, independent artists and songwriters will become more conscious of how to leverage their intellectual property into alternate revenue streams. You will see many more companies offering affordable services to DIY artists to capture performance royalties, internet royalties, mechanical royalties, YouTube royalties, sync licensing for film, TV, games, and commercials. Each of these incremental revenue streams will be small, but in the aggregate they will become a needle-moving part of the artist's revenue mix." – Tony van Veen, CEO, AVL Digital Group, CD Baby, Disc Makers
5. Success will be driven by touring and merch
"As the record business is further eroded by 'free music,' it will reach its decline and the postmodern record industry will be cut to its knees.
"In 2020, instead of record sales determining the success of an artist, live performance will dictate the value of an act. Merchandising will also become a high art form. Only those with a great live act and a memorable and distinct brand will survive." – John Hartmann, former manager of Peter, Paul & Mary; Crosby, Stills & Nash; America; Poco; the Eagles
What do you think the music industry will look like in 2020? Let us know in the comments!
Bobby Borg is the author of Business Basics for Musicians: The Complete Handbook From Start to Success (published by Hal Leonard) available at bobbyborg.com/store. As a limited-time special offer, you can get the book, CD, and DVD for only $21.99 (a $70 value).