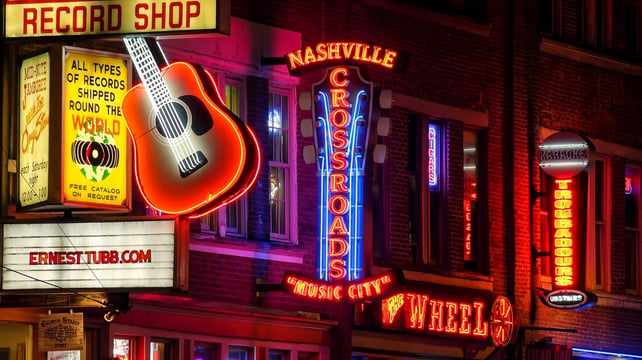 Image via Shutterstock
Thousands come to Nashville every year with the hopes of making it big in a couple months. More often than not, they go home disappointed – not necessarily because they aren't talented, but because their expectations were completely out of proportion.
In my years here, I've heard repeatedly that Nashville is a "seven-year town," and from what I've seen in my career, and that of others, the reality bears this out. In this article, I'll delve into why that's the case and what you might be able to expect.
Years 1-3: Finding your groove
There's "good" and then there's "Nashville good." The truth of the matter is you might have been a standout for your hometown, or even your region, but Nashville is a whole other playing field. The market here is so saturated with artists and writers that you can't just be good to stand out – you've got to be truly great.
I moved here with songs I thought were outstanding, and they were probably very good, but nowhere near Nashville quality. Very, very few people hit Music Row with songs better than what's already out there and on point for the market – not right out of the gate at least. That takes time, and honing those skills is a big part of the early years.
Artistic career aside, moving is quite a task in and of itself. You're going to need to find a job, a place to live, get connected with the community, and generally learn the ins and outs of a new area. Don't underestimate the time it takes to do that, and allow yourself to go through that process – it's a necessity.
Years 3-5: Finding your tribe
I got very, very lucky by coming to town and finding people I immediately connected with – many I still write with today or at least am great friends with. Every circumstance is different, and it may take you more or less time to find people you click with.
Ideally, these people will be somewhat up and coming as well – talented writers and artists who are just beginning to carve out a niche for themselves in the industry. It takes time for that group to form, and it doesn't often happen all at once. Some people will float in and out, some you'll never see again, and some stick around. You'll eventually be left with a consistent core of people.
Other than as a support system (we all need friends, after all!), relationships are important from a business perspective as well. Often, you'll find that as they rise, you'll rise as well. That guy you've known for a couple of years? Well, he's just gotten a cut and now he's pitching a song you guys just wrote to his publisher. That girl you're friends with has stopped doing the artist thing altogether and is now working for a label. As your friends grow and find their places, your roots in town will get deeper and more doors will start to open.
Years 5-7: Being taken seriously
As I said before, there's no shortage of people who think they're going to take Nashville by storm but who go home disappointed after a few months. Once you've stuck it out for a few years, though, the powers that be seem to start taking notice of you – and with good reason.
By this point, you've proven that you're serious and realistic – you've honed your skills, you understand the market, and you've probably taken your share of hard knocks along the way. What's more, you've likely hit some of the hallmarks that make you a seasoned Nashville veteran: you've played the Bluebird (or at least quite a few writer's rounds), you've pitched your music (and hopefully have some cuts to show for it), and people are starting to learn your name. From here, it's just a matter of time – all you've got to do is keep your nose to the grindstone and work just as hard as ever.
It's important to point out that there is no formula for success. Many have tried (and failed) to nail such things down. I can only offer a basic, general guide. Your path may look completely different; you may well be that exception that breaks the "seven-year" rule, or you may do it with several extra steps of your own design I've not mentioned here.
You may come up with a few shortcuts, like a cousin or good friend in the industry who can speed up the process for you. Either way, the takeaway is this: Real, lasting success takes time and dedication. If you're willing to put that in, it can't help but come your way.
Next up: The 3 Rules You Need to Survive in Nashville
Daniel Reifsnyder is a Nashville-based, Grammy-nominated songwriter, having started his musical journey at the age of three. In addition to being an accomplished commercial actor, his voice can be heard on The Magic School Bus theme song and in Home Alone 2. Throughout his career, he has had the honor of working with the likes of Michael Jackson and Little Richard among many others. He is a regular contributor to several music-related blogs, including his own.