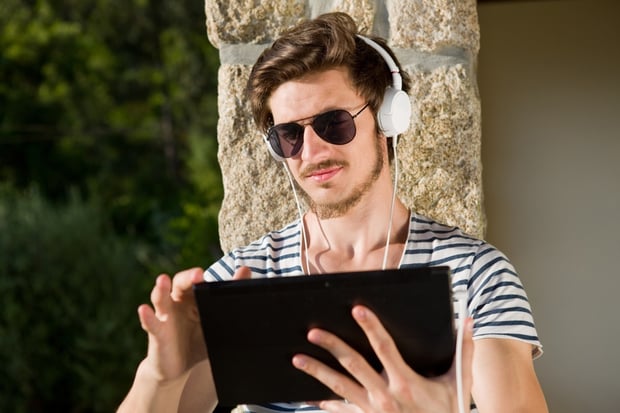 Image via Shuttertock
As I already discussed in part one, sharing music in many different formats and forms between full albums is a great career move because it keeps your name (and your art, of course) on people's minds, and it allows you to dedicate the necessary time to your craft in order to ensure you're really doing your next album justice.
In the previous post, I discussed five options that would work for many musicians when it comes to in-between projects, and in this continuation, I'll give you five more. I wouldn't suggest choosing multiple options — you might delay finishing a new album for several years — but one or two before a proper record comes wouldn't be a bad idea!
1. A playlist
Playlists have now become one of the most important mediums in music, and they can be useful in so many different ways. As a musician, people will respect your opinions about what is good or bad, and it's not a big step to imagine you as not only an artist yourself, but also as a curator. Musicians spend a lot of time listening to others, so they are some of the best to piece together playlists highlighting the best of the unknown.
Creating playlists of songs released by other musicians and sharing them with your fans can be a great way to stay on their minds and gift them with new tunes... even if they're not yours. You can do this every once in a while, or make it a more regular thing if you can commit to it. You can choose your platform (Spotify, YouTube, Apple Music, SoundCloud), or you can put in a lot of effort and go with several at once, though that might involve a lot of extra work.
Also, don't be afraid to include a few of your own songs, especially if they're new and if you make playlists often. Fans looking for great new songs won't mind the plug. Let musicians know when you promote them by adding a song into your playlists, and they may return the favor by pushing your tunes in some way, or perhaps even by inviting you to play a show with them!
[4 Steps to Strategically Build a Great Spotify Playlist to Reach Your Goals]
2. A free download
Selling music is still a valuable source of income for many artists, but it's not nearly as important as it used to be. Platforms like YouTube, Spotify, Pandora, and the dozens of other websites that allow people to listen to music for free (or close to it) have made buying music all but irrelevant and unnecessary for many consumers, especially if it's not a standout track or a brand-new album.
While giving all of your music away completely for free (or without even offering fans the option of paying for it) probably isn't a good idea, a giveaway now and then won't hurt, and it will endear you to your growing fanbase. Offer a free song of any kind in exchange for something, such as an email, or perhaps with every purchase from your merch store.
The piece of music you choose to give away can be something you don't particularly care about or that you were planning on keeping to yourself anyway, or it can be a track that will be featured on a future collection for people to buy. Don't think too hard about this option, but also don't give too much away! A rare gift goes a lot further than a deluge of unpaid art.
3. A remix
Remixes can serve many purposes (like a number of items on this two-part list), and it's a good idea to at least consider reworking some of your songs throughout any promo campaign, including when it's over. A remixed version of a song you've already released doesn't require any more work on your part, as you've already created the cut! You will need to pay a remixer or an electronic artist to put their spin on what you've done, but you can make it worth your while, especially if you don't cough up too much cash to make this happen.
4. A remix package
A remix package sometimes comes in the form of an EP with several different remixes of the same song, or it can be an album full of new takes on tracks the world has already heard. Either way, collecting and releasing remixes together can be a great way to reinvigorate tunes that have already been shared and streamed and purchased.
If you want to prolong the life of a single either before the album is released or after it's out and people are losing interest, gather a handful of artists together to pump up your latest and share it as a collection. This will give your fans something to play in full, and if they're electronic in nature (which most remixes are), you could get some attention in that world and end up on playlists, on blogs, or even hear your cut played in a club if you're lucky.
If your album was highly successful and you want to keep your winning streak going, why not have a different remixer take turns on every song on the album, and then re-release it (which we've already talked about) as something completely different? If that plan is done right and all goes well, you could have almost an entire new campaign on your hands, and it won't require any time in the studio on your part.
5. An acoustic version
This doesn't work for every artist or every song, but sometimes stripping down a tune (or several, if you think it sounds right) can make people hear something you've created in a whole new way. Like with a few options I've included in these pieces, you can opt to rework just one track, several (and turn it into an EP), or perhaps even an entire album.
Re-releasing a full album as an acoustic experiment would not only interest some of your most hardcore fans, but it would give you an excuse to tour on it once again in a totally different way and in different venues, and that's where the real money can usually be found.
[The Art of Making Acoustic Versions of Your Songs That Don't Suck: Advice From Lights]
Hugh McIntyre is a freelance pop music journalist in NYC by way of Boston. He has written for Billboard, The Hollywood Reporter, and MTV, as well as various magazines and blogs around the world. He is also the founder and editor-in-chief of the blog Pop! Bang! Boom! which is dedicated to the genre of pop in all of its glory.