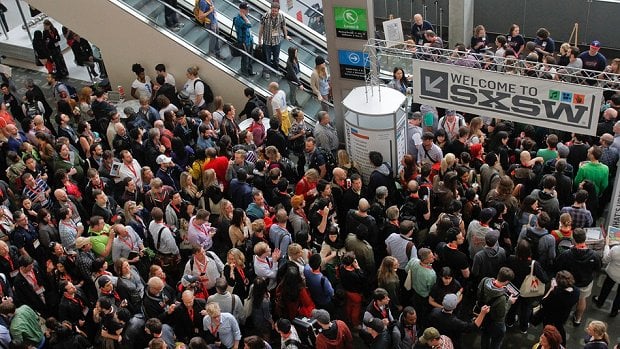 A few weekends ago, I took a drive down to Milwaukee, WI, to attend the Yellow Phone Music Conference. Besides amazing performances, it featured boatloads of great panels and panelists, and tons of insight on the music industry. But, all the action reminded me that being at a conference can be overwhelming at times. If you prepare yourself and keep your mind in gear, however, you'll find that conferences can be a very valuable experience. Here are 10 tips to enhance your next conference experience.
1. Budget and choose wisely
Not every conference is going to be valuable for your band. Some conferences are too big for musicians just starting out, so be mindful of size before deciding which to attend. And as we all know, traveling, lodging, food, and badge fees can get really expensive – really fast! Make sure to budget wisely.

2. Do your research
A few of Yellow Phone's guests this year were folks like Butch Vig, Jeff Castelaz, Martin Atkins, and many more. Do you know who those people are? They're bigwigs, but maybe it's the first time you've personally heard of them. Before you go to a music conference, do some research! Check who is going to be there, and find out what they've done. Maybe you're trying to get your band signed, or you're starting your own indie label. Either way, you need to put yourself in front of the right people – not to pitch them per se, but to introduce yourself and ask questions.
Make sure to attend panels or events where these relevant people are speaking. Stick around long enough, and you might get a chance to say hello! Don't be a pest, or be rude – that won't get you anywhere. And don't be disappointed if you can't find an "in." These people are busy and everyone will be demanding their attention. Be patient and bring your elevator pitch, just in case.
3. Have a plan
There's a lot to do and see at music conferences. You're definitely not going to be able to make it to everything or ask every question on your list. Be prepared to split up some duties if you're in a band. Write down a schedule of when you'd like to be where during the day, along with a list of people you'd like to speak with and what you'd like to speak with them about. Prepare some general and specific questions, and don't be afraid to ask them. I would even suggest making a list of short- and long-term goals (something you should do anyway) and thinking about how you might be able to move towards those goals by taking advantage of the opportunities the conference has to offer.
4. Put yourself out there
As a musician, if there's any place in the world that you should feel comfortable and extroverted, it's a music conference! The main reason everyone is there is because they love and are part of music. You should definitely try and talk to as many industry folks as you can, from both the business and performance sides. The best part is they will want to talk to you, too! We all started somewhere, and, in reality, we're all still starting somewhere – and trying to go somewhere else. Remember to bring your business and download cards, CDs (for those who want them – don't throw them at everyone you meet), etc. Help people remember and find you.
5. Go out
Conferences generally entail shows with actual, live musicians. You'd be surprised who you might meet at one of the concerts, or even at a random bar. No matter how you meet, though, always keep it professional.

6. Perform
This may not apply to everyone, and if you can't get on the performance schedule, go anyway. Hopefully, you'll be able to find one of the event managers and personally express your interest and excitement for the conference and your hope to be part of it next year. Overall, performing at conferences can be an excellent way to get your band in front of gatekeepers.
7. Take notes
Seems simple, of course, but a lot of information will get thrown around when you're at a conference, and you're certainly going to forget it if you don't write it down. Also, don't forget to review those notes after the conference is over!
8. Tweet, post, blog
Conferences are usually perfect fodder for social media. Snag some cool photos with important people, and brag online to your music nerd friends. Hype the fact that you're there learning and making connections – maybe even performing in front of important people – and your followers will eat it up.
9. Follow up
You'll meet a lot of people at conferences, and those people will meet a lot of people, and so on, and so on. Everyone gets overwhelmed with business cards, conversations, and good times. After all that, it can be tough to remember every person you spoke with. Make sure to grab people's cards or make notes to follow up. If you're really organized, you might take some time towards the end of the day to make brief notes about each little interaction you had so you have something to reference when you follow up.
10. Have fun!
Seriously. This is why we're all in this business. As a wise man that I met at Yellow Phone told me, "If we're not having fun, we're in the wrong business!"
Patrick Hertz graduated with his BA in Music from the University of Minnesota. He has had the privilege of working alongside and mentoring with his industry veteran cohorts at Tinderbox for several years now, which has provided him a wealth of knowledge from all industry perspectives. Patrick's expertise is in the college radio market, but he also has experience placing his clients' music on network television.