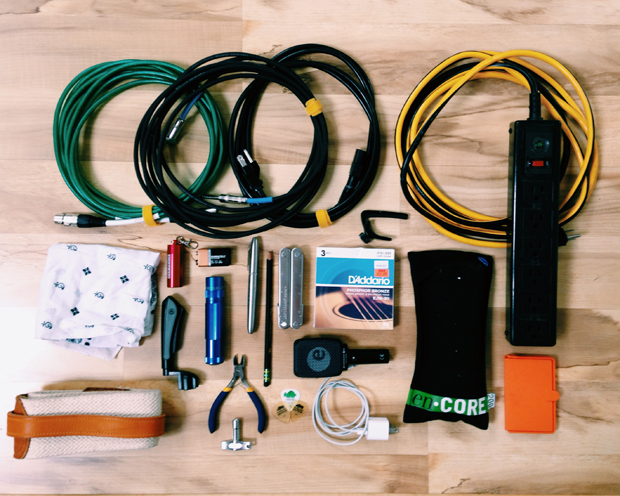 A perfect starter kit for any gig. (Image via Aaron Staniulis)
We all have things we need at every gig, always – but what happens when a cable "goes bad," or that nut that holds your keyboard stand together falls off somewhere between the van and the venue? Sometimes, you can fall back on the goodness of the other bands on the bill, or perhaps the sound tech for the night happened to bring something you need, but this is hardly something on which you should hinge your whole performance. Here's a list of 13 easily portable items to keep together as a "gig emergency kit" for every show.
1. Extra cables
Obviously, you should bring all the cables you need for your setup, but it's a good practice to bring an extra of each, especially if you shop in the bargain bin. Think of it like Noah's Ark for your cables – two by two.
2. Pocket multi-tool or screwdriver, pliers, and allen keys
You never know when you might need to make a quick adjustment or repair, and not having a way to do so can really bring a night to an end quickly.
3

. Flashlight (or flashlight utility on your iPhone)

Stages between sets, backstage areas, and corners of bars can be very poorly lit. Ever drop something behind your amp or need to look for an outlet? You know the feeling of needing some light.
4. Permanent marker and pencil
You never know when you'll need to write another setlist or make a note on a chart.
5. Gaffer/duct/electrical tape
Use tape to attach your setlist to your floor monitor, tape down a cable run, mark where to stand for awesome feedback (or where not to stand for hideous feedback), etc.
6. Earplugs
Unlike many other things in the human body, your hearing does not come back. If it's gone, it's gone. Protect your lifelong investment and wear some earplugs. All the cool kids are doing it.
7. Spare batteries
Nobody wants to have a pre-amp die mid-set, lose his or her in-ear monitors, or have a precious pedal crap out because of dead batteries.
8. Extension cord or power strip with at least six feet of cable
There will come a time when there won't be a power outlet quite as close as you'd like, or not quite as many outlets as you anticipated.
9. Extra strings/picks/tubes/rosin/sticks/drum key/capo/guitar strap
It never hurts to have an extra of whatever you use to actually make your music. Things can get left out of cases, broken, forgotten, or simply not work at any time. Even if you haven't changed your strings since the last lunar eclipse, bring another set. If you're a valve-o-phile, this applies to you as well. Nothing changes the mood of your night like having to run your guitar direct because of a bad tube, so bring a couple of spares.
10. Handkerchief/rag or small towel
You may need to wipe something off – including yourself – at some point. Music can be messy.
11. Phone charger
Self-explanatory.
12. Business cards
I can't even begin to tell you the missed opportunities for networking or booking future gigs by not having your contact info readily available. If you don't have business cards, get some made – and yes, they are still viable and worth it. There's no quicker or easier way for someone to get ahold of you.
13. A $20 bill (or $10 if that's too rich for your blood)
This one may sound silly, but tucking a small amount of cash somewhere in your bag is a good idea. Showing up somewhere and finding out it's cash only with no ATM, or having to pay for parking when you get to a new venue can be a rude surprise. Never rely on your end-of-the-night paycheck for your cash supply.


Oh, and one last thing. Consider this an "Angry Sound Guy" PSA: Please do not bring or use ground lift plugs (two- or three-prong adapters). Grounds are there for a reason, and electricity can do funny things when trying to find the path of least resistance – like using you. Unless you enjoy electrified pickups or getting tazed in the mouth by your microphone, avoid these adapters. Serious injury is a very real possibility.



Aaron Staniulis is not only a freelance live sound and recording engineer, but also an accomplished musician, singer, and songwriter. He has spent equal time on both sides of the microphone working for and playing alongside everyone from local bar cover bands to major label recording artists, in venues stretching from tens to tens of thousands of people. Having seen both sides at all levels gives him the perfect perspective for shedding light on the "Angry Sound Guy." You can find out more about what he's up to at aaronstaniulis.com.