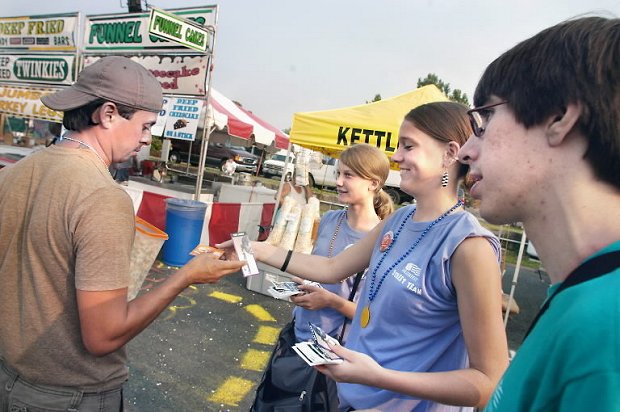 Image via edm.com
In these times of rampant social media messaging, basic on-the-ground community building tactics are more valuable than ever to help you cut through the maze of the digital world and reach potential fans where they study, work, and hang out. In business, they say that only "family, friends, and fools" will invest in your startup company, and the same might be said of startup bands. When trying to fill up a concert venue, the best place to start looking for fans is among your community and in the areas surrounding the venue. Use these three timeless techniques to engage your community in your music and find the fans who may not have seen your latest tweet.
1. Hire brand ambassadors
Brand ambassadors are used by many of the most successful companies; if you've ever seen a famous athlete touting the benefits of a certain deodorant or a musician talking up the latest pair of headphones, then you know how brand ambassadors work. Your ambassadors live and work in places where you would like more fans, lending you credibility and convincing people to take a chance on your music. Companies frequently hire well-respected people to introduce communities to their products, and this tried-and-true technique can also work for your band.
It doesn't matter if you lack the cash to hire a celebrity, you can still find ambassadors to introduce your music to new listeners. For this technique to work, you'll need to think about the identity of your audience and find local groups that share similar interests and can appreciate your music. Once you've identified the community you want to introduce yourself to, reach out to active members of that community.
Active community members have the potential to become your ambassadors and spread the word about you. Introduce these people to your music, treat them well (freebies never hurt!), and provide them with easy ways to spread the word about your upcoming concerts and album releases. Provide your ambassadors with posters, postcards, and email/social media updates to make sharing news about your band effortless.
Potential ambassadors might include: leaders of university clubs or student government, organizers of related events (conferences, meetings, etc.), clergy, teachers and organizers of afterschool programs, baristas, concierges, leaders of local members-only organizations – the list could go on and on. Basically, a brand ambassador could be anyone who is frequently in contact with the people in your target community or someone people look to for information and/or guidance. So don't be afraid to get creative with who you reach out to – you never know where potential fans might be hiding!
2. Assemble a street team
Like ambassadors, street teams lend a face to your music and/or event. These groups hang out on the sidewalks (especially in areas with steady foot traffic) and hand out flyers or freebies encouraging people to come to your concert or listen to your latest release. Street teams could be comprised of students (compensated with money, food, free tickets, etc.) or superfans who already know and love your music. In either case, it's important to treat the people on your street teams well, because they become the face of your band during the crucial moment when people decide whether or not to give your music a chance.
[Need to build your street team? Here are three surefire ways to turn fans into superfans.]
Street teams are a great way to reach out to people who happen to be near your concert venue on the days leading up to your show. Unlike social media fans who might be spread out across the globe, the people greeted by your street teams are already in close proximity to your venue. And although many people have social media accounts, if they haven't already discovered your band online, they may not be aware of your upcoming concert. Use street teams to engage with the people for whom distance is not a barrier, because these potential fans are already close by.
3. Post on corkboards
The lowly corkboard may not be glamorous, but it is authentic. The people who post on most corkboards in local coffee shops, libraries, schools, bus stops, and bookstores have to be physically present to make a posting, and corkboard submissions are often vetted by the business owners.
People look to these boards for information on services and events happening in their local community, so corkboards are another great way to reach people who are already conveniently located close to your concert venue. Since first impressions are key, make sure your corkboard posting is professional; at minimum, it should be typed and include the date, time, ticket price, and address for your concert.
Find corkboards in the areas near your shows and make postings up to a couple of weeks in advance. The corkboards are often located in places where people wait or pass by often, such as near building entrances, elevators, or restrooms. Such captive audiences make for great readers, so buy some thumbtacks and get to work growing your local audiences!
Need a little more help getting heard in your hometown?
Jamie Davis-Ponce is a professional musician and graduate of Northeastern University's Master of Music Industry Leadership program with a concentration in entrepreneurship. She has been a music lecturer at Ithaca College, and is deeply involved in Boston-area arts and music organizations, having worked with ArtsBoston and held internships at Handel & Haydn Society and Boston Symphony Orchestra. Jamie is currently an administrator in the Professional Performance Division at Berklee College of Music. You can view more of her writing on her blog on Music, Business, and Creativity.