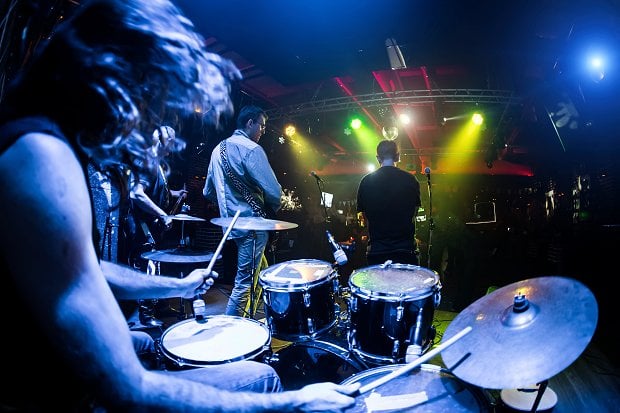 Image via Thinkstock
If you want to be a successful touring artist, you first need to conquer your hometown. After all, why would someone feel secure booking your band if you can't even fill a room at home? As many of you know, however, becoming a hometown hero often takes more than just relentless gigging. If you want to be truly successful, you need to embed yourself and your music in the community. Here are three great ways to get started.
1. Play house concerts
House concerts are arguably the best way to build a strong local fanbase – even more so than traditional gigs. When you play smaller-scale, local venues like bars, clubs, and coffeehouses, people are being exposed to your music, but they aren't really connecting with it – they're connecting with their friends or their drinks. Moreover, you'll often see the same crowd coming through over and over again, offering you few opportunities to expand your audience.
At a house concert, you can create the ideal environment for people to really listen to and connect with your music. Set up the space like a concert – not a party – with chairs, a designated performance spot, and a distinct "social time" and "concert time." House concert guests are also much more likely to give your music a chance because they've been given a direct invitation and recommendation from the host.
On top of the personal benefit, house concerts really represent a partnership with the host and the community, and those kinds of connections are what will really help you stand out in your local scene. A great example of this is Shannon Curtis, an independent artist who has developed a house concert strategy that completely blows away traditional gigs. She takes you step by step through her strategy in this free webinar.
2. Support local businesses
Many artists seek out large-scale sponsorship opportunities, and while these offer great financial benefit and national visibility, they won't help you as much in your hometown. Instead, find local stores, restaurants, and businesses, and come up with ways you can work together. Collaborating with these companies – ones that the local population support – will give you much more visibility and goodwill in your hometown.
A New Artist Model member partnered with a local burrito store located near a venue his band frequented. At the end of the show, they gave out coupons so people leaving the venue looking for a late night snack could stop by. This is, by no means, an example of the huge sponsorship deals you think of in the music industry, but it gave them some extra income and wove them into the community.
3. Support local charities and community events or traditions
If you want to connect with people, you need to associate your music with something people really connect with, and one of the strongest connectors is charity and tradition. Play at charity events or volunteer to play in your community's annual holiday concert. You'll be presenting potential fans with the ability to connect with you on another level beyond just the music. People are much more likely to give your music a chance if there's an underlying shared interest.
You can take this to any level you want. Casually support local charities and events, or make those causes an integral part of who you are as a musician. For example, you could tie your passion for the environment into your career by selling merch made from only recycled materials.
When you align your music with a cause, you're essentially creating a really specific niche. While it may seem bad to limit your audience in such a way, it actually places you in a much less crowded market. In the music industry, you're just another band, but in the world of animal rights or Christian outreach, you can be the star.
Of course, there's an entire world outside your hometown, and the next step is your regional or national touring strategy. In the New Artist Model online music business courses, you'll create an actionable and personalized plan that will help you achieve a career in music, and you'll be able to do it all with the resources you have available right now.
You can see a free video miniseries here on musician strategies, team building, booking gigs, copyrights, and setting up multiple revenue streams. If you'd like to learn more about how house concerts can help you connect with your local community, you can watch the entire webinar with Shannon Curtis for free.
Dave Kusek is the founder of the New Artist Model, an online music business school for independent musicians, performers, recording artists, producers, managers, and songwriters. He is also the founder of Berklee Online, co-author of The Future of Music, and a member of the team who brought midi to the market.